Head Start Training for Coaches and Curriculum Coordinators

Monday, April 16, 2018 from 10:00 AM to 4:30 PM (EDT)
Event Details
This course is a one week intensive designed to support Head Start Coaches and Curriculum Specialist create training and coaching programs to aid in CDA Candidate success. Participants leave with understanding of the CDA process, strategies to support coaching, industry ethics overview, head start overview of new standards of competence, qualification and training. Participants meet on-site for one week at their agency or regional location (e.g. in-service, conference or mutual agreed upon meeting space). This can be conducted as a stand alone or added session for a group.
Participants leave with tools and strategies to support the following outcomes:
Provide instruction on CDA competencies aligned with Head Start Curriculum and Partnership Resources;

Facilitate Professional Learning Communities (PLC's) to deepen understanding and implementation of CDA instruction and to develop CDA Portfolio; 

Provide and monitor field experiences that offer a unique educational opportunity for early childhood teachers to earn a CDA, combining classroom instruction with job-embedded coaching, online training and field-based experiences; 

Conduct ITERS and assessments and provide feedback to each candidate; 

Provide individualized coaching based on action plans determined by assessments; 

Support CDA candidates to attain their CDAs within a year of completing the program; 

Track attendance and progress on coursework, PLC's, coaching and portfolio development; 

Engage in other course related activities using tools provided by Head Start Partners
Save This Event
When & Where

Hilton Garden Inn Washington DC/Georgetown Area
2201 M Street Northwest
Washington, DC 20037


Monday, April 16, 2018 from 10:00 AM to 4:30 PM (EDT)
Add to my calendar
Organizer
Fast Track CDA Credential Training Courses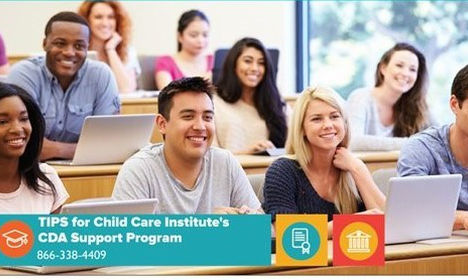 Earn Your CDA Credential Fast 
One Week CDA Credential Classes Available 
 Call 866-338-4409 or email sgreen@tipsforchildcare.com
 © 2017 by TIPS for Child Care Institute, Inc
We are a trusted global learning solution, TIPS for Child Care Institute, Inc., is the leading micro-credential company for early educators across the world. We are a Early Care and Learning Vocational Institute, we house both a cyber school and traveling training institute. Our professional development curriculum integrates Theory In Practice strategies in every course we deliver. Our unique delivery through enriched webinars ensure early learning practitioners leave with top industry trends, application strategies, global early learning standards while building foundation and continuing education opportunities that are affordable for all practitioners. Our technology and institutes provide a flipped classroom  experience that is student centered that adult learners engage in each component sure to retain and utilize all information obtained. The environments we provide for our adult learners cultivate excellence, foster resourcefulness and harness professionalism. Since 2003 we have provided over 100,000 continuing education certificates to early learning practitioners in areas of growth and development, health and safety, differential learning practices, cognitive theory, aesthetic processing, project based learning, developmentally appropriate practices, and responsiveness.  We are the affordable and accessible solution online or at your location for your staff call us today!
Head Start Training for Coaches and Curriculum Coordinators