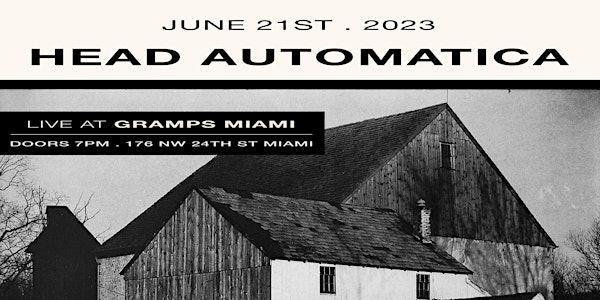 Head Automatica: Exclusive Florida Show - Miami
Ages 18+
Presented by Heroes Live Entertainment
Heroes Live Entertainment presents Head Automatica: Exclusive Florida Show on Wednesday, June 21st, 2023 @ Gramps in Miami.
By Heroes Live Entertainment
Date and time
Wednesday, June 21 · 7 - 11pm EDT
Location
Gramps 176 NW 24th St Miami, FL 33127
Performers
Headliners
More Performers
Love Tempo
Staircase Spirit
About this event
4 hours

Ages 18+

Mobile eTicket
Heroes Live Entertainment presents Head Automatica: Exclusive Florida Show on Wednesday, June 21st, 2023 @ Gramps in Miami.
Head Automatica is back! The power pop band formed by Glassjaw vocalist Daryl Palumbo in 2003 hasn't played live in over a decade. This will be the band's warm-up show prior to their upcoming festival dates. Special guests Love Tempo + Staircase Spirit.
--
Head Automatica is the somewhat unlikely pairing of vocalist Daryl Palumbo (of New York City's hardcore outfit Glassjaw) and producer Dan the Automator (aka Dan Nakamura of Gorillaz, Handsome Boy Modeling School). Introduced by mutual friends, the duo began work on their debut, aiming for a sound somewhere in between the Automator's beats and squiggles and Palumbo's penchant for rock and punk. When Decadence appeared in late summer 2004, its groove was just that -- a bright and trashy mix of electronics and rock & roll, the kind of thing for which late nights were made. Palumbo and Automator put together a road band and toured in support of the record, sharing shows with such disparate acts as Lostprophets, Thrice, Interpol, and the Rapture along the way. However, Palumbo's ongoing battle with Crohn's disease, which the singer suffered from since childhood, continued to give him problems while on the road; various tour dates had to be canceled as he spent time in hospitals to receive treatment.
The frontman continued to relapse as work on Head Automatica's sophomore effort began; his sickness persisted during the bulk of the recording process. The band -- now comprised of Palumbo, drummer Larry Gorman (ex-Glassjaw), bassist Jarvis Morgan Holden (ex-Give Up the Ghost), guitarist Craig Bonich, and keyboardist Jessie Nelson -- enlisted the talents of producer Howard Benson to help create an album with a "bright, crisp sound." The resulting Popaganda was issued in June 2006. It proved to be an aptly named album that, without Dan the Automator around, largely lacked the electronics of Decadence, instead boasting a relatively more straightforward guitar sound largely influenced by late-'70s pop. A subsequent summer tour was spent opening for Taking Back Sunday alongside Angels and Airwaves and the Subways.
About the organizer
Heroes Live Entertainment is Florida's premier independent concert promoter.
Experience your music HEROES LIVE.
Heroes Live Entertainment was born from the ashes of Downtown Miami event space, Grand Central, by the venue's co-owner Mario Arango. He has been an experienced concert promoter since 2010. The company was founded to continue booking quality live music shows and events in Florida anywhere from nightclubs to amphitheaters. The name is an ode to the Bowie song about human triumph and a nod to Prince in the logo colors.