Sales Have Ended
Ticket sales have ended
We are sorry that our event is full. Please contact Autumn Nims for more information at iwomenmin@gmail.com.
Sales Have Ended
Ticket sales have ended
We are sorry that our event is full. Please contact Autumn Nims for more information at iwomenmin@gmail.com.
About this Event
Isaiah 43:1-2 "Fear not! I am with you and I have called you by name..." Do you know he knows your name? God is intimately involved in your affairs and He cares about every detail. At this conference we will take a look at those in the Bible where God called them by name and set them on a new path!
Event Details
Friday September 20th
4:00PM | Pre-Conference Seminar | Ministering to young women in this day and age!
6:00PM | Doors open
7:00PM
Worship
Missionary Testimony | Sister Miriam | Missionary to the Maldives
What happens when God speaks your name | Autumn Nims
Saturday September 21st
8:00am | Doors Open
9:00am till noon
Worship
International Speaker | JoAnn Auger | He called me out!
Testimony | Angela Raker
Eden Ministries Dance Team
Missionary Speaker | Dr. Linda Balugo | Philippine Gospel Assoc.
Testimony | Mollie Davis | God's redemptive work!
11:00 | Workshops
12:00pm Lunch Break. Restaurants are within walking distance of the hotel.
1:15 to 4:00PM
1:15 -2:05 | Workshops resume
2:15 - 4:00PM
Worship
Testimony | Missy Berry
Missionary Speaker | Dr. Joy Tica
Testimony | May Chappell
Eden Ministries Dance Team : Victory!
If you know He knows your name | Autumn Nims
Closing time of prayer
Description for 4:00pm Pre-Conference Seminar
Ministry to young women in this day and age!
Did you know that a young girl's self-esteem hits its highest point at the age of nine? Young women are bombarded 24/7 with images and messages that say "you must look and act like this to be accepted". These messages are having a devastating effect – poor body image, eating disorders, bullying, depression, self-defeating behaviors and even suicide.
IWM in collaboration with the 29:11 Group (www.2911group.com) is offering a pre-conference workshop for ministry leaders, youth workers and anyone who wants to learn more about this very concerning topic.
In this workshop, you will hear from young women about the challenges they face and the support they need to meet those challenges with grace and faith. Through interactive activities and dialogue, you will be given researched insight, tools and resources to support the young women in your world.
Morning Workshop | He sees me!
In this workshop women will examine the life of Hagar and how God met her at her point of need. Have you ever been at a crossroad where no choice was ideal? That is where Hagar found herself. God has a plan in the most difficult of situations. Learn how God saw her!
Morning Workshop | Juggling the demands of life while being spirit led!
Ruth said to Naomi, "Your people will be my people, and your God will be my God," adopting the identity of Naomi's homeland, Israel, and that of the one true God. Juggling parenting, work, fitness, technology, and the social landscape while leading a spirit-filled life, women sometimes find themselves in foreign territory, even at home. In this workshop, discover your true identity, and how to stay on mission whether you are on foreign soil or on the couch at home.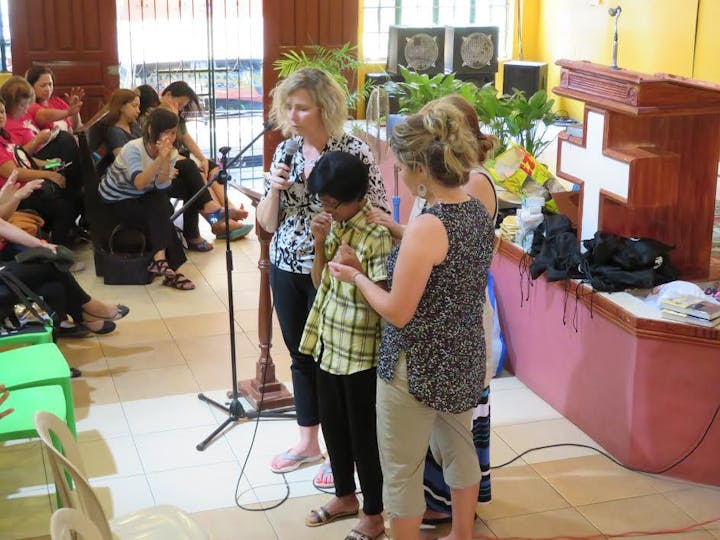 Afternoon Workshop | Wiping tears , easing pain!
Learn all about taking a missions trip with International Women's Ministries. Perhaps being a missionary is the furthest thing from your mind. Maybe you did not think God could use you overseas! A missions trip is spelled out for you! Come hear how you can participate in a medical mission and speak in women's conferences around the world, all while encouraging hurting hearts!
Afternoon Workshop | The Challenges Women Face Overseas
These statistics are troubling:
-450 million women face malnutrition. In some societies the men and boys eat before the women.
- A girl is twice as likely not to be educated as a boy in Liberia.
- Two million girls are mutilated through female circumcision to diminish their sexual desire in Africa.
-According to Time Magazine it is justifiable homicide to kill an unfaithful wife in the Middle East.
- Families will conspire to kill a wife after her dowry is gone. Many times they leave her disfigured from acid burns in India.
Hear how we as Christians can turn the tide! "Sister Miriam," works in a muslim community winning them to Jesus, one person at a time. She is translating the Bible into her language and she does a broadcast throughout the Muslim world to proclaim the gospel!
General Session | He called me out!
The Woman at the Well and Mary Magdalene are two women very well known to the Christian world especially to women believers - two women with scandalous reputations whom Jesus forgives and sets on the right path. As beautiful as that was, it was so much more! Jesus looked past the labels they had given themselves and the labels of others. He saw their brokenness, low self-esteem and pain and yet, He called them to be His disciples. - from scandalous women to proclaimers of our Savior! Would they have ever thought that we would be talking about them over 2000 years later? I'm fairly sure they wouldn't think so. So, what truths can we learn from them today?
General Session | What Happen's When God Speaks
When God speaks, his words go to work. When we value His voice in our lives, we find purpose. In this session we will look at the lives of women that God spoke to and their response to His call!
General Session | Keys to a spirit led life
There are key components to living a spirt led life. In this session you will discover practical steps to growing and maintaining a deep relationship with the Lord.