Description
What Is Your Gift? What is Your Passion? Do you Know God's Calling For Your Life? What About Your Purpose? Sometimes the answers to some of these questions may change depending on what season you are in within life.

Be apart of the women's empowerment movement and join a rapidly expanding network of women in ministry willing to share their own God inspired ministry strategies that have transformed their ministries , organizations, and businesses overall success in a unique, interactive, intimate, loving, and non-competitive 2 Day Conference environment.
From the very beginning, God called women in his church and the marketplace. Now women are fullfilling vital roles in both the church and the marketplace. However, Where Is Our Training , Development, and Coaching for The Kingdom? The Atlanta Women's Empowerment Ministry has the answer.
On October 4-5, 2019 - HE CALLED HER - The Women's Empowerment Edition Conference will be held in Metro Atlanta at Global Leadership Chrisitan Center, hosted by the Atlanta Women's Empowerment Ministry.The Conference will consist of (1) Friday Night, " Denim & Diamonds" Women's Worship Service 7:00pm IS OPEN TO THE PUBLIC(no registration required) ,Guest Speaker: Pastor Conitras Houston -Trinity AME Church,Guest Psalmist:Worship Leader Tamieka Loftley , & The Women's Empowerment Vendor Boutiqe which includes vendors from all over Atlanta (2) Saturday Interactive Empowerment Workshops starting at 9:00am. Opening Session "Market Place Ministry" , Guest Speaker: Becky A. Davis.
Many of the local churches that do not offer such training and development for their women in ministry but are willing to champion change on behalf of women, will send their members to participate in this experience. The Atlanta Women's Empowerment Ministry is kingdom minded and is partnering with the community, churches, seminaries, the public education sector and organizations to prepare women with resources and pathways they need to make the most of their calling. Past attendees have come to our events to strengthen their skills as women leaders, build a sense of empowerment and expand their networks.
What has made this experience so valuable in the past?
All of AWEM Programs are can't-miss events filled with inspiration, education and women learning to celebrate one another. Participants learn the "Atlanta Women's Empowerment " approach firsthand, kick-starting collaboration, networking, and development that will transform leaders and participants within their own church ministries, organizations, or personal ministries and businesses.
Attendees at the " HE CALLED HER" Women's Empowerment Edition Conference:
Are inspired by one-of-a-kind keynote addresses delivered by AWEM President and other distinguished speakers.
Participate in individualized breakout sessions by choosing topics of interest, each based on the The Women's Empowerment approach.
Interact with experienced "HE CALLED HER" facilitators who guide them through the Women's Empowerment principles, bring purpose-passion-ministry lessons to life and help attendees adapt and apply the concepts to their own personal and professional development.
Present your own ideas and work and recive coaching feedback
Network with like-minded kingdom women professionals
Who Should Attend: Women In Ministry, Women In Leadership, Christian Women in Business, Women's Ministry Leaders, Aspiring Women Ministry Leaders , Worship Leaders, and Aspiring Authors and Writers. WOMEN WORKING FOR THE KINGDOM
How Do I Register?: Select the below Paid Registration, ( Registration is $70 for Individuals, Buddy Pass $125, and Empower 4 Group Rate is $240) Then Select TWO special empowerment workshops for Session A Then Another for Session B per person.
What Does Registration Include ?: Registration includes entry to Friday Night Opening Session, Genral Sessions, Special Empowerment Sessions, Breakfast, Refreshments, and Confernce Materials.
T Shirt Registration Form: Please complete this form for your t-shirt size and color selection.
https://forms.gle/sP75dB13ah6gh8Pb7
VENDOR Opportunities are avaliable and limited.
Please see the Vendor Registration Below. We encouraged women owned vendors to partcipate. We have currently secured a paparazi vendor. Thank you
What Is The Attire for The Confernce:
Friday Night - Denim and Diamonds ( Dress Your Jeans Up Ladies) , Saturday - Casual
What is The Saturday Confernce Schedule?:
8:30am - Coffee Bar & Breakfast, 9:00am-9:30am - Morning Worship , 9:30am- 10:20am -General Session, 10:30am-11:45am- Empowerment Workshop I, 11:50pm-1:05pm Empowrment Workshop 2, 1:05 pm-1:25pm - Closing Session & GiveAways
Hotel and Lodginig Recommendations: ( Click on Link for Website and Address)
1. Atlanta Evergreen Marriott Conference Resort
2. Hilton Garden Inn Atlanta/East Stonecrest
3. Courtyard By Marriott Atlanta Decatur
Our Empowerment Workshops Are Below: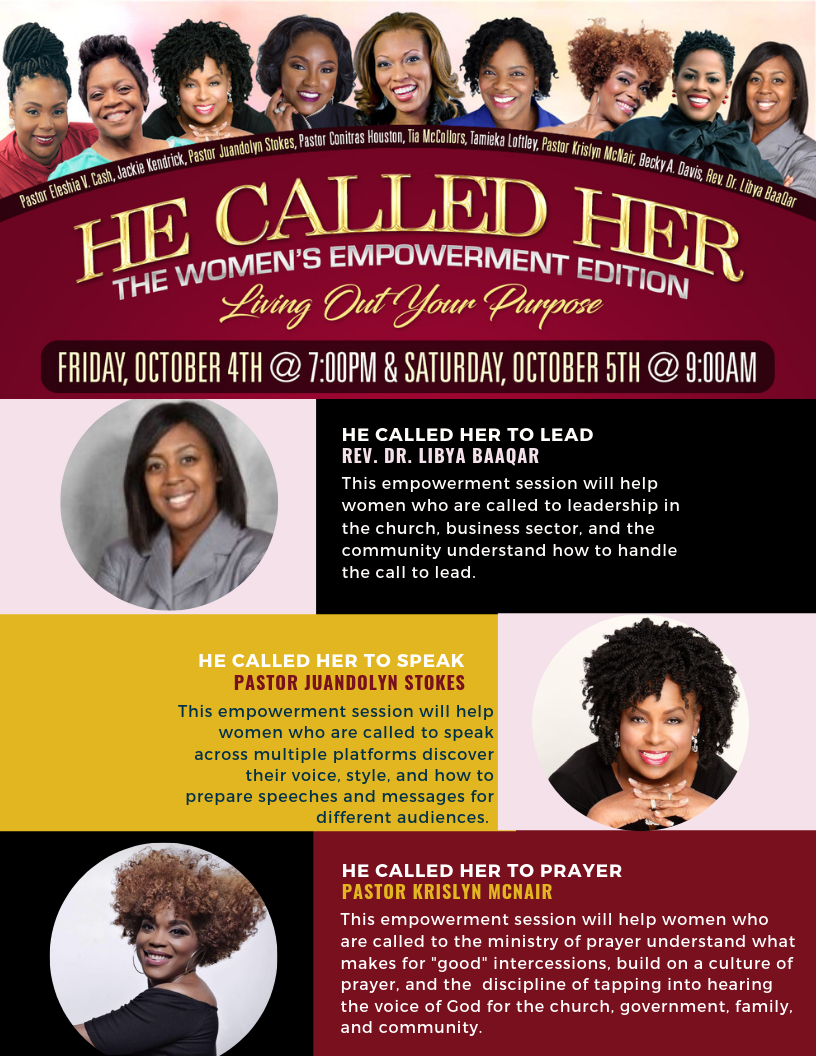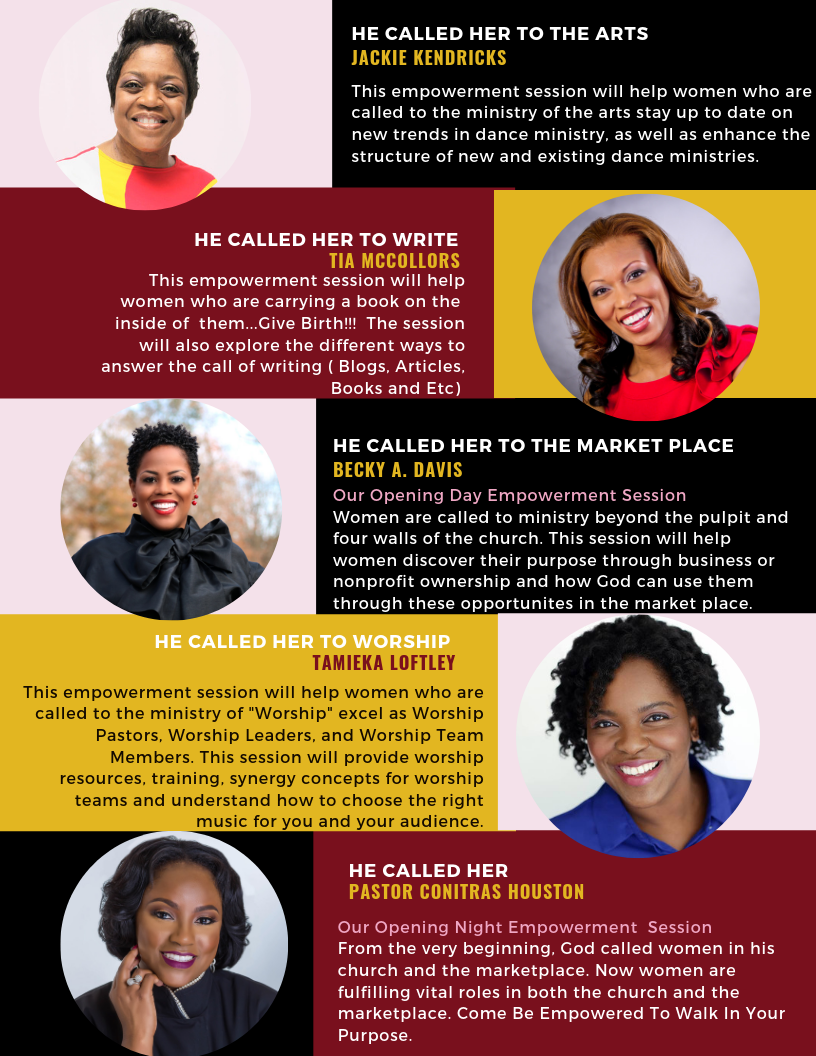 Fore More Information Visit : www.atlantaweministry.com