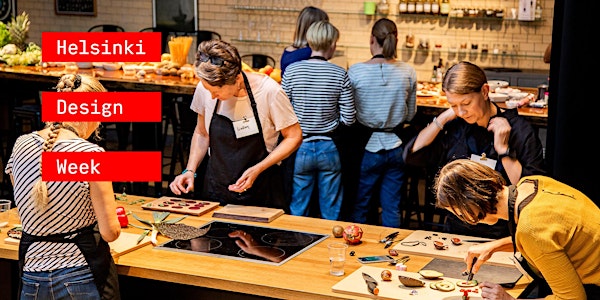 HDW 2019: Syötäviä ilmastoja -työpaja / Edible Climates Workshop
Location
A21 Flavour Studio, Teurastamo
Työpajankatu 2
Kalasatama
00580 Helsinki
Finland
Description
Syötäviä ilmastoja -työpaja

Syötäviä ilmastoja -työpajassa tutkitaan ilmasto/ilmapiiri-teemaa sekä ruoan ilmaisullisia ja tarinankerronnallisia ulottuvuuksia. Käytämme syötäviä raaka-aineita kerronnallisina elementteinä ja yhdistämme ruuan ominaisuuksia, erityispiirteitä ja merkityksiä omaan ilmaisuun luoden kerronnallisen kokonaisuuden.
Viestintään, ruokaan ja konseptisuunnitteluun erikoistunut muotoilija Heidi Uppa fasilitoi työpajan. Kokki avustaa osallistujia raaka-aineiden käsittelyssä ja eri työskentelytapojen soveltamisessa. Osallistujat voivat lähestyä ja tutkia ruokaa uudella tavalla kokeellisen lähestymistavan kautta.
Työpaja on avoin 30 osallistujalle. Osallistuminen on maksutonta mutta vaatii sitovan rekisteröitymisen etukäteen EventBrite-linkin kautta (1 lippu / rekisteröityjä).
Voit osallistua työpajaan yksin tai yhdessä. Ota mukaan avoin ja utelias asenne!

Tapahtuma järjestetään yhteistyössä Aalto-yliopiston Median laitoksen Visuaalisen viestinnän koulutusohjelman, Kellohalli-ravintolan, Flavour Studion ja Teurastamon kanssa.

Tapahtuma on osa Helsinki Design Weekin ohjelmaa. Pohjoismaiden suurin designfestivaali Helsinki Design Week järjestetään 5.-15.9.2019.


*****

Edible Climates Workshop

The Edible Climate workshop explores the climate theme and storytelling aspects of food. We use different food ingredients as expressive and narrative elements and combine the qualities and meanings of food with personal expression to create a narrative series.
The workshop is facilitated by Heidi Uppa, a designer specialized in food, concepts and communication. Participants will be guided by a chef to handle ingredients and different working methods. Participants can approach and explore food in an experimental way to create their own edible designs.

Each of the workshops is open to 30 participants. Enrolment required beforehand via EventBrite (1 ticket / registration), but participation is free of charge.
Come alone or together, and bring an open attitude with you!
This event is organized by Aalto University / ARTS / Media department / Visual communication design in collaboration with Kellohalli restaurant, Flavour Studio and Teurastamo.

The event is part of Helsinki Design Week's programme. The largest design festival in the Nordic countries is held from 5–15 September 2019.

*****
Lisätietoja / More information:
Heidi Uppa
+358 50 320 5768
heidi.uppa@aalto.fi
www.fooddesign.fi
Facebook event:
https://www.facebook.com/events/399781403870273/