Description
Join us for an exclusive preview of Televisuals film 'London Light' a 4K HDR accomplished panoramic time-lapse shot by Cinematographer Steve Lawes in association with RED Digital Cinema, Procam, Molinare, Atomos and G-Technology.
Learn firsthand the workings of HDR from capture to post, the state of mind when working with light to the creative spectrum at your disposal and the equipment needed for the optimum motion HDR set up.
_____________________________________________________________________________________________________
We will be screening 'London Light' in RED's 4K Theatre situated in Pinewood Studios and discuss the inner workings behind this project before opening the floor to a Q&A. There will be interactive demonstrations within the theatre and RED's post suite, where you can see the latest range of RED DSMC2 cameras, witness stunning detail from the Atomos Shogun Flame, live colour grading sessions with RAW footage from the HDR shoot and experience the speeds and flexibility of G-Technology's Evolution Series storage ecosystem when working with demanding 4k workflows.
Food and drink will be available throughout and technical sales representatives will be on hand for any questions you may have.
_____________________________________________________________________________________________________
**BOOKING**
There will be three sessions taking place on the day, choose between 1pm-3pm, 3:30pm-5:30pm or 6pm-8pm.
Spaces are limited so make sure you book your place now to avoid disappointment attending this one off and exclusive screening.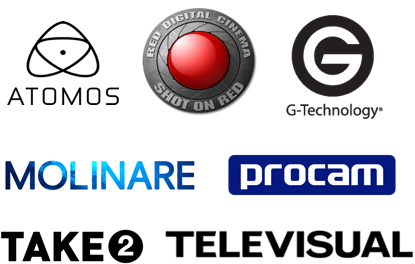 RED Digital Cinema is a leading global manufacturer of professional digital cameras and accessories. Find additional information at RED.com.
Atomos adds professional recording, monitoring, playback and editing functionality not found in most cameras to enable faster, higher quality and more affordable end to end production.
Molinare is a film and broadcast post production facility in the heart of London's Soho and, with over 40 years of experience, is one of the most respected names in the industry, specialising in television drama, feature films, feature documentaries and broadcast factual.
Procam is the UK's largest digital cinematography and broadcast hire facility. For over 25 years, Procam has been consulting and providing kit and crew in the UK and internationally for some of the most highly acclaimed and award-winning productions. Headquartered in London with branch locations in Manchester, Glasgow and Edinburgh, Procam employs over 150 of the country's most talented crew and technicians. Procam's reach also extends to the US market with its New York offices. http://www.procam.tv/
G-Technology's roots are deeply ingrained in delivering premium storage solutions for audio/video production, photography and the professional content creation market, built for environments where performance and reliability are paramount.
Take 2 is a leading supplier of professional digital and motion picture equipment within the Film and TV industry. Servicing a wide variety of high profile award-winning productions, Take 2's camera division also encompasses an extensive grip, crane and remote head facility, in addition to its own digital lab and grading suite. Find more information and a full list of credits at take2films.co.uk.
Televisual | The Business Magazine For The Broadcast And Production Community.