Description
Come join us for a Holiday Potluck with social networking, an ice-breaker activity, food and a raffle. We are designing this meeting to help get to know one another and help this chapter grow into a cohesive group of colleagues and maybe even create a few friendships.


Now that we have a few meetings under our belts, it is time to get to know one another. Rather than just being a familiar face in a room of others who have similar interests, let's find out what other interests we may have in common. Of course we already know that we all work in the Support Industry and want to network with others who happen to work within the Support Industry, but maybe you'll find out that someone else shares your passion for hiking, cycling or sports. Perhaps you might find out that someone works near you and is looking for a ride-share partner or lives near you and is just a fun person to hang out with. Having a meeting that is strictly a social gathering is one of the best ways to tell!

We will also be holding a toy drive to benefit The Department of Children and Family Services. For every unwrapped toy that you bring for a child 1-19 years old, we will be giving you a raffle ticket for a chance to win a Parrot BeBop Drone 14 MP Full HD 1080p Fisheye Camera Quadcopter valued at a retail price of $399.99.

As mentioned above, you will receive a raffle ticket for each toy you donate. You will also be receiving a raffle ticket for bringing food or drink to the potluck. Lastly, if you are interested in additional chances at winning the raffle price, you may purchase additional raffle tickets for only $5.00 each.

Please note that we are not bound to an alcohol-free environment and are open to alcoholic beverages being brought as a potluck item.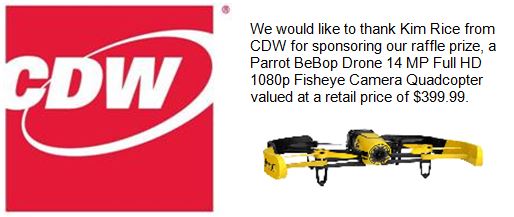 We look forward to seeing you!
The HDI LA Board