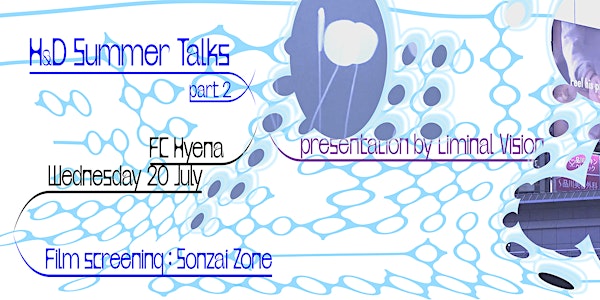 H&D Summer Talks - part 2 - Sonzai Zone
Join us for the second event of our Public Program with a film screening and presentation wtih Liminal Vision at FC Hyena!
When and where
Location
FC Hyena 24 Aambeeldstraat 1021 KB Amsterdam Netherlands
About this event
Sonzai-kan 存在感 is a Japanese concept for human presence: a quality of existence or 'affective atmosphere' that we can perceive of other people. This quality is often lost in communication through screen-based interfaces, which are inherently not designed to mediate subtle, nonverbal cues about coexistence and affection.The idea that human presence can be mediated over distance in an ambient way has been explored in the field of Human-Computer Interaction already since the late 90s. This research produced a broad range of interface prototypes defined by similar principles: the transmission of peripheral cues about the user's real-time being. Rather than mediating figurative content between devices, the presence of another person can be experienced in space through 'expanded affective fields', stretched over time. Such communication systems are hereby referred to as 'Sonzai Media'. Sonzai Media have important emancipatory potential as they afford fluid, embodied forms of cognition and communication that could counterbalance the dominant, objectifying and quantifying ways of relating to the planet and to each other. At the same time, this emerging paradigm adds to already existing concerns about agency and power in contemporary media.