HCX Reception - Ethereum Devcon4 Networking After Party - Prague 1 November

Thursday, November 1, 2018 from 6:00 PM to 9:00 PM (CET)
Event Details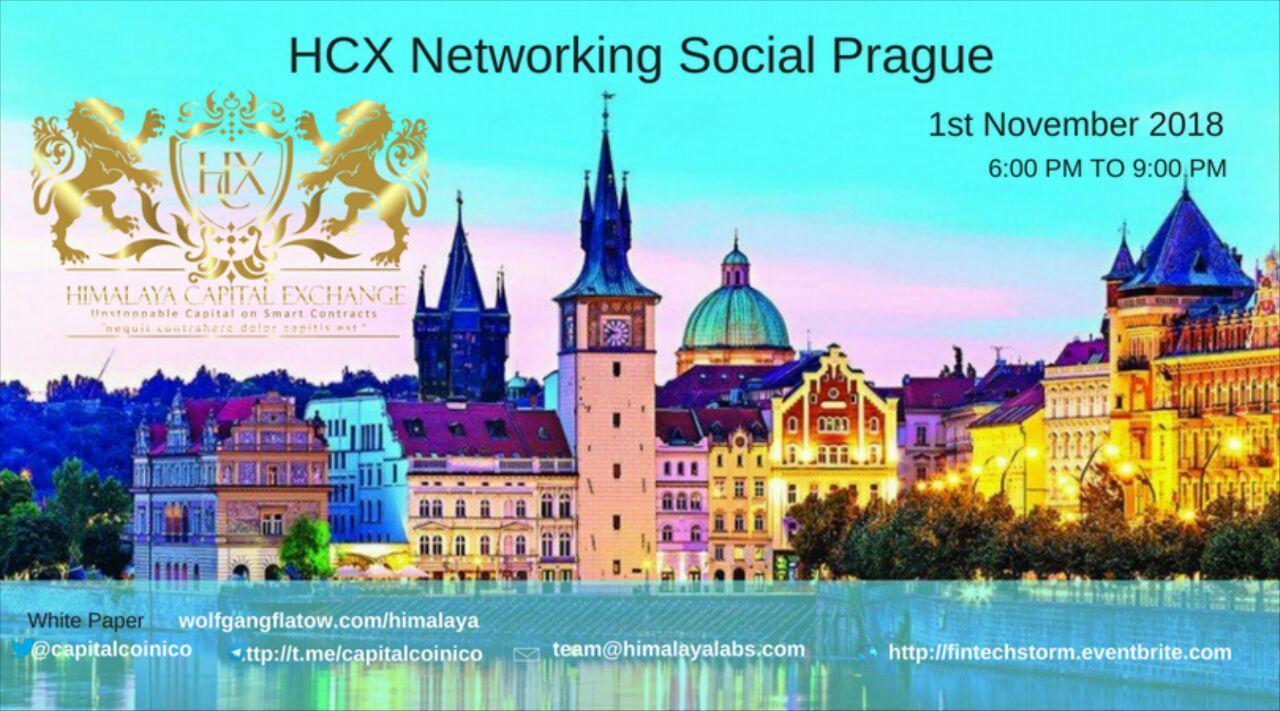 Event : HCX Networking Reception - Ethereum Devcon4 After Party 
City : Prague
Date : 1 November 2018
Time : 6pm to 9pm 
Join our upcoming Himalaya Capital Exchange meetups at Worldwide ICO Roadshow 2018 and learn how HCX platform makes every entrepreneur's dream come true by democratising capital raising. 

Here is a video to get you all excited about us...

https://youtu.be/oSNNzFxuzrg
Get free HCX token airdrop!
Join us in London 13 August and meet our team.



About Himalaya Capital Exchange - A Security Token Issuance Platform
Himalaya Capital Exchange is one of most revolutionary and ground breaking ICOs. It is a project aimed at creating an alternative infrastructure to existing stock exchanges to facilitate Initial Public Offerings (IPOs) on a global, borderless, tech platform. The Platform As a Service eco-system would perform the role of investment banks thus saving 7-10% IPO fees paid to investment banks. The platform would create an instant connection between entrepreneurs around the world and investors around the world to raise capital with the safety of shares and bonds, perfectly complying with securities laws.
---
Frequently Asked Questions
What does your company do?
Create jobs, innovation and wealth by transparently connecting entrepreneurs seeking capital with investors in every country.
What problem are you solving?
The Himalaya Capital Exchange platform enables people seeking capital to create trusting investment relationships with investors from around the world. 
Previous finance systems separated the innovators from the investors and charged high fees for non-transparent processes which restricted many people and countries from access to capital.
How are you changing the world?
From the smallest micro entrepreneur to the largest organisation, people can seek capital from investors around the world using a transparent, open and cost effective system. 
Enable innovators seeking capital to freely take part in multiple capital markets transactions with low to zero entry barriers, regardless of their knowledge of crypto or capital markets
Innovators can grow their business and provide new services and jobs.
Creating an open access platform for issuing digital assets and managing all parts of the fund raising process including book building, issuing securities and investor communications and investor servicing , dividend distribution and voting management using smart contracts. Auctions of government assets, syndicated loans and government bonds also to be included.
Remove barriers to raising capital. Create a transparent and open process to solve the problem of inefficiencies and high transaction costs of existing intermediaries.
Solve the problem of dealing with the complex laws, relationships, regulations, information asymmetry of the current system with a new tech empowered ecosystem.
What is the major social impact?
Provide entrepreneurs in every country a mechanism and community to drive social change and technological innovation by freely accessing global financial markets. 
Provide people in all countries the chance to grow their enterprise to create jobs and wealth.
Remove barriers to wealth creation which exist in some current financial systems.
Why use blockchain?
Previous financing methods required trusted central authorities such as a stock exchange, government regulators and approved advisors. Blockchain technologies can provide frictionless, easier and quicker access to capital without paying fees to central authorities and gatekeepers which restricts access.
With Himalaya Capital Exchange the trust is decentralized to the community. This decentralized trust concept and radical new transparency opens up the world of finance to many more people. The costs of raising money by listing shares will be driven down.
Disrupt or collaborate?
Himalaya Capital Exchange will disrupt processes that isolated people and communities from access to capital. Later, we will also build a marketplace which will collaborate with investors, advisors, innovators, and developers building third party applications for the asset management and private equity industries seeking to broaden access to capital.

Sign up to our Token Drop and Mailing List here.
Read More

Sign up for our worldwide meetups


ICO aspirants join us on our epic Global Roadshow 
Connect with our 10000+ global crypto community at face to face meetings across 15 countries during August-Sep 2018.

Get featured in Press Releases around the globe.

Get discovered by crypto funds, ICO subscribers, HNI investors in new regions.

Network with other ICOs on the roadshow and forge strong bonds over presentations, media interviews, parties.

Travel & network with us, grow with Token Storm.

We hosted an epic tour featuring New Alchemy, Sweetbridge, Brickblock and Himalaya in Dubai, Beijing, Shanghai, Singapore, Hongkong last year - September 2017.

Interested ICOs, email us at team@himalayalabs.com and join our telegram group http://t.me/capitalcoinico to join the conversations.

Email team@himalayalabs.com for brochure.
Join Himalaya Token Drop Mailing List
RSVP for any of our worldwide meetups here : http://fintechsorm.eventbrite.com
Watch a 3 Minute Video on our Roadshow
https://www.youtube.com/watch?v=Ni1-ri7JMVg&t=23s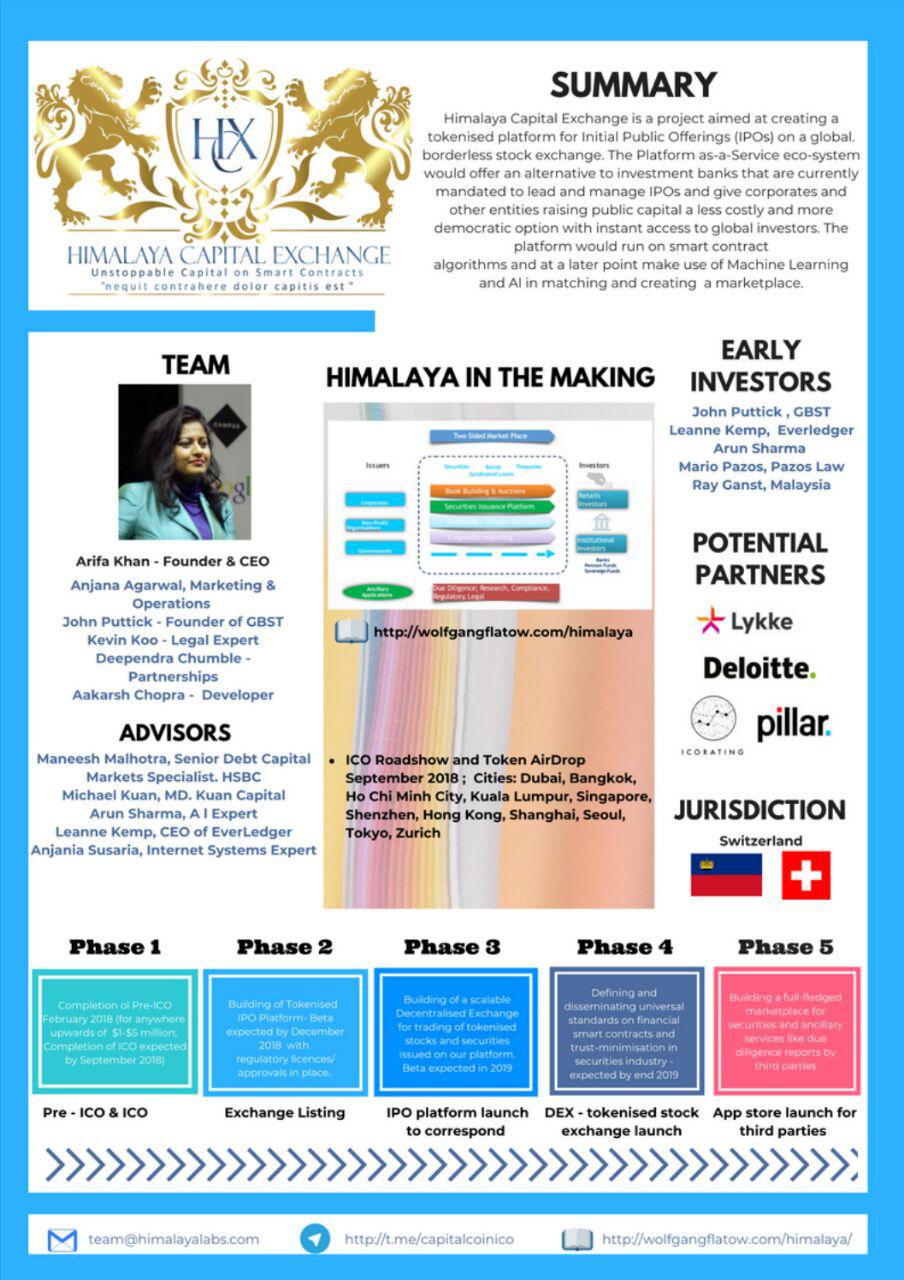 Have questions about HCX Reception - Ethereum Devcon4 Networking After Party - Prague 1 November?
Contact Blockchain Storm
Attendee List
Sort by:

Date

|

First Name

|

Last Name
Save This Event
When & Where

Hilton Hotel Prague
Pobrezni 1
18600 Prague
Czech Republic


Thursday, November 1, 2018 from 6:00 PM to 9:00 PM (CET)
Add to my calendar
Organizer
Fintech Storm Series is a spectacular monthly series which started at Google Campus London for fintech folks by fintech folks. We started in 2014 and have hosted around 100 events featuring 100s of fintech & blockhain companies so far . Our famous speakers include Vitalik Buterin, Founder of Ethereum, Nick Szabo. We have featured 100s of companies and CEOs before they hit big : such as Blockchain.info, Revolut, Currency Cloud, Boku, Zapp, Bango, Everledger, Realex Payments, Sage Pay, Azimo, Invoice Sharing, Friendly Score, Invest Up, Azimo, TransferGo, Ixaris, YoYo, iZettle etc. 
To see detailed profiles of speakers and to register visit:
http://fintechstorm.eventbrite.com