HCX Blockchain & Smart Contract Pioneers Shanghai Roadshow 14 Sep 6:30pm

Friday, September 14, 2018 from 6:30 PM to 9:00 PM (CST)
Event Details
Hello friends
HCX CTO John Puttick and CEO Arifa Khan are visiting China and will be delighted to meet the crypto community
in Shanghai.
Date 14 Sep 2018
Time 6:30pm to 9:00 pm  
Venue : TBC
Tour dates
13 Sep Hong Kong
14 Sep Shanghai
15 Sep Tokyo 
17 Sep Seoul
20 Sep Singapore  
Http://FINTECHStorm.eventbrite.com  
For Directions, join telegram group and message us if you have any difficulty
http://t.me/capitalcoinico 
We are in private fund raising stage, so anyone wants to meet us privately to discuss can arrange meetings in Sep by emailing us on arifa@himalayalabs.com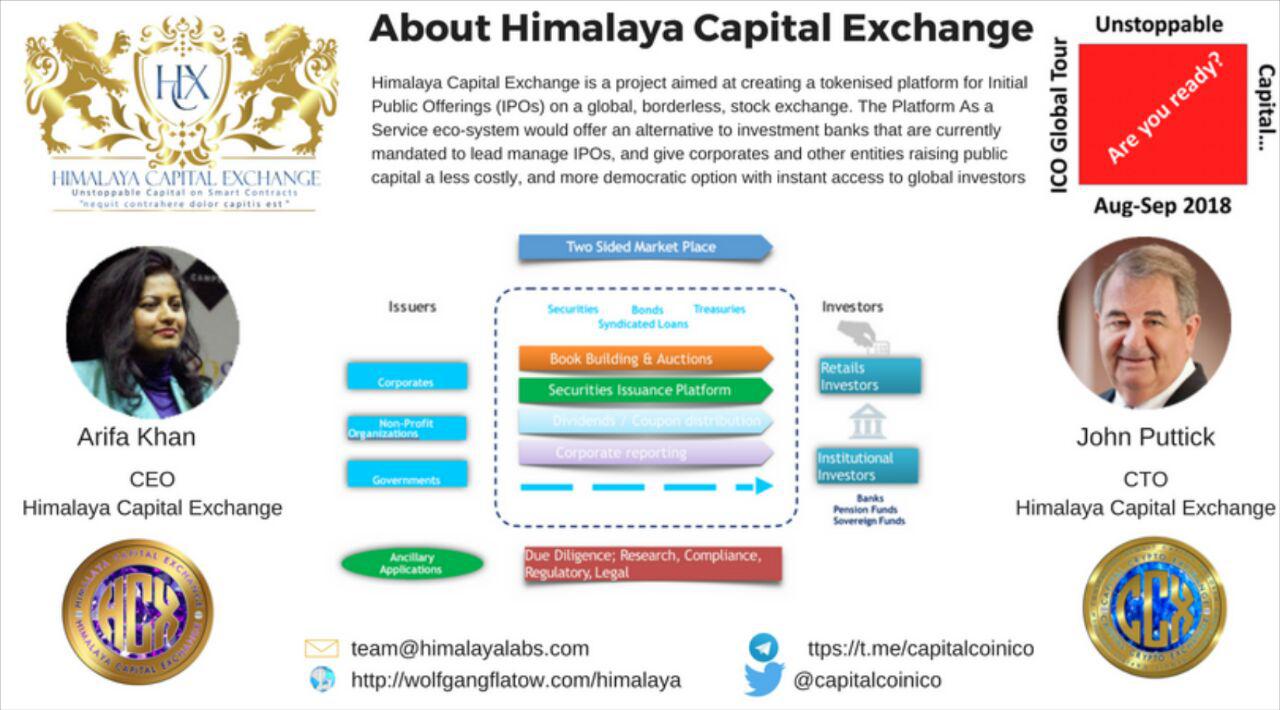 Speakers
John Puttick
CTO, HCX & Chairman GBST Holdings Limited
John Puttick has enjoyed a multi-faceted career in information technology, education and community service. He is the Founder of GBST which supplies software to stock exchanges around the world.
As founder of GBST he guided this innovative leader in IT for the financial services sector from embryonic idea through to its listing on the ASX in 2005. GBST provides technology services to the financial services industry, addressing clients needs for innovation, competitiveness and responsive IT that truly enables their business. Today GBST is an international company headquartered in Brisbane with offices throughout Australia, London, New York, Hong Kong, Singapore and Ho Chi Min City.
Committed to student and industry mentorship, Dr Puttick serves as a member of Council of the Queensland University of Technology; the University of Queensland as Adjunct Professor School of IT&EE and previously as Chair of the Business Council of the South Bank Institute of Technology.
His achievements and support of the IT industry in Queensland were acknowledged in 2006 with his election as Chairman of Software Queensland. In 2007 he was awarded Doctor of the University in recognition of his distinguished service to QUT, the IT industry and the community.
In 2007 his various contributions were recognised by Australia's ICT peak body when he was inducted into the Pearcey Hall of Fame for distinguished lifetime achievement and contribution to the development and growth of the Information Technology Professions, Research and Industry.
HCX (Himalaya Capital Exchange): A Security Token Issuance Platform
HCX is a project aimed at creating a tokenised platform for Initial Public Offerings (IPOs) on a global, borderless, stock exchange. The Platform As a Service eco-system would offer an alternative to investment banks that are currently mandated to lead-manage IPOs, and give corporates, governments, and other entities raising public capital a less costly, and more democratic option with instant access to global investors. We are giving entrepreneurs everywhere the chance to create their own shares and bonds, and raise money within minutes from across the world frictionlessly. The platform would run on smart contract algorithms and at a later point make use of Machine Learning and AI in matching and creating a marketplace. HCX is backed by John Puttick (Chairman of GBST), Arun Sharma (Queensland University), Leanne Kemp (CEO of Everledger), Mario Pazos (Pazos Law, USA) and others. Currently in private token sale before launching the public pre sale of tokens in Oct18.
White Paper: http://wolfgangflatow.com/himalaya
http://dgcamp.io
https://youtu.be/oSNNzFxuzrg
https://www.einpresswire.com/article/457212232
Arifa Khan, CEO of HCX, is a crypto pioneer who authored the first ever Concept Paper on decentralising capital markets (June 2017) before security tokens were invented. She later architected a platform ecosystem for capital markets participants in her revolutionary white paper published and presented to Nick Szabo on 25 May 18. She founded HCX in 2017- a decentralized stock exchange that runs trustlessly on smart contracts - to bring that vision to reality and travelled the world for a full year to educate non crypto savvy people in remote corners on the benefits of self-issuing security tokens. HCX is the first-of-its-kind disruption which automates the role of investment banks. She has an MBA from Wharton, and a B.Tech from IIT Madras. She is listed among Top 100 fintech influencers by Lattice80.
Join http://t.me/capitalcoinico
ICOs join our Worldwide ICO Roadshow this September.
Watch our 3 Minute Video
https://www.youtube.com/watch?v=Ni1-ri7JMVg&t=55s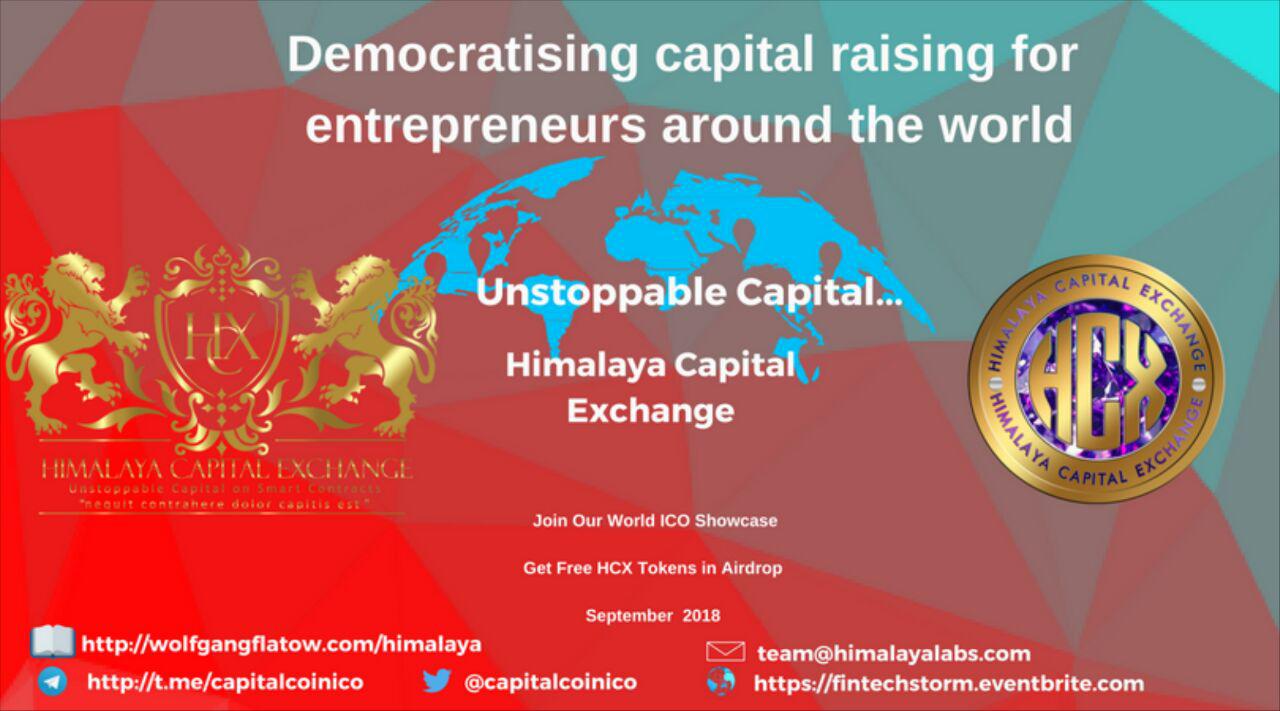 When & Where

上海市静安区延平路135号B座二层WeWork延平路
WeWork Yanping Road, 2nd Floor, Block B, No. 135, Yanping Road, Jing'an District, Shanghai
Shanghai
China

Friday, September 14, 2018 from 6:30 PM to 9:00 PM (CST)
Add to my calendar
Organizer
Fintech Storm Series is a spectacular monthly series which started at Google Campus London for fintech folks by fintech folks. We started in 2014 and have hosted around 100 events featuring 100s of fintech & blockhain companies so far . Our famous speakers include Vitalik Buterin, Founder of Ethereum, Nick Szabo. We have featured 100s of companies and CEOs before they hit big : such as Blockchain.info, Revolut, Currency Cloud, Boku, Zapp, Bango, Everledger, Realex Payments, Sage Pay, Azimo, Invoice Sharing, Friendly Score, Invest Up, Azimo, TransferGo, Ixaris, YoYo, iZettle etc. 
To see detailed profiles of speakers and to register visit:
http://fintechstorm.eventbrite.com