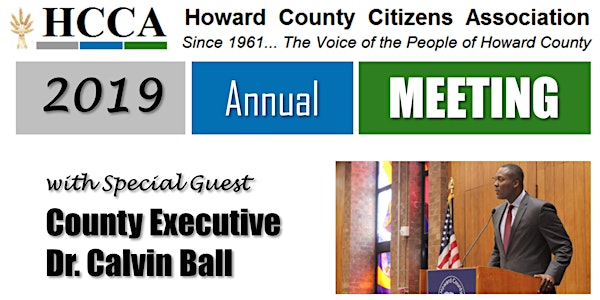 HCCA Annual Meeting with Special Guest, County Executive Dr. Calvin Ball
When and where
Location
Oakland Mills High School Auditorium 9410 Kilimanjaro Rd Columbia, MD 21045
Description
Dr. Ball will be taking questions from audience members.
Special thanks to HCCA's CO-HOSTS of this event: Chinese American Parent Association (CAPA), Concerned Citizens of Western Howard County (CCWHC), Dayton Rural Preservation Society LLC (DRPS), Greater Highland Crossroads Association, Howard County Association for Responsible Planning (HARP), Indivisible HoCo MD, Mobilize HoCo Schools, The People's Voice, LLC (TPV), PTA Council Howard County (PTACHC), Savage Community Association, and the Sierra Club Howard County
We would like to take this time to THANK the many of you who have shown your support by paying your 2019 HCCA Membership.
HCCA will be providing Ledo's pizza starting at 6:30!
All attendees will be receiving a Special Gift