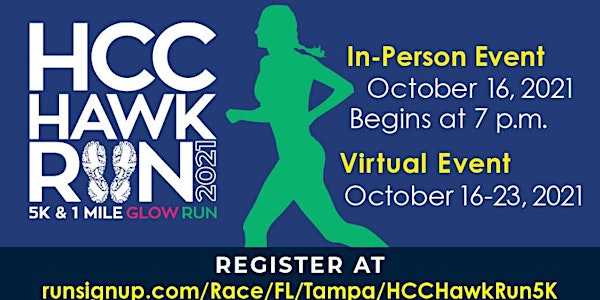 HCC Hawk Run Health and Wellness Poster Contest 2021
Location
Hillsborough Community College - Brandon Campus
10451 NANCY WATKINS DR
Student Services Building
TAMPA, Florida 33619-7836
Sales Have Ended
Registrations are closed
Thank you for registering to participate in the HCC Hawk Run Student Poster Session. You will receive a separate email with more information including the Rubric for the category of poster you have selected to present.
Poster Session Contest is an excellent opportunity for students to gain experience presenting a poster in a professional setting.
About this event
The HCC Hawk Run 2021 Student Poster Session Contest is an excellent opportunity for students to participate in the HCC Hawk Run Health & Wellness Fair and showcase their thoughts, research and presentation skills in promoting health and wellness. In addition, presenting in a formal poster session can greatly enhance a student's academic resume (CV). The major goal of the poster session is to promote health awareness through research based presentations. The poster presentation aims to generate active discussions related to the research topic. Each student participant can present one poster.
Participants will sign-up for a specific 15-minute presentation time.
The participant must be present during the time slot to explain his or her poster and be prepared to answer questions from the audience.
The poster session presentation will take place before the run/walk portion of the event so that students can participate in both events if they choose.
Students have the option of two different categories of posters to present.
The Poster Session will be open throughout the entire run/walk and health fair event for race participants to view. We encourage participants to be available before and after their presentation to discuss their poster with race participants.
A selection of posters will be displayed in the HCC Brandon Science Department after the event.
The results of the Contest will be announced at the Hawk Run Awards Ceremony starting at approximately 8:00 pm on the evening of the event.
POSTER CATEGORIES:
1)      Formal Scientific Research Poster on a health topic (requires formal citations)
2)      General Poster on a health or wellness topic
**Rubrics will be sent once you have registered.
Posters will be judged and the top three posters will be awarded prizes for EACH category of poster.
1st Place: $100 Cash Prize
2nd Place: $50 Cash Prize
3rd Place: 2 AMC movie passes
Honorable Mention(s): Ribbon
 Who is eligible to participate in the Poster Session Contest? All current HCC students
 Deadline for Registering for the Poster Session: Monday, October 11, 2021
 Deadline for Submission of Poster: Wednesday, October 13, 2021
 For more information or questions contact: Elizabeth McCullough emccullough@hccfl.edu
 What topics are appropriate for the Health and Wellness Poster Session?
Formal Scientific Research Poster:
Metabolic disorders (i.e. obesity, high blood pressure, hyperglycemia/diabetes, high cholesterol and cardiovascular diseases, CVD)
Neurodegenerative conditions (i.e. brain and spinal cord injury related conditions occurring in football players, soldiers or car crash victims, people suffering from Alzheimer's disease or similar conditions)
Cancer
General Poster on a health or wellness topic:
Nutrition (i.e. how to eat well on a college budget, clean/non-GMO food, healthy snacks)
Exercise (i.e. Apps for exercise, benefits of weight training, science behind yoga)
Proper Life Balance (i.e. meditation, stress reduction strategies)
Other (i.e. pet therapy, how to detect/prevent skin cancer)
The poster can address any aspect of the above mentioned health related issues, e.g., disease process, current development in therapeutics, epidemiological studies, public awareness etc.  
POSTER PRESENTATION OPTIONS:
(1)   Professional Printing of Poster on campus:
HCC Brandon has large printers that can print poster information from an electronic fil
Poster size will be 24" x 36"
Poster Information will need to be placed into a Power Point forma
More information will be provided when you register if you select this option.
 (2)   Science Fair Board (36" x 48" tri-fold display board)
Print sections of the research and paste on the board.
Font size of the poster body should be at least 20 point on Arial or Times New Roman and the title should be at least 30 points.