Description
HBR@Work: Making Good Charts
A Live Event*
A good visualization can communicate the nature and potential impact of information and ideas more powerfully than any other form of communication. It's also increasingly becoming a need-to-have skill for managers. If you're not doing it, other managers are. The good news is that a new generation of tools and massive amounts of available data are making it easy for anyone—not just data scientists and professional designers—to create visualizations that communicate ideas far more effectively than generic spreadsheet charts ever could.
Join Harvard Business Review Senior Editor Scott Berinato for a workshop on how to use this new language to impress and persuade. With hands-on examples and sketches, Berinato will share specific examples of good charts and bad ones, including some from attendees. Tweet your questions to @HarvardBiz and include the hashtags #goodcharts and #HBRatWork.
Share your pictures, comments, and questions during the event with #HBRLive and the handle @HBRexchange.
*Please note that space is limited, and registration will close when capacity is reached. This event will not be webcast so please only register if you plan to attend in person.
ABOUT THE SPEAKER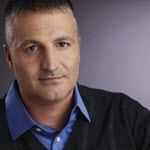 Scott Berinato is a self-described "dataviz geek" and a Senior Editor at Harvard Business Review. In addition to creating the successful "Vision Statement" department in the magazine, he has written and edited many articles for HBR and other top business and tech-related print and web publications.
EVENT DETAILS
Tuesday, May 17
Workbar Cambridge
45 Prospect St.
Cambridge, MA 02139
(One block from Central Square T stop. Public parking available at Green St. garage.)
6:00 - 6:30 PM
Guest Check-ins with Light Food
6:30 PM
Welcome: Adi Ignatius, Editor in Chief, Harvard Business Review
6:35 - 7:30 PM
Workshop with Scott Berinato and Q&A
7:30 – 8:00 PM
Post-panel Reception