Description
HBR@Work: Resolving Your Toughest Problems at Work
A Live Event*
Every manager makes tough calls—it comes with the job. And the hardest decisions are the "gray areas"—situations where you and your team have worked hard to find an answer, you've done the best analysis you can, and you still don't know what to do. But you have to make a decision. You have to choose, commit, act, and live with the consequences and persuade others to follow your lead. Gray areas test your skills as a manager, your judgment, and even your humanity. How do you get these decisions right?
Join Harvard Business School professor Joseph Badaracco to learn powerful and practical ways to resolve your toughest problems at work, broaden your thinking, sharpen your judgment, and develop a fresh perspective.Tweet your questions to @HarvardBiz and include the hashtags #goodcharts and #HBRatWork.
Share your pictures, comments, and questions during the event with #HBRLive and the handle @HBRexchange.
*Please note that space is limited, and registration will close when capacity is reached. This event will not be webcast so please only register if you plan to attend in person.
ABOUT THE SPEAKER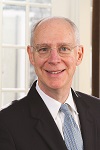 Joseph L. Badaracco is the John Shad Professor of Business Ethics at Harvard Business School, where he has taught courses on leadership, strategy, corporate responsibility, and management in the school's MBA and executive programs. His books on these subjects include Defining Moments and the New York Times bestsellerLeading Quietly.
AGENDA
Wednesday, September 14
Workbar Cambridge
45 Prospect St.
Cambridge, MA 02139
(One block from Central Square T stop. Public parking available at Green St. garage.)
6:00 - 6:30 PM
Guest Check-ins with Light Food
6:30 PM
Welcome: Melinda Merino, Senior Editor, Harvard Business Review
6:35 - 7:30 PM
Talk and Q&A with HBS Professor Joseph Badaracco
7:30 – 8:00 PM
Post-panel Reception