HBR Live: "Disrupting Digital Business"

Monday, September 28, 2015 from 11:00 AM to 1:00 PM (BST)
Event Details
'Disrupting Digital Business' 
A Free Live Event
for guests of Harvard Business Review 
Companies succeeding today have done so because they understand what it takes to build an organization in the digital era. We are moving from selling products to keeping brand promises and organizations must prepare to move ahead of social, organizational, and technological shifts or be left behind as digital business disruption becomes a necessity.
On 28 September in London, R 'Ray' Wang will join us in London to talk about the thinking behind his new book Disrupting Digital Business. Ray will explain the trends that business leaders must pay attention to – and how they should react to them.
52% of the Fortune 500 have been merged, acquired, gone bankrupt, or fallen off the list since 2000. The impact of digital disruption is real. These trends need to be taken seriously, and they require a brand new way of thinking about business.
Following Ray's presentation, Tim Sullivan, Editorial Director at Harvard Business Review Press, will moderate a discussion with Ray and other leaders in the digital space to consider how their organizations are being disrupted by the digital revolution.
To learn more about R Wang and Disrupting Digital Business, see his blog at http://blog.softwareinsider.org/
 THE SPEAKERS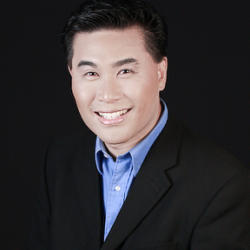 R "Ray" Wang is Founder of Silicon Valley based Constellation Research, Inc. He's also the author of the business strategy and technology blog "A Software Insider's Point of View" discussing how disruptive technologies and new business models. A prominent and dynamic keynote speaker and business strategist, Ray works with clients on digital, innovation, business model design, engagement strategies, customer experience, and big data. He has thrice won the prestigious Institute of Industry Analyst Relations (IIAR) Analyst of the Year Award.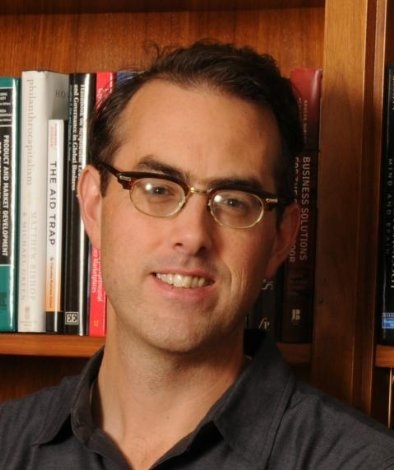 Tim Sullivan is Editorial Director of Harvard Business Review Press and has worked at Basic Books, Portfolio, and Princeton University Press, where he helped build one of the most successful academic economics lists in the world. He is co-author with Ray Fisman of The Org: The Underlying Logic of the Office. His new book, The Inner Lives of Markets (also with Ray Fisman), will publish in mid-2016.
THE PANELISTS
Piers Virik is a management consultant at the Berkeley Partnership, an independent management consultancy who for more than 20 years have been supporting clients assess and respond to their most complex business challenges.  Piers works with clients transforming their capabilities and organisations in response the challenges of the digital era. Most recently he's spent time with retailer and FMCG organisations to make step changes in their ability to understand and engage with consumers via digital.  Critically this has also involved making the organisational changes needed internally to sustain this in a constantly changing consumer environment. 
Peter Collingridge is VP of Product at Safari Books Online. He began his career in publishing at Edinburgh's Canongate Books in 1997 and was instrumental in transitioning the house into digital publishing ventures. Long regarded as digital visionary, Collingridge founded Apt Studio in 2005, a strategic firm specializing in consulting with publishers about digital technology. In 2008 he cofounded the app development company Enhanced Editions before launching Bookseer in 2011.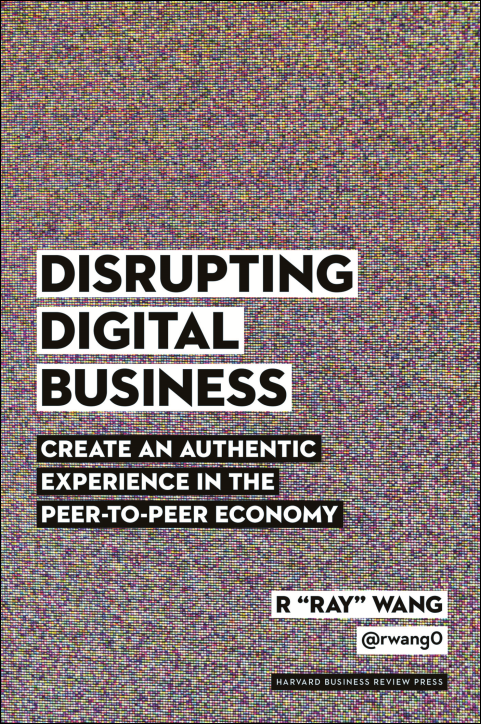 Disrupting Digital Business:
Create an Authentic Experience in the Peer-to-Peer Economy 
by R "Ray" Wang  HB, 208pp, ISBN 978-1-4221-4201-1
https://hbr.org/product/disrupting-digital-business-create-an-authentic-experience-in-the-peer-to-peer-economy/10630E-KND-ENG
EVENT DETAILS
Monday, September 28, 2015

The Bulgari Hotel
171 Knightsbridge
London SW7 1DW 
AGENDA:
11:00 - 11:30 - Registration and arrival drinks
11:30 - 12:30 - Presentation followed by panel discussion with closing questions and answers
12:30 - 1.30 - Buffet lunch
When & Where

Bulgari Hotel London
171 Knightsbridge
SW7 1DW London
United Kingdom


Monday, September 28, 2015 from 11:00 AM to 1:00 PM (BST)
Add to my calendar
Organizer
Harvard Business Review is the leading destination for smart management thinking. Through its flagship magazine, books, and digital content and tools published on HBR.org, Harvard Business Review aims to provide professionals around the world with rigorous insights and best practices to help lead themselves and their organizations more effectively and to make a positive impact.