Event Information
Location
North Side of HB Pier
Meet on Main Street
Huntington Beach
Description
International Surfing Day - June 20th - 7:00 a.m. - 1:00 p.m.
JOIN US IN SETTING A GUINNESS WORLD RECORD FOR THE LARGEST RECORDED PADDLE OUT IN THE WORLD!
Honoring International Surfing Day with the "Surfing Circle of Honor".
A circle of solidarity to honor surfing culture and heritage.
We will be doing a ceremony to honor our next generation of surfers, and competing for a Guinness Book of World Records for the largest group of surfers to form a paddle out circle.
Paddle out team members fee is $25 each
(includes rash guard and entry to the after party at the Pasea - 6/20 3:00 - 8:00 p.m.)
All paddle out team members must be cleared to paddle out by their team captains.


TUESDAY, JUNE 20
TH
, 2017 – ISM SURFING CIRCLE OF HONOR,
Celebrating Surfing in the Summer Games - International Surfing Day
7:00-8:15am
PARADE LINE UP ON MAIN STREET BETWEEN ORANGE AND OLIVE STREETS
In Wetsuit w/Surfboards, Jerseys, and Bracelets on – Surfers please do not be late, join your team in the line-up (i.e., Blue, Black, Red, Yellow, Green)

This is very important because the Guinness World Record

Adjudicator/Judge will be counting everyone in their teams prior to the parade beginning and then again on the beach.

We need at least 500 surfers to show by 7:30am and to be accounted for to set the world record.
8:15-8:30am
Blessing of the Surfing Circle of Honor Surfers
– Pastor Sumo/Father Christian/Duke Aipa
8:30am
Surfing Circle of Honor Parade Begins
down Main St. All head to the gates on the beach with teams
GUIDELINES -

TO ENSURE SAFETY:


A callout from the pier will instruct teams of 25 surfers to paddle out together along the pier i.e. "Blue 25 go" or "Black 25 go" etc.

Gate keepers will assist you on the beach.
MOST IMPORTANTLY:
As you leave your gate to head to the ocean, the Guinness World Record

Adjudicator/Judge will be counting all surfers.

As you enter the water they will be using clickers to count so be sure you are counted as you go through the gate to the ocean.

The Guinness World Record Adjudicator/Judge needs us to be very organized to ensure we are all counted.
9:00-11:00am
500 Surfers Paddle Out to set Guinness World Record
(Time flexibility)
Listen for directions from the pier

There will be 500 noodles strung together and color coded for each surfer to help up make a circle

Paddle out to your team color,

Once the circle is completed:

All surfers will hold hands
VERY IMPORTANT
To set the Guinness World Record, do not let go of hands until you hear "WE DID IT"!
11:00-11:30
Return to Beach in Teams of 50
You will hear and see flags go up from the pier for each team of 50 to know when to head back to shore

It's important to help rollup the noodles and return them to the boat prior to returning, team captains will identify who will be responsible for rolling up the noodles

Once on shore, follow directions through the shoot between Tower 2 and 4.

Adults over 21 will receive a shell lei as they go toward the forming circle.

build a circle on the beach with your boards standing behind you

Under 21 goes to the center of the circle on the beach making an inner circle with boards pointing in front of them
11:30-11:45
Grom/Under 21 Pay-It-Forward Lei Ceremony with Blessing,
honoring Our Next Gen Surfers on Beach "Our Summer Game Hopefuls"
11:45-12:30pm
ISM Surfing Circle of Honor Team Captains, Mayor and Diana Dehm Receive the Guinness World Record
with our surfers and surfing village surrounding the Guinness World Record Adjudicator/Judge.
We are all in this together!
12:30pm
HBISM SURFING CIRCLE OF HONOR COMPLETE
3:00pm
CELEBRATION AT THE PASEA!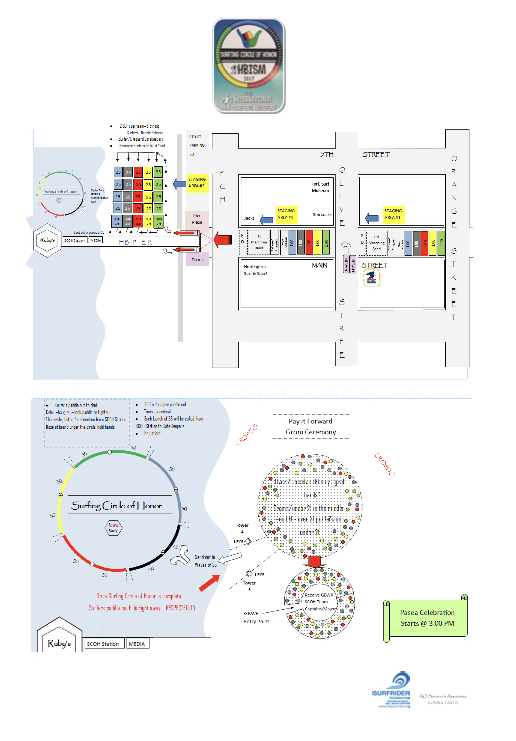 Sport Participant Release of Liability, Waiver of Claims, Express Assumption of Risk and Indemnity Agreement for the International Surfing Museum.
Please read and be certain you understand the implications of agreeing to this Release by purchasing your ticket to participate in this event.
I do hereby affirm and acknowledge that I have been fully informed of the inherent hazards and risks associated with surfing and understand that injuries may occur during participation at Surfing Circle of Honor presented by the International Surfing Museum. I understand that there are inherent risks involved in the sport of surfing and that injuries are a normal and ordinary occurrence and fully recognize such hazards and understand the nature and existence of inherent risks. In the Event of injury to my child, dependent, or myself, I hereby release International Surfing Museum and its owners, employees, independent contractors, volunteers and sponsors from any and all liability claims, or personal injury claims, including accidental death. Further, I release the City of Huntington Beach and the State of California and their officials and employees from any and all liability claims for personal injury, including accidental death, or property damage. In the event that I cannot be reached in a medical emergency, I agree to indemnify, defend and hold harmless and release the City of Huntington Beach, its elected and appointed officials, agents, employees, and volunteers from any and all lawsuits, damages, judgements, losses, liability or expenses arising out (1) the death or personal injury or property damage to myself, my child or my ward, which may be sustained while using property owned by or under the control of the City of Huntington Beach, or (2) any death or injury which results or increases by any action taken to medically treat me, my child, or my ward. All of the terms above shall apply whether or not caused by the alleged negligence, whether active or passive, or any acts or omissions of the City of Huntington Beach, or of it's elected or appointed officers, agents, employees or volunteers. I have read, understand, and approve this release liability form. If the participant is a minor, the purchasing parent or legal guardian warrants and represents this release, its significance and the assumption of risk, has been explained to and understood by my minor child or ward. "I hereby declare, under penalty of perjury, that I am the parent or legal guardian of the named participant." By purchasing this ticket hold harmless and medically release from, I attest to reading it in full and completely understand and agree to its terms. I also understand that this release is valid for all Surfing Circle of Honor & International Surfing Museum acuities from the date of purchase of my ticket through December 31st, 2017.
Ticket must be purchased by participants legal guardian if participant is a minor.

---
A hard copy of the sign up form and waiver can be found on the museum website or at this link.
http://www.surfingmuseum.org/assets/circle-of-honor-release.pdf
---
How can I contact the organiser with any questions?
HBISM2017@gmail.com
Date and Time
Location
North Side of HB Pier
Meet on Main Street
Huntington Beach
Refund Policy