HBGC's We Wear The Mask Masquerade: 3rd Annual Cocktail Reception
When and where
Location
30 Washington Street Somerville, 02143
Description
Celebrate with the Hispanic Black Gay Coalition at our 3rd annual fundraiser to reflect on 2012 and look towards 2013 with larger ambitions for uniting and uplifting Hispanic/Latin@ and Black LGBTQ communities!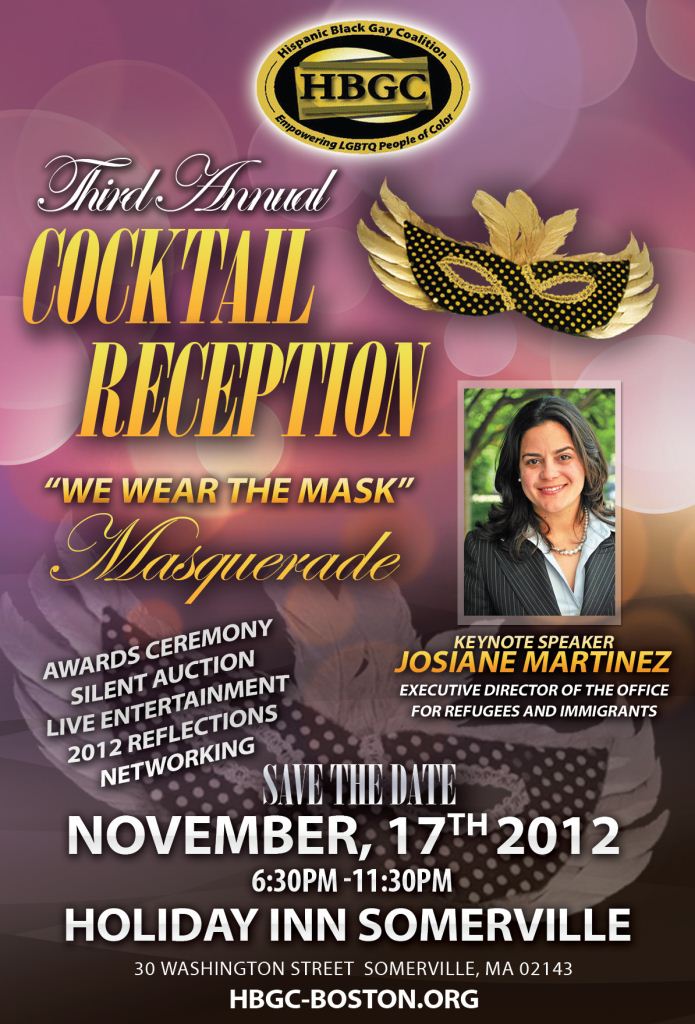 (short walk from Sullivan Sq T / parking available)
Express Your Creativity & Win: Grand Prize for BEST MASK!!
Hors d'oeuvres - Cash Bar – Silent Auction – Award Presentation – Live Entertainment - Networking - Special Guest Surprises
$30 in advance. $40 at the door. All ages and identities welcome.
PURCHASE ADVANCE TICKETS & WIN
Everyone who purchases an advance ticket will be entered into our event raffle for a complimentary night at Boston's Liberty Hotel. A luxury collection Hotel in Beacon Hill, this raffle item holds an estimated value of $300. Amenities include valet parking, in-room dining, in-room private bar, free wi-fi, 24 hour fitness center and complimentary bicycles and yoga sessions.
AWARD RECIPIENTS:
FRANK MUGISHA
2012 James Earl Hardy Legend's Award
HBGC's James Earl Hardy Legend's Award honors an individual involved in LGBTQ equality and/or racial justice work for at least ten years. Recipients have displayed trailblazing leadership and groundbreaking mechanisms for uplifting and empowering LGBTQ people of color, specifically Black, Hispanic, and/or Latin@ communities.
Last year, our inaugural award recipient was James Earl Hardy. This year, we honor Ugandan activist Frank Mugisha. Frank Mugisha is Executive Director of Sexual Minorities Uganda (SMUG). He has made international headlines for his work opposing Ugandan laws criminalizing homosexuality. Such laws would punish openly or exposed gay people with prison or death. He continues to be at the forefront of LGBTQ liberation for those in Ugandan and all around the world.
WADE DAVIS JR.
2012 Audre Lorde Founder's Award
HBGC's Audre Lorde Founder's Award was created to honor an up and coming leader of African and/or Latin@ decent who embodies the mission of HBGC by taking initiative to create lasting change for LGBTQ communities of color.
Last year, our inaugural award recipient was Jhanea 'Jha D' Williams of the 'Feel It, Speak It' Open Mic. This year, we will honor Wade David, LGBTQ activist and former NFL player. In June 2012, Wade Davis Jr. made national headlines when he announced he was gay to Outsports.com and started working with the Hetrick-Martin Institute, an organization serving LGBTQ youth in New York City.
CAST YOUR VOTE!!
2012 Sylvia Rivera Community Award
VOTING NOW CLOSED -- JOIN US ON SATURDAY TO SEE WHO WINS!
HBGC's Sylvia Rivera Community Award recognizes a local organization, program, or business that has helped to improve the livelihood of LGBTQ individuals of color, within or beyond Black and Latino@ communities. Community Award nominees have also shown support to HBGC through partnering with the organization and offering ongoing support to our program, events, and services. Nominees are selected by the HBGC Board of Directors and the winner selected by the community through online voting.
Groups cannot be nominated for two consecutive years. 2011 nominees: Boston GLASS, TransCEND, MAP for Health, The Network/La Red, and Latino Health Institute. 2011 Award Recipient: TransCEND, a program of AIDS Action Committee.
Voting for this award will close on November 9, 2012 and the winner announced at our event.
2012 Nominees:
VOTING NOW CLOSED -- JOIN US ON SATURDAY TO SEE WHO WINS!
The Theater Offensive's mission is to form and present the diverse realities of queer lives in art so bold it breaks through personal isolation and political orthodoxy to help build an honest, progressive community.
An open and affirming church, the mission of Union United Methodist Church is to make disciples of Jesus Christ who like Jesus, will be spirit-guided and vision-driven in service to the needs of persons in the communities of the City of Boston and beyond.
The mission of Oiste is to promote the principles and practice of democracy and to advance the political, social and economic standing of Latinos and Latinas in the state. Oiste seeks to reach these goals by impacting public policy through leadership development, civic and issue trainings, electoral reform and voter mobilization.
Home of Out Salsa Boston and the HBGC Book Club, Club Cafe is a social and networking destination of many LGBTQ people in the Boston community, including individuals of color. Part nightclub, part video bar, part restaurant, Club Café is a Boston destination Landmark located at the hub of Boston's chic South End neighborhood.
The Fenway Institute at Fenway Health works to make life healthier for those who are lesbian, gay, bisexual, and transgender (LGBT), people living with HIV/AIDS, and the larger community. We do this through research and evaluation, education and training, and public health advocacy.
2012 Special Guest and Keynote Speaker, Josiane Martinez
Josiane Martinez serves as Executive Director of the Massachusetts Office for Refugees and Immigrants (ORI), the state agency that oversees the resettlement of refugees and asylees in the Commonwealth and that coordinates state policies and programs that serve immigrant communities.
Josiane was first appointed by Governor Patrick as Director of Specialized Media in 2011, where she served as the ethnic media spokesperson for the Governor's Executive Office, Secretariats and Commissioners by way of working with media outlets across the Commonwealth to delivery critical information to ethnic communities. Prior to joining the Administration, Josiane worked as a consultant for the Patrick-Murray Campaign, where she launched and produced the first multicultural, multi-language ethnic media advertising and public relations strategy for a gubernatorial campaign in the history of Massachusetts.
Josiane was Director of Marketing and Public Relations for La Alianza Hispana in Boston, where she managed key relationships with community leaders, corporate partners and health care providers to serve more than 15,000 Latinos every year. Josiane is also an experienced reporter and photographer, covering Latino communities for El Planeta, El Mundo, Siglo 21, Color Magazine, and other ethnic news outlets.
Josiane is Founder and former Director of St. Andrew's Coffeehouse Cultural Center, an interactive peace revival space which hosts the successful "Hora del Café", an event that blends poetry, music, theater, dance and visual arts from all parts of the diverse community of Massachusetts. In 2008, Josiane was one of twenty-one women selected to participate in National Hispana Leadership Institute's Executive Leadership Program. Following in 2010 and 2011, El Planeta Newspaper selected Josiane as one of the top one-hundred most influential Latinos in Massachusetts.
Sponsorship opportunities for this event are still available.
For more information please email cyarbrough@hbgc-boston.org or visit www.hbgc-boston.org.