Sales Have Ended
Registrations are closed
Greetings! Thank you for your interest in attending HBCUs At Risk. Unfortunately, the event is currently sold out. To answer a 1 question microsurvey about HBCUs At Risk, please visit: CANDIDFeedback.com and input response code: 2434541R #HBCUsAtRisk At Your Service, Thomas K.R. Stovall http://www.LinkedIn.com/in/ThomasKRStovall
Sales Have Ended
Registrations are closed
Greetings! Thank you for your interest in attending HBCUs At Risk. Unfortunately, the event is currently sold out. To answer a 1 question microsurvey about HBCUs At Risk, please visit: CANDIDFeedback.com and input response code: 2434541R #HBCUsAtRisk At Your Service, Thomas K.R. Stovall http://www.LinkedIn.com/in/ThomasKRStovall
Description
THINK LIKE A START-UP + CONSCIOUS CONVERSATION
If you are a current HBCU student or alum, HBCU faculty member, or civic leader in the Nashville community, please join us on Thursday, October 13th at American Baptist College for the next edition of Conscious Conversation, in partnership with THINK Like A Start-up, for #HBCUsAtRisk.

WHAT IS #THINKLIKEASTARTUP?
This session will be led by Thomas K.R. Stovall (Twitter: @ThomasKRStovall), utilizing his proprietary #ThinkLikeAStartup Challenge/Solution Think Tank format. Leading global corporations such as The Clorox Company have brought Thomas in to facilitate his #ThinkLikeAStartup Think Tank with their teams, to quickly crowd-source the top challenges and most compelling, actionable solutions that the company could implement immediately.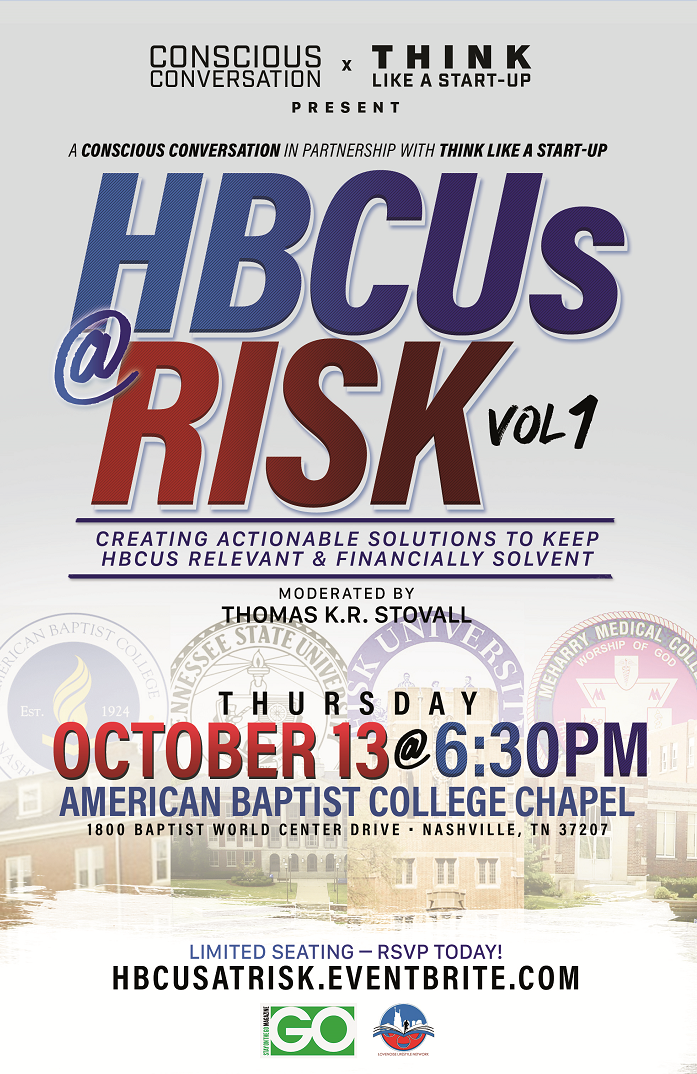 THE HBCU CONNECTION
Thomas is the Founder of CANDID Cup Microfeedback platform, he is the creator of the The ImBlackInTech Network, a Chicago-based business amplification network of 1200+ members that supports Black and Latino/a Founders and professionals in the technology field nationwide, and he is also 1 of 7 Entrepreneurs in Residence leading the Google for Entrepreneurs / Code2040 diversity initiative in seven cities across the United States. As a graduate of the Tennessee State University Electrical Engineering program, Thomas holds that education and those HBCU experiences as a key contributing factor to his success.

WHY DOES THIS HBCU THINK TANK MATTER?
HBCUs all around the nation are facing critical issues around relevancy and financial solvency that are threatening their ability to keep their doors open. Just like his alma mater, Tennessee State University, played a critical role in laying the foundation for the current personal and professional support system that has been instrumental in shaping his character, and contributing to his success, so many other HBCUs have laid that same foundation for countless numbers of his peers, his parents and their parents, and their grandparents before them.

In paying homage to this legacy, and with a focus on keeping the tradition of our HBCUs around for generations to come, Thomas repurposed his #ThinkLikeAStartup Think Tank to crowd-source the top challenges and actionable solutions for keeping HBCUs relevant and financially solvent, directly from the minds and mouths of the people in the community who are committed to doing just that, and are uniquely positioned to carry out the task at hand.

WHO IS "HBCUS AT RISK" FOR?
CURRENT STUDENTS

enrolled in a registered HBCU

ALUMNI of a registered HBCU
FACULTY & STAFF members of a registered HBCU
CIVIC LEADERS who understand and appreciate the role and importance of HBCUs in the Black community
COMMUNITY MEMBERS who are HBCU supporters, and seek to contribute to the rich legacy and tradition of HBCUs being present in their city
---

** If you attend HBCUs at Risk :: Creating Actionable Solutions to Keep HBCUs Relevant & Financially Solvent, you understand that your photograph may be taken, and you may be videotaped. By submitting your RSVP, and/or attending, you agree to allow us the right to use images of you, or your likeness, in future Conscious Conversation and/or THINK Like A Start-Up promotional materials. **