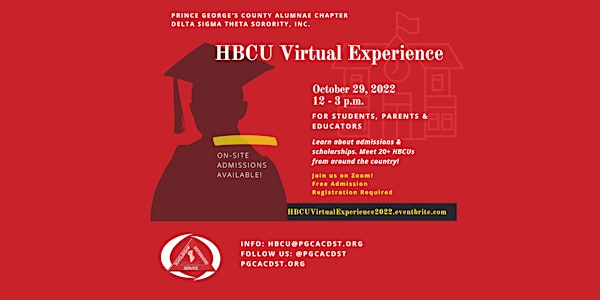 HBCU Virtual Experience 2022
PGCAC's HBCU Virtual Experience
About this event
The Prince George's County Alumnae Chapter (PGCAC) of Delta Sigma Theta Sorority, Inc. welcomes an opportunity for students, parents, and educators to learn about 20+ HBCUs during PGCAC's HBCU Virtual Experience.
FOR STUDENTS, PARENTS AND EDUCATORS!
Learn about admissions, scholarships, and other programs. Meet HBCUs from Maryland, DC, Virginia, North Carolina, South Carolina, Georgia, Florida, Alabama, Tennessee, and more! There will also be an opportunity for onsite admissions, small group conversations with university admissions, and a panel discussion with current HBCU students to help prepare high school students for college. This event is free and open to the public, but registration is required.
For more information, contact HBCU@pgcacdst.org