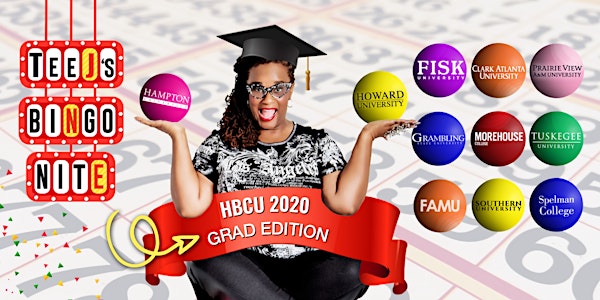 HBCU 2020 GRAD BINGO
Description
CALLING ALL 2020 HBCU GRADS! You only need to register ONCE for all FOUR nights of June.
Virtual BINGO ain't boring when there's over $1 million in cash and prizes to win! And get this!

THE POT IS STILL GROWING!!!!
Listen up 2020 HBCU graduates, we see the struggle y'all going through! So let us put a smile back on your face in June with 4 nights of endless celebration, games, laughter, and opportunities to win BIG...like really BIG!
***IMPORTANT*** - This is for 2020 grads of HBCUs only. And registration is a 2-step process. Be sure to go to the link on the confirmation page after you submit your registration or you will not get your next instructions on how to play. Also, before you register, be sure to have a pic of your degree if you've received it or verification from your school that you met the requirements to receive your degree in 2020. If you don't have it, you will get instructions on what to do to provide proof. So still register. And you only need to register for one night to be all set for all FOUR nights.
Not only do we have all the prizes you NEED, like a professional LinkedIn package that includes expert help worth over $30,000, one-on-one resume building, interview techniques and professional headshots!
But, we also have all the goodies you WANT including a live DJ, Apple products like a MacBook Air, gift cards, and of course, crisp cash money!
THIS AIN'T YOUR GRANDMAMA'S BINGO!

Registration for the first night of Bingo ends on June 5th, and only 1,000 players are allowed entry per night!
Sign up NOW, win big later, and BINGO the night away with us in June! You only need to register ONCE for ALL four nights!

Best of all! It's completely FREE...It's our gift to YOU!
FAQs
Are there ID or minimum age requirements to enter the event?
Must be 18 years or older
How will you know I am a 2020 graduate of HBCU?
Every attendee must upload proof of their graduate status. For example, your letter that declares you met the qualifications for graduation.
How do I get my card?

We will play with custom cards. Once you are verified, you will receive full details of how to play, the rules, and how to obtain your unique card that will have its own ID. It's all digital Bingo. For best results, you will play your card on one device and Zoom on another. No paper Bingo allowed. You MUST play on a digital device. You can also play your card in your computer browser.
How many games will be played?
Right now, we are set to play between 7-10 Bingo games each night of June. However, that could change.
How do I win and get my prize?
We will play several different types of Bingo formations each night. Once your Bingo has been verified, you will go to a link to submit your information and once you verify you are officially registered and graduated in the 2020 class of an HBCU, your prize will be delivered accordingly...cashapp, email, or physically mailed to you.
Is it ok if the name on my ticket or registration doesn't match the person who attends?
Your registration must match in 3 places. 1. Your registration form. 2 Your proof of graduate status. 3. Your Zoom name. All three of these MUST match to be eligible for your prize.
I am shy, do I have to be on video?
Yes! You will be disqualified from playing if your video camera is not on.
How many people can Bingo in one game?
Just one. If there are multiple Bingos, there will be a tie-breaker so one person per game prize.
How many times do I get to win?
You can win a maximum of TWO times in one night.
Can I invite friends?
PLEASE DO! Any 2020 graduate of an HBCU can play. There will be social media challenges with more opportunities to win so be sure to read all of your emails and text messages from us.
Can I play all four nights?
Absolutely! And invite more of your friends. You only need to register ONE time to play all four nights.

How can I contact the organizer with any questions?
HiThere@TeeJBingoNite.com
---