Event Information
Location
Hayti Heritage Center
804 Old Fayetteville Street
Durham, NC 27701
Our Annual celebration is back for 2021!
About this event
Our Annual Hayti Legacy Kwanzaa celebration is back for 2021!
This Sunday, December 26th 2021, we have been blessed with beautiful weather to enjoy Kwanzaa activities outdoors. If you are sick, we encourage you to take care of yourself and stay home. In the spirit of taking care of each other, patrons are asked to wear face masks covering the nose and mouth, follow social distancing, and COVID protocols. Tickets to events are free, but limited. Register for one or more activities at https://haytikwanzaa2021.eventbrite.com.
For more info, please visit www.tmoar.com
Activities kick off at 12 pm with the Community Panel discussion. This panel discussion will be virtual and will stream live on multiple platforms. Viewers can watch the live stream at the Hayti Heritage Center in Ezili Square, location #1 on the map. Viewers can also watch the live stream at these links below:
https://www.facebook.com/1186032704870496/posts/2201038283369928/
https://www.youtube.com/watch?v=sJ3BFILKaNo...but
If you have registered for the community panel discussion, your ticket is fully transferable for any of the other Hayti Legacy Kwanzaa 2021 activities.
For Parking, please see map below
Noon - Panel Discussion
1pm - Candle lighting & Performance
2pm - Community Altar
3pm - Community Sings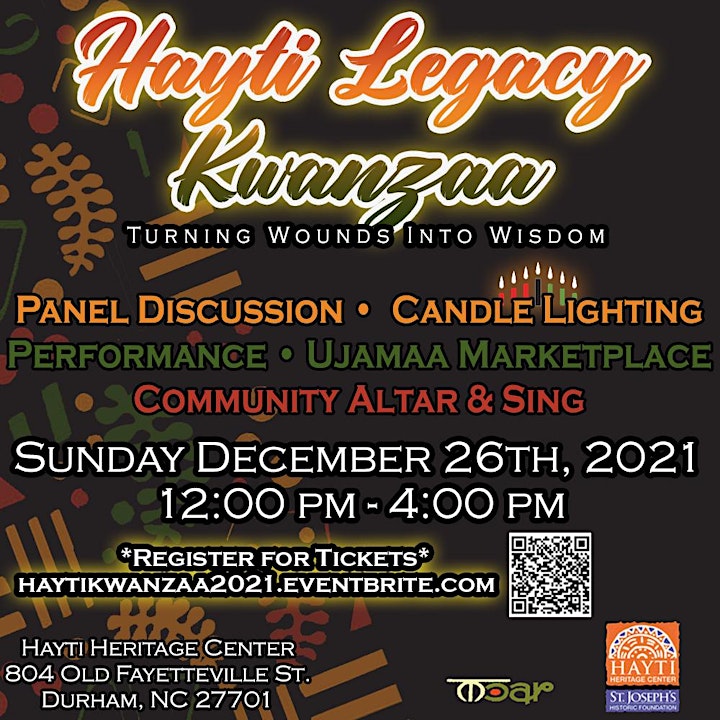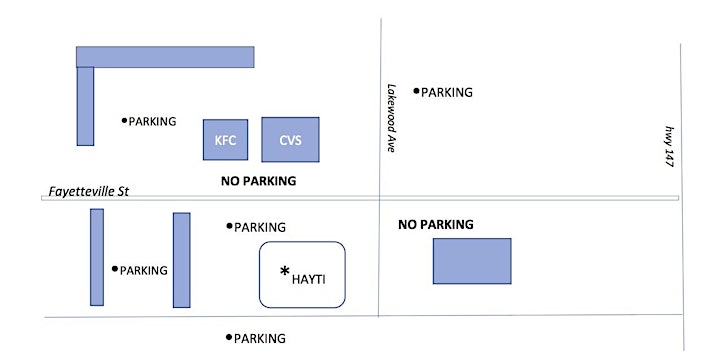 Available Parking for the Hayti Legacy Kwanzaa 2021
Date and time
Location
Hayti Heritage Center
804 Old Fayetteville Street
Durham, NC 27701