Hayden Pedigo w/ Nick Millevoi at PhilaMOCA!
About this event
NOTE: Proof of full vaccination (physical card or photo) and masks are required to attend event at PhilaMOCA.
The only thing you can ever really expect from Hayden Pedigo is the unexpected. The son of a truck stop preacher, raised and home-schooled in a "super religious family" (his own words), the acoustic guitarist and soundscape composer from Amarillo, Texas, has an unlikely origin story. After releasing a series of solo albums, the most unanticipated plot twist in his multiverse came in 2019 with an endearing bid for Amarillo City Council at the age of 25, following his Harmony Korine-inspired spoof campaign video that went viral. The whole story was brought to the big screen in Jasmine Stodel's 2021 SXSW-premiering documentary Kid Candidate, which followed Pedigo on the campaign trail as he became the unsuspecting folk hero in a hopeful tale of integrity, corruption, and small city politics.
Pedigo's music is as equally enchanting as his backstory, combining the American Primitive guitar picking styles of John Fahey with a proclivity for experimental sound design and manipulation. Conceived and written on the 27-year-old's porch, his new album Letting Go came about after he left his beloved hometown during the COVID pandemic to move to Lubbock, Texas, where he currently lives with his wife. However, moving down the dusty panhandle from the comfort blanket of Amarillo wasn't the easiest. "I felt absolutely lost and had a heavy heart for months upon arriving in Lubbock," shares Pedigo. "I wanted to write a new album, but I was scared it wouldn't turn out okay. I wanted to talk to my family again [after temporarily losing touch] and try to reconnect and heal despite our differences, but I was scared it wouldn't turn out okay. The isolation made me reconsider a lot of things, and start making music again and working things out with my family."
Letting Go is very much a modern album of looking out, backwards, upwards and in; the songs forged by the upheaval brought on by Pedigo's move and the subsequent reckoning with his upbringing. "I was home-schooled and lived in the middle of nowhere in Amarillo," he describes. "So it drove me to create my own world and sent me down a rabbit hole of strange music". By his early twenties, Pedigo had already collaborated with acoustic and electronic musical luminaries such as Charles Hayward (This Heat), Fred Frith, Werner "Zappi" Diermaier (Faust), Stephen Basho Junghans, Chuck Johnson, Danny Paul Grody, and outlaw country legend Terry Allen (in an uncanny twist of fate, he works at the same school in Lubbock that Allen—who is now a kind of dream pen pal to Pedigo—used to attend.) He also curated the 2015 solo guitar compilation Imaginational Anthem, Vol. 7 for Tompkins Square Records.
Formative releases on Joel Ford's Driftless Recordings and a handful of good-natured cold emails eventually led Pedigo to Mexican Summer in March 2021. In making Letting Go—his first album for the label—Pedigo was recapturing the relationship he'd had to music growing up. "I wanted to return to the mindset of escape, like John Fahey's records did for me at 15 years old. I wanted to fall in love with music again while reconciling with my past and learning to forgive and let go."
Pedigo recorded the album in Littlefield, Texas (a tiny town 45 minutes outside of Lubbock, best known for being the birthplace of Waylon Jennings), with his friend, the underground composer Andrew Weathers. "On the first day, Andrew set up the mics and I recorded each guitar piece live as a solo composition one after another – each take was live, no overdubs. I got the idea from Leo Kottke's 1969 record 6- and 12-String Guitar, where he recorded each piece live in one take," he explains. "On the next two dates, we recorded overdubs and fleshed out the solo guitar pieces with ambience, bass, field recordings, and pedal steel. But we wanted to ensure the record still felt like a solo guitar record."
Following Kottke's influence through to 1971's Mudlark, Pedigo brought in some like-minded musicians to contribute and fill out the songs, including pedal steel player Luke Schneider and Rich Ruth on synthesizer. Their contributions—like all the other overdubs—work to add weight and heft to Pedigo's moves, never detracting or calling attention to themselves, but helping shape the songs to something higher. "Forgiveness was a big part of the record," he elaborates, "and I think that's why the album has a brighter, uplifting feel threaded throughout."
The result is a mesmerising work of profound beauty. Stripped of some of the ambience that had filled the soundscapes of his previous albums, the guitar playing on Letting Go stands alone, stark and highly melodic, lonesome and ghostly, evoking a sense of absence and longing. Wordless melodies weave in and out of compositions where the interstices can be as affecting as the notes themselves. Pedigo's fingers pick a path between Fahey's slow introspection and young Kottke's joyous struts, coming to a sound more in line with William Ackerman's early works.
The influences on display throughout Letting Go move beyond the Takoma school, however; Pedigo has a light thumb, and his airy playing borders on the celestial. The stillness and gentle drift of Brian Eno's ambience are hinted at on album closer "I Wasn't Dreaming," while John Renbourn's stately phrasing can be heard on "Something Absolute." Pedigo cites the progressive classical playing of Anthony Phillips on the early Genesis records as a point of reference for the album's ethereal opener, "Carthage."
Varied as his inspirations are, it's important to always expect the unexpected from Pedigo. He names Earl Sweatshirt as his biggest influence on the record, in terms of its formatting, concise nature, and desire to dissolve the parameters of its genre label. Outside of music, he references Korine and the director's ability to create something from nothing, as well as comedian Tom Green, whom Pedigo deems a visionary with supreme artistic sensibilities. As a sworn hater of the term "Cosmic Country" and with album artwork that depicts black metal connotations, Pedigo's anything-goes sense of humor extends from the ingenious campaign videos through to the various characters he portrays on his Instagram page, and into every fiber of his being.
Letting Go takes open-hearted moments of solitude, confusion, longing, and acceptance and sends them skywards, where they refract and sun dance into our ears. Like William Tyler, Marisa Anderson, Chuck Johnson or any of the new wave of guitarists altering the very DNA of American guitar music for a new generation, Pedigo's songs aren't so much here to bring you into his world as to illuminate and color your own. With Letting Go, Hayden Pedigo proves he has already become such a painter. And that's just about the best thing you can do with a guitar.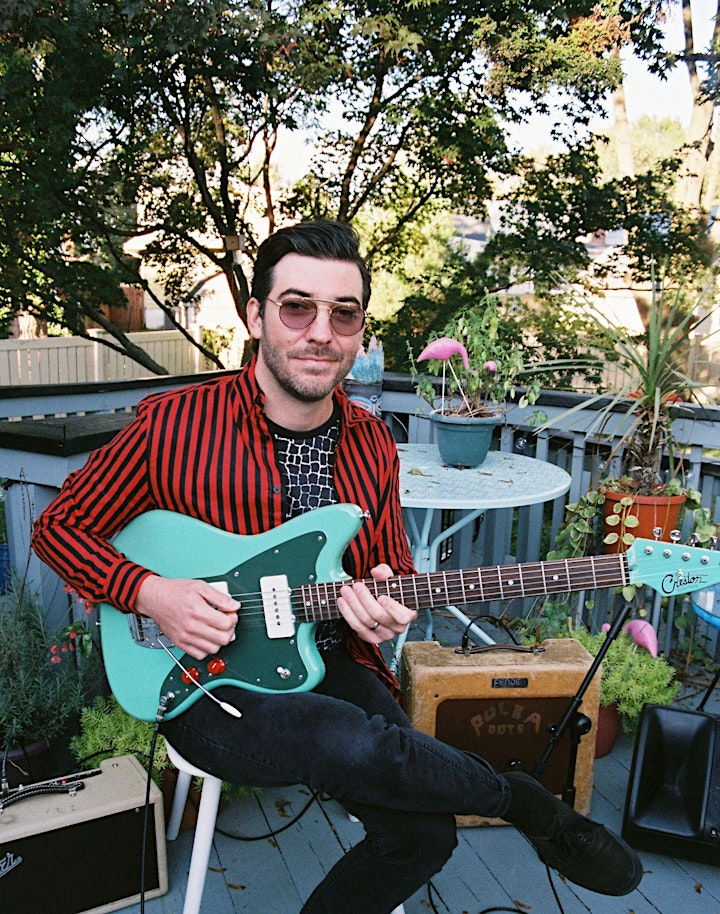 Nick Millevoi is a guitarist and composer from Philadelphia. His music reflects an enthusiasm for the history of guitar music and exists in the sonic cracks between jazz, rock 'n' roll, surf rock, and the farthest reaches of the avant-garde, where he creates a personal sound and style. With his band, Desertion Trio, Nick has released three full-length albums on the Cuneiform, Long Song, and Shhpuma/Clean Feed labels, which have been called "potently surreal" (Rolling Stone), "a nonstop instrumental thrill-ride" (Aquarium Drunkard), and "supremely weird desert noir" (Noisey).
Nick's extensive discography includes five albums as co-leader of brutal prog trio Many Arms—including two on John Zorn's Tzadik label—whose extreme sound was described by Pitchfork as "music that seeks the sun by exploding toward it." He has recorded with Chris Forsyth & the Solar Motel Band, Moppa Elliott, Dead Neanderthals, and Deveykus and collaborated with artists such as John Zorn, Nels Cline, Jamaaladeen Tacuma, Toshimaru Nakamura, Jamie Saft, and Fugazi's Joe Lally. He's performed throughout North America and Europe, including broadcasts on NPR's Jazz Night in America and Tiny Desk Concerts, and the BBC.
Nick's next release is The Sounds of Grassy Sound, a duo with keyboardist Ron Stabinsky that includes guest appearances from the Meat Puppets, coming soon on Destiny Records.
Organizer of Hayden Pedigo