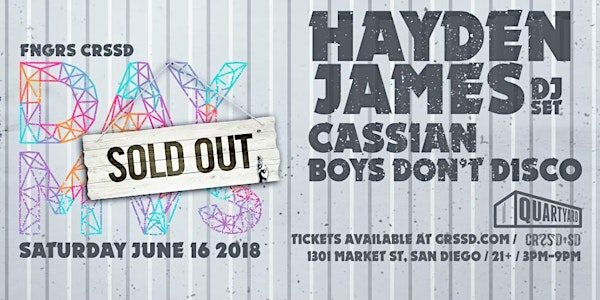 HAYDEN JAMES (DJ SET) + CASSIAN
Ages 21+
Presented by FNGRS CRSSD
Hayden James (DJ Set) + Cassian
Date and time
Starts on Saturday, June 16, 2018 · 3pm PDT
Location
Quartyard 1301 Market Street San Diego, CA 92101
Performers
Headliners
More Performers
About this event
LIMITED TICKETS AT DOOR
Hayden James
Hayden James may have only released his first track in late June 2013, but he has already amassed millions of plays across Soundcloud and Youtube for his work. Producing immense summer house jams with soulful and evocative vocals his music has stockpiled consistently rave reviews from the US, Europe and Australia alike, being labelled the "face of the new Australian production music scene".
Hayden's first single "Permission to Love" garnered worldwide love and attention hitting #1 most blogged on Hype Machine, as well as becoming the most played track on national broadcasting giant Triple J in Australia. His debut EP out on tastemaker label Future Classic garnered much love worldwide, and new single "Something About You" looks to lead excitedly in to 2015. Now smashing this year with his latest track "Numb".
Cassian
It's been a year since Cassian's last EP. And where has the kid with that haircut been? He's been in the busy, that's where he's been.
Remixing Two Door Cinema Club, Flight Facilities, Sammy Bananas, Monkey Safari, Telonius, Scuola Furano & Human Life has kept him locked up and away from everyone's daughters on Mondays and Tuesdays. Wednesdays have been strictly reserved for collaborating - having teamed up with Miami Horror to co-produce a remix of their single 'Holidays' and taking longhaul flights over to Perth to combine forces with fellow Australian and animal lover Shazam. On Thursdays and Fridays Cassian's somehow found time to squeeze out a new sex-romp of an EP that is a formation of all of his loves. House, Disco, Samples and a combination of all 3 bundled together.
The lead single 'I Like What You're Doing' has already been premiered on BBC Radio 1 by Jaymo & Andy George as part of their "Picks of 2011" show. It takes on the form of a powerhouse party psalm. Charged by an ever-familiar bassline and anthemic vocal performed by a shadowy, old-school Australian music identity. It's turned into an 80's fire-funk workout by Lorenz Rhode on his 'Dangerous Mix' and a filtered robo-haus jammer in his 'Rhythm composer mix'. 'Getting High' is an ode to newfangled clubbers, to those who come out every week and just want to party. Samples are cut up ala Iron Chef and the second half of the song explodes with a twisting acid line (used to great effect on The Courtesans remix). 'Nobody' is appropriately named as it's a song for everybody. The song chugs along at a slow pace and features a climactic crescendo of geetars, peeeano, seeeeenths and vibreeeeephone in the breakdown. New Bris-Vegas deeeeesco legends Mitzi turn it inside out and push the pace up to turn it into a groover and moover.
Already this year Cassian has begun his busy World Tour to support the EP with 13 sold out dates across the USA. He's currently lighting up dancefloors across Europe and Asia before returning to Australia for an action-packed 6 week run in April/May taking in Creamfields festival (Sydney, Melbourne and Brisbane), Chinese Laundry (Sydney), Bowler Bar (Brisbane), Electric Circus (Adelaide), Ambar (Perth) and Super Disco – his exclusive Melbourne residency.
- - - - - - - - - - - - - - - - - - - - - - - - - - - - - - - - - - - - - - - - - - -
Quartyard:
Facebook: https://www.facebook.com/quartyardsd
Instagram: www.instagram.com/quartyardsd
Website: http://www.https://quartyardsd.com.com
- - - - - - - - - - - - - - - - - - - - - - - - - - - - - - - - - - - - - - - - - - -
FNGRS CRSSD:
Facebook: www.facebook.com/FNGRSCRSSD
Instagram: www.instagram.com/fngrscrssd
Twitter: www.twitter.com/FNGRSXCRSSD
Website: www.CRSSD.com