Description
The Aikido & Healing Arts of Roseville is delighted to announce that Cyndy Hayashi Shihan will be returning to our dojo this Summer for a two day seminar. Hayashi Sensei will once again be leading classes on FRI (6/30) evening, followed by a Saturday with two, two hour sessions on SAT (7/1) evening. Our Saturday sessions will finish off with a Shodan Examination for Nari Igawa; as well as a potluck celebration that evening.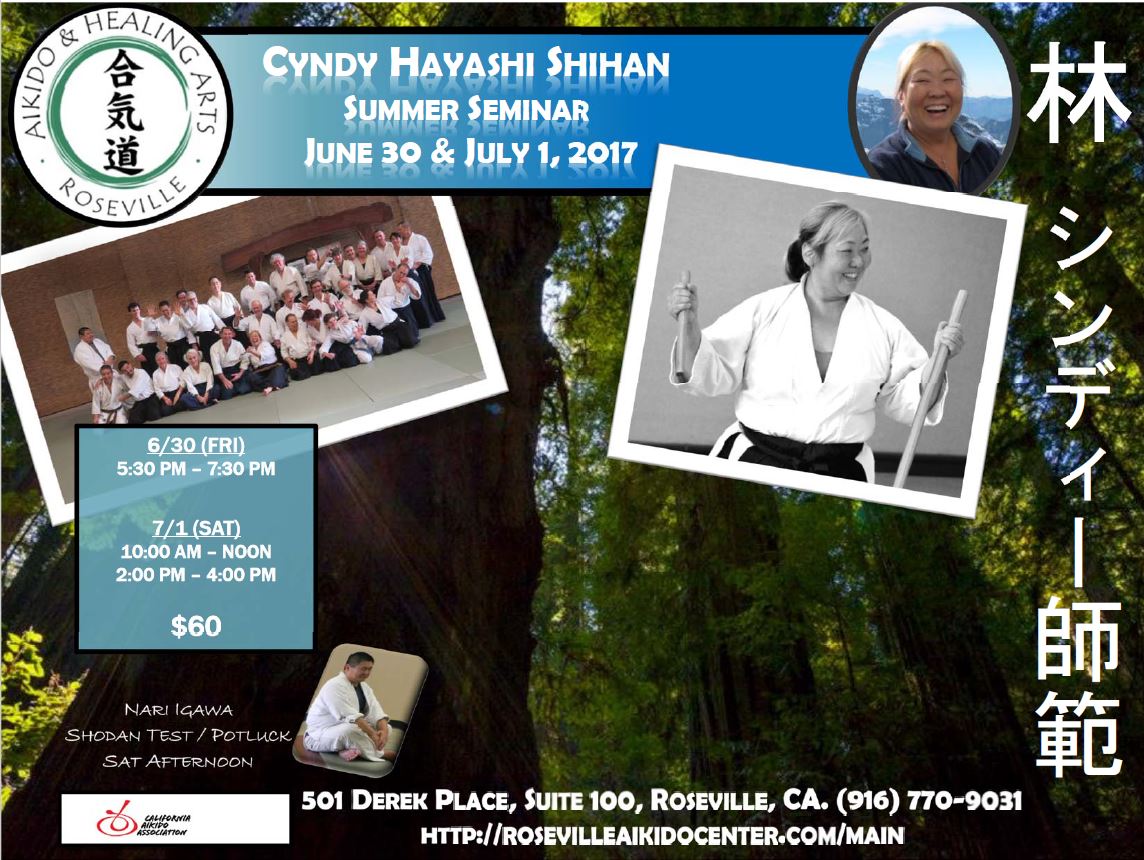 Hayashi Shihan, 7th Dan Aikikai, of Aikido West is the Dojo Cho of the Stanford University Aikido Dojo and is a long time student of Frank Doran, 8th Dan. She does seminars around the world and has generously offered to proctor all of the Dan Examinations here in Roseville up to this point. Please join us for what promises to be a great seminar.

Organizer of Hayashi Shihan Summer 2017 Aikido Seminar
The Aikido & Healing Arts Center of Roseville is a martial arts dojo and wellness center framed by the art and principles of Aikido which was founded in Japan by Morihei Ueshiba in the late 1920s through the 1930s. Aikido is often translated as "the way of harmonious spirit" where at its core the art teaches self-defense based on non-violence and the preservation of life. Aikido techniques typically comprise joint locks or throws requiring very little strength which lends its adoption to men, women, and children.
In the true spirit of Aikido our school will blend not just with our students but with our community as well to create a unique space designed from the ground up to promote non-violent self-defense, physical health, and personal growth.
In 2013, the Center became affiliated with the Aikikai Hombu Dojo by joining the California Aikido Association Division Two, under Frank Doran Shihan.  In addition to offering aikido classes seven days a week, the Center offers massage therapy, instruction in Danzan-ryu Jujitsu, and yoga classes for special populations clients.