Description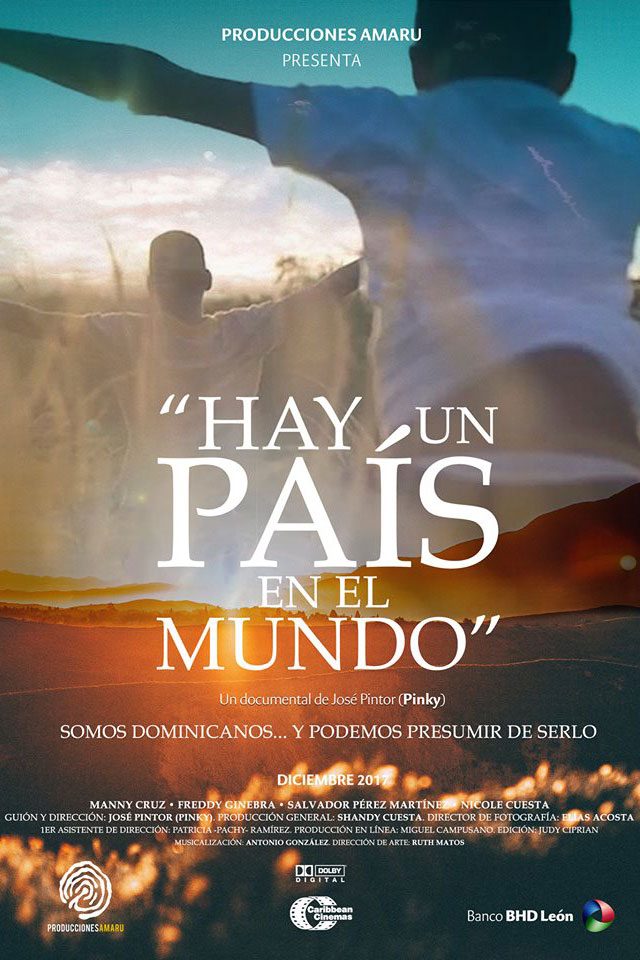 HAY UN PAÍS EN EL MUNDO / THERE IS A COUNTRY IN THE WORLD
Jose Enrique Pintor | Dominican Republic | Documentary, Drama | 2017 | 80 min | INTERNATIONAL PREMIERE
A young Dominican musician from the Diaspora tells a girl everything special about his country, without knowing that she also carries it inside. This is a journey that explores dominicanidad through history, architecture, music, gastronomy, tourism and economy… approaching the particularities and peculiarities of the Dominican people.
Un joven músico dominicano, en la diáspora, le cuenta a una niña, todo lo que tiene especial su país, sin saber que ella también lo lleva dentro. Un recorrido por la dominicanidad, a través de la historia, la arquitectura, la música, la gastronomía, turismo y economía… Hasta las particularidades de los dominicanos.
Director / Director: Jose Enrique Pintor
Country / País: Dominican Republic
Producer / Productor: Sandy Cuesta, Miguel Campuso
Screenwriter / Guión: Israel Cárdenas, Laura Amelia Guzmán
Director of Photography / Director de Fotografía: Elias Acosta
Editor / Editor: Judy Ciprian
Genre / Género: Documental / Drama
Cast / Intérpretes: Fefita La Grande, Laura Gómez, Nancy Álvarez, Wason Brazobán, Tony Dandrades, Poche Family, Francisca LaChapel, Juan Marichal, Raymond Pozo, Vickiana, Kinito Melendez, La Materialista, El Jeffrey, Krisspy, Miguel Céspedes, among others.
Language / Idioma: Spanish with English Subtitles
Year / Año: 2017
Running Time / Duración: 80 mins.
Director's Biography
José Pintor is a director and film producer. His titles include "La Victoria prison" (2004), "Sanky Panky" (2007), "Santicló" (2008), the documentary "Yemen" (2009), "Sanky Panky 2" (2013) ), "There is no other remedy" (2014), "Tomorrow do not forget" (2017), and the documentary "There is a country in the world" (2017).
José Pintor es director y productor cinematográfico: "La cárcel de la Victoria" (2004), "Sanky Panky" (2007), "Santicló" (2008), el documental "Yemen" (2009), "Sanky Panky 2" (2013), "No hay más remedio" (2014), "Mañana no te olvides" (2017), y el documental "Hay un país en el mundo" (2017).