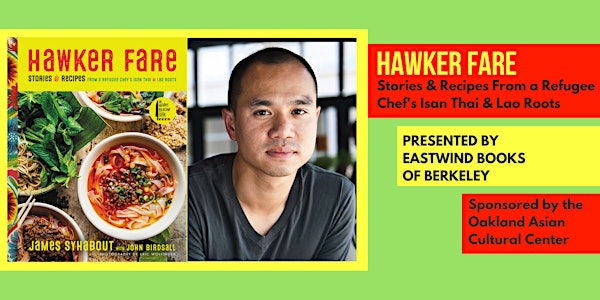 Hawker Fare: Book Talk with Chef James Syhabout
When and where
Location
Oakland Asian Cultural Center 388 Ninth Street Suite 290 Oakland, CA 94607
Description
Hawker Fare: Stories & Recipes from a Refugee Chef's Isan Thai & Lao Roots
Book Talk with Chef James Syhabout and Eastwind Fundraiser
Eastwind Books of Berkeley welcomes Oakland-grown, Michelin-starred Chef James Syhabout for a book talk on his journey to his Isan Thai and Lao roots, the inspiration for his hugely popular Hawker Fare restaurant. Please join us for this community celebration and fundraiser for Eastwind Books of Berkeley.
Small plates and refreshments provided.
Program introduction by Professor Lok Siu, an Associate Professor at the UC Berkeley Department of Ethnic Studies and Affiliated Faculty of Berkeley Food Institute.
Hawker Fare: Stories & Recipes from a Refugee Chef's Isan Thai & Lao Roots
James Syhabout's Hawker Fare restaurant in San Francisco is the product of his unique family history and diverse career experience. Born into two distinct but related Asian cultures—from his mother's ancestral village in Isan, Thailand's northeast region, and his father's home in Pakse, Laos—he and his family landed in Oakland in 1981 in a community of other refugees from the Vietnam War. Syhabout at first turned away from the food of his heritage to work in Europe and become a classically trained chef.
After the success of Commis, his fine dining restaurant and the only Michelin-starred eatery in Oakland, Syhabout realized something was missing—and that something was Hawker Fare, and cooking the food of his childhood. The Hawker Fare cookbook immortalizes these widely beloved dishes, which are inspired by the open-air "hawker" markets of Thailand and Laos as well as the fine-dining sensibilities of James's career beginnings. Each chapter opens with stories from Syhabout's roving career, starting with his mother's work as a line cook in Oakland, and moving into the turning point of his culinary life, including his travels as an adult in his parents' homelands.
From building a pantry with sauces and oils, to making staples like sticky rice and padaek, to Syhabout's recipe for instant ramen noodles with poached egg, Hawker Fare explores the many dimensions of this singular chef's cooking and ethos on ingredients, family, and eating well. This cookbook offers a new definition of what it means to be making food in America, in the full and vibrant colors of Thailand, Laos, and California.
Event is ADA Accessible.
Contact eastwindbooks@gmail.com for event information.
Sponsored by the Oakland Asian Cultural Center and the Asian American and Asian Diaspora Studies at UC Berkeley.

The Oakland Asian Cultural Center (OACC) was founded in 1984 by a coalition of volunteers who recognized the need for a strong artistic and cultural force in the Chinatown area. Since opening its own facility in 1996 in the heart of Oakland's Chinatown district, the OACC has presented countless high quality cultural programs including performances, workshops, festivals, school tours, classes, and exhibitions. OACC builds vibrant communities through Asian and Pacific Islander arts and cultural programs that foster inter-generational and cross-cultural dialogue and understanding, collaboration, and social justice. Visit http://oacc.cc/ to learn more.
The Asian American and Asian Diaspora Studies (AAADS) Program, one of the programs under the Department of Ethnic Studies, is dedicated to the interdisciplinary study of historical and contemporary experiences of Asian-ancestry groups in local, national, and global contexts. Asian American is a pan-ethnic term designating a racialized population made up of various groups of Asian ancestry, and encompassing both the foreign-born and the U.S.-born. As initially constituted as a component of the emergent field of ethnic studies in the late 1960s and early 1970s, the Asian American Studies program centered on domestic U.S. concerns. It continues to be part of a national activist effort to increase the political, economic and cultural representation of people of color in American life, more specifically, to improve the educational relevance and ethnic diversity of institutions of higher learning. However, the Asian American Studies program has also been responsive to the shifting geopolitical, economic and sociocultural forces most conveniently summed up by the term globalization, and is now increasingly attentive to issues of transnationality and diaspora while retaining its original commitment to community empowerment.
Since 1982, Eastwind Books of Berkeley has been a major source for Asian American literature, Asian Studies, Ethnic Studies, Language Learning, Traditional Chinese Medicine and Martial Arts books. We support and promote various authors at our book events and have been involved in the promotion of books written by socially conscious authors. Visit us at www.asiabookcenter.com