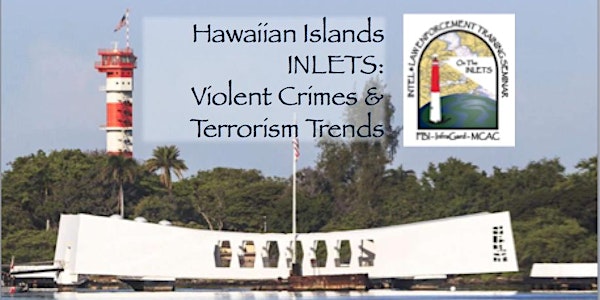 Hawaiian Islands INLETS: Violent Crimes & Terrorism Trends
When and where
Location
Moana Surfrider, Waikiki Beach 2365 Kalakaua Avenue Honolulu, HI 96815
Description
On the INLETS Underway: Hawaiian Islands
Honolulu
September 11-15, 2017
The FBI, Hawaii State Fusion Center, and InfraGard Honolulu invite you to attend the Hawaiian Island INLETS: Vioelnt Crimes & Terrorism Trends.
The INtel & Law Enforcement Training Seminar (INLETS) is designed for investigators and analsyts of all jurisdictions to help them better protect their communities to the current and emerging threats they face.
Providing the most relevant training from the most qualified instructors, at the most affordable price possible, On the INLETS has welcomed more than 5,000 attendees from over thirty states and six coutries since 2011.
More than 500 Law Enforcement, First Response, Military and Intel entities, and private sector safety and risk professionals who are members of InfraGard and ASIS have participated in what many call the best training of thier careers. ...and we look forward to seeing you, On The INLETS.
---
Registration Pricing:
Law Enforcement/DoD/Intel/First Responders: $345**
Kama'Aina Oahu-based LE/Military attendees: $195 *
DSAC and InfraGard members: $595**
Guests of registered attendees for the Tribute to Heroes program: $100
Your registration price includes: attendance to all sessions, workshops, and classes, printed student aids, lunch, afternoon snack during the seminar, the Tribute to Heroes program and dinner, and the Enrichment Visit to Pearl Harbor and the World War II Valor in the Pacific National monument.
The Tribute to Heroes evening program recognizes peers who have gone Above & Beyond during the past year, reflects on the sacrafice of those who have died in the line of duty, and welcomes a keynote presenter with an inspiring message.
* A special local commuter registration rate for those not staying on-site at the hotel venue
Cancellation Policy: no refunds will be issued, but we welcome subsitutions in the event the original registrant cannot attend.
---
FAQs:
Agenda (subject to change):
For a look at the list of presenters and topics, please click here.
For a closer look at the week's agenda, please click here.
Parking:
Self parking is available across the street at the Sheridan PK with a 12-hour parking rate of $8.
Attire:
Business casual is the attire for the week. Please no shorts, jeans, or T-shirts
---
Overnight Accommodations:
For reservations at the host venue, The Moana Surfrider, Westin ($250 per night), or at the neighboring Sheratonn Princess Kaiulani (aka Sheraton PK), at the US Governemnt Rate of $177:
Please call:
Stacia Silva
Group Reservations Coordinator | STARWOOD HAWAII
808-921-4673.
Overnight attendees will receive full breakfast at their hotel from Tuesday-Friday included with INLETS registration.
---
About On The INLETS:
This seminar is for all Law Enforcement investigators and analysts, campus police and safety departments, Department of Defense personnel, and private sector DSAC, InfraGard, and ASIS members who are Risk/Investigative/Safety/Threat Practitioners.
Attendees must register with their government email addresses or provide their InfraGard membership numbers. Attendees are required to show identification during on-site registration. Those who are determined not of the intended audience will be politely refunded.
This seminar is certified for POST credits for sworn law enforcement and Continuing Education Credits for all.
We look forward to seeing you… On the INLETS.
---
For updates and information:
On Twitter: @OnTheINLETS
"Like" us on Facebook: On the INLETS