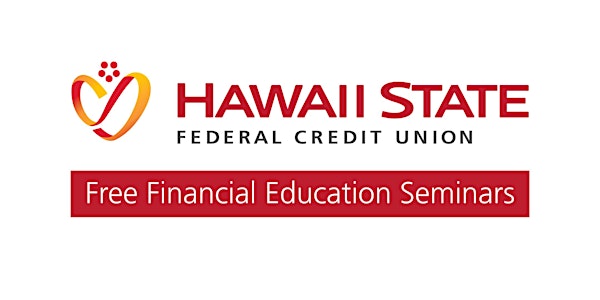 Hawaii State FCU Free Financial Education Seminar Series at Kaneohe Public Library
When and where
Location
Kaneohe Public Library 45-829 Kamehameha Highway Kaneohe, Hawaii 96744
Description
Hawaii State FCU Free Financial Education Seminar Series at Kaneohe Public Library


---

February 6, 2018 - Retirement Planning

An interactive workshop about how investing may affect your retirement. This seminar will cover the types of investment accounts that can be used to build your retirement nest egg, investment strategies for retirement planning, and the resources available to help you reach your goals.


---

February 13, 2018 - Elder Financial Abuse
Elders' vulnerabilities and large net worth make them prime targets for financial abuse, and as a result this highly underreported crime is costing elders an estimated $2.6 billion a year! The increased aging of the population, social changes and technological advances are leading to dramatic increases in this crime. Learn to spot the warning signs of elder financial abuse and find out who the perpetrators are. You owe it to yourself to invest a few minutes of your time to learn how to protect yourself and your family for a lifetime.


---

February 20, 2018 - Financial Costs of Long Term Health Care
Do you think Medicare will cover long-term medical expenses for you and your family members? This session describes many of the important facts about how much long-term health care costs. This seminar will provide you with information to help you plan for your future and protect your financial resources.


---

February 27, 2017 - Don't Be a Victim of Fraud and Scams
Con artists are everywhere and you could be a likely target! You can't always avoid it, but the better educated you are about fraud, the better equipped you'll be to steer clear of it. This free session takes an up-to-date look at the more common types of fraud and cons and provides valuable tips on how not to get taken!


---
Looking to increase your financial knowledge and power? Hawaii State FCU is pleased to bring a free seminar series open to members and the community on a range of personal finance and money management topics designed to empower a lifetime of financial well-being. To see our upcoming seminar calendar go to www.HawaiiStateFCU.com/events.