Hawaii Business Leadership Conference 2017

Thursday, July 27, 2017 from 8:00 AM to 6:00 PM (HST)
Event Details

Invest in your future today!
➤ Hawaii Business magazine's Leadership Conference helps build smart, confident and authentic leaders. Gain insight from dozens of Hawaii's most prominent leaders during a full day of skill-building workshops, speakers and networking.
Conference Schedule
8:00 a.m.-9:00 a.m. Registration, Networking Expo


9:00 a.m.-9:45 a.m. Opening General Session
Keynote Speakers
Bob Hurley
Surfboard shaper and visionary, Bob Hurley started Hurley brand in 1999, embracing a life informed by the ocean and the spirit and creativity of youth. Today, you can find Bob "product-testing" at home in Newport Beach, Hawaii, or at some of the best waves around the world. 
Sig Zane
Legendary designer and craftsman, renowned for his storytelling and curation of Hawaiian culture. Using the ocean as his playground and inspiration, Sig continues to create the handmade patterns that turn ordinary clothing into wearable history.
10:00 a.m.-11:00 a.m. Morning Workshop Sessions
Becoming a Civic-Minded Leader


Cindy Adams, President & CEO, AUW
Todd Apo, Vice President, Community Development, The Howard Hughes Corporation
Rick Blangiardi, General Manager, Hawaii News Now
Matthew Cox, Chairman and CEO, Matson
Moderator: Kim Gennaula, Executive Director of Advancement, Iolani School
Win-Win Negotiations


Jon Snook, COO, Hawaiian Airlines
Kai Wang, Partner, Carlsmith Ball
Robert Landau, Executive Director, Hawaii Association of Independent Schools
Moderator: Ani Menon, Managing Consultant, KPMG
Are You Ready to Be a Leader?

Katie Chang, Executive Director, Center for Tomorrow's Leaders
Paul Turnbull, President, Mid Pacific Institute
David Heenan, Trustee, James Campbell Estate
Jack Wong, CEO, Kamehameha Schools
Moderator: Susan Eichor, President & COO, aio Group
11:15 a.m.-12:15 p.m. Morning Workshop Sessions
Leadership Lessons from the Hokulea

Austin Kino, Apprentice Navigator, Polynesian Voyaging Society
Haunani Kane, Assistant Navigator & Science Coordinator, Polynesian Voyaging Society
Kalepa Baybayan, Pwo Navigator, Captain, Polynesian Voyaging Society
Kaiulani Murphy, Navigator, Polynesian Voyaging Society
Billy Richards, Polynesian Voyaging Society
Moderator: Bryson Hoe, Producer/Writer/Reporter, Oiwi TV
Positioning & Persuasion: The Keys to Managing Up

Jennifer Hee, Chief Development Officer, The Salvation Army
Unyong Nakata, Executive Director of Development, UH Foundation - Shidler College of Business
Robbie Melton, Executive Director & CEO, HighTechnology Development Corporation
Harrilynn Kameenui, Sr. VP of Administration & Legal Affairs, General Counsel, Pulama Lanai
Moderator: Steve Petranik, editor, Hawaii Business magazine
Making Your Point Quickly & Effectively – a few successful startups share tips on crafting the perfect elevator pitch

Isabella Hughes, President & Co-Founder, Shaka Tea
Omar Sultan, Co-Founder, Sultan Ventures
Donavan Kealoha, Senior Associate, Startup Capital Ventures
Moderator: Dawn Lippert, CEO Elemental Excelerator
12:30 p.m.-1:45 p.m. Networking Lunch
2:15-3:15 p.m. Afternoon Workshop Sessions
What Does It Mean to Be an Intrapreneurial Leader?

John Komeji, Chief Administrative Officer & General Counsel, Hawaiian Telcom
Darrick Ching, Senior VP & Division Manager, Consumer Branch Banking Division, First Hawaiian Bank
Bill Coy, Director, Omidyar Fellows
Moderator: Meli James, President, Hawaii Venture Capital Association
Building Effective Teams: Tips from the Best Places to Work

Ben Godsey, President, ProService Hawaii
Kat Lin-Hurtubise, President & Founder, Gourmet Events
Jeff Shonka, President & CEO, First Insurance Company of Hawaii LLC
Moderator: Peter Burke, President, Best Companies Group
Bridging the Gap

John Gotanda, President, Hawaii Pacific University
Dr. Richard Vuylsteke, Chief Executive, East West Center
Chris Hause, VP of Marketing, Sales & Business Development, Kaiser Permanente
Moderator: Daniel Ikaika Ito, Digital Media Director, Hawaii Business magazine
3:30 p.m.-4:45 p.m. Closing General Session
Winner's Mindset: Lessons for Business and the Boardroom


David Matlin, Athletics Director, University of Hawaii
Lori McCarney, CEO, Bikeshare Hawaii
Peter Kim, Founder, Yummy Restaurant Group
Matt Apana, General Sales Manager, ESPN 1420 
Moderator: Steve Petranik, editor, Hawaii Business magazine
5:00 p.m.-6:00 p.m. Networking Pau Hana

FULL CONFERENCE DETAILS: www.hawaiibusiness.com/leadership-conference-2017-information/
For questions, please contact Kira Chong Tim, Events Manager, at kiract@hawaiibusiness.com
or call (808) 534-7145.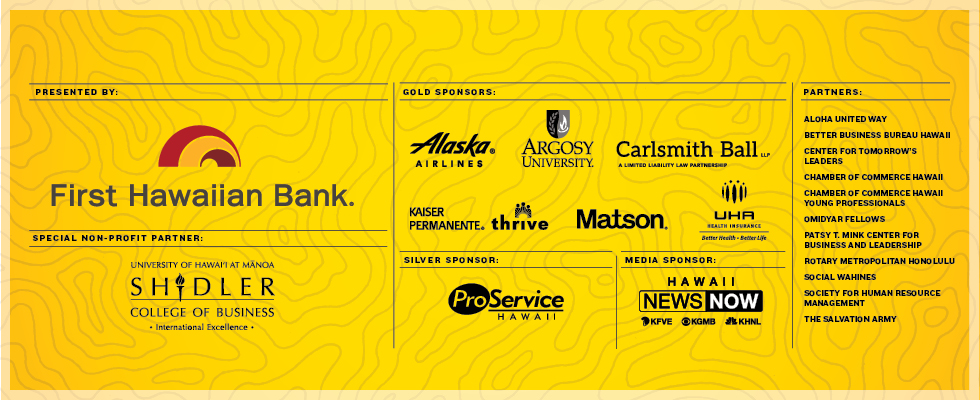 When & Where

Hilton Hawaiian Village - Coral Ballrooms
2005 Kalia Rd.
Honolulu, HI 96815


Thursday, July 27, 2017 from 8:00 AM to 6:00 PM (HST)
Add to my calendar
Hawaii Business Leadership Conference 2017