Hawaii Association of Mortgage Brokers & Professionals Annual Holiday Party
About this Event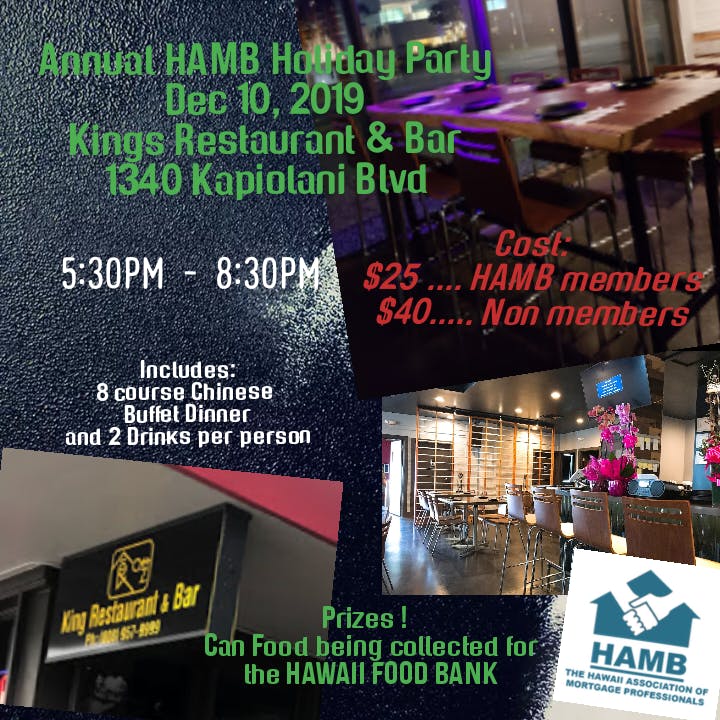 Happy Holidays to all our HAMB members, as well as those who enjoy networking with us. We've all worked hard this year, and now we celebrate the season with good food, fun, & prizes. We will also be approving and installing our President Elect Bobby Chow's slate for next year's 2020 HAMB Officers and Board of Directors.
Slate of Officers for 2020:
Bobby Chow - President
Gary Rosenberg - V.P.
Donald Lau - Secretary
Cathy E.M. Lee - Treasurer
Other Returning Directors:
David Bird
Linda Char
Loriann Fukumoto
Tiare Fullerton
Steve Higa
Jaimee Manago
Claude Phillips
New Directors:
Daryn Ogino
David Ige
As usual, we ask everyone to participate in our HAMB Charity Benefactor for the year, "THE HAWAII FOOD BANK,"by bringing a canned good item for donation.
Cost:
$25 for HAMB members
$40 for non members
Ticket price includes: 8 Course Chinese Food Buffet and 2 drinks per person