Description
This event SOLD OUT it's still worth signing onto the waiting list. But if you can't get in, join us for the live stream on https://www.facebook.com/beckywalshstandupintuitive/ Go and like the page to know what's happening as we go LIVE!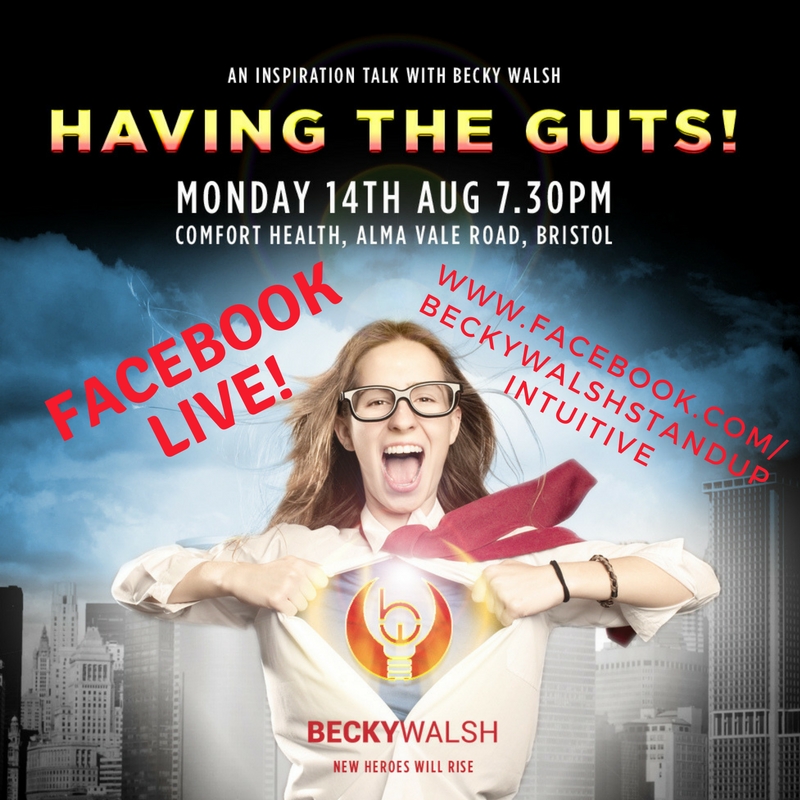 You have those friends, the ones YOU know are awesome and could be doing so much more. More with their ideas, their dreams and their lives. What you don't know is that they are thinking exactly the same about YOU!
This came up while having coffee with a friend. I asked her, 'So, why aren't you just doing it?' She said, 'Same as everyone I guess, I just don't believe in myself'. That pain hit me in the guts!
Time is running out and you don't want to die with your music still inside you! So, this talk is for all the 'maybe tomorrows', the 'one days' and the procrastinating cups of tea that should never have been drunk!
Time for ACTION!
This talk is full of useable tips on self belief, intuition, emotional resilience and bypassing the money mind.
* Having the guts – A workshop with Becky Walsh - will take place - Sunday 10th Sept 10.00am to 5.00pm £95.00 Comfort Health Alma Vale Road Bristol