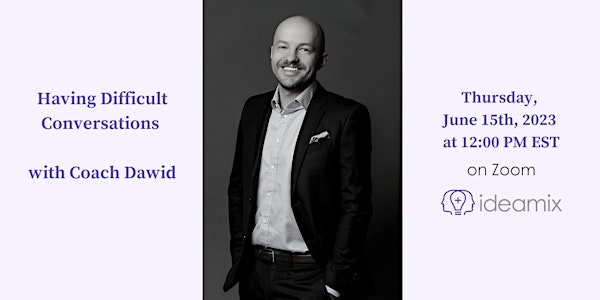 Having Difficult Conversations
In this short virtual webinar, we'll give you some tips and tools to make tough conversations easier.
By ideamix - coaching & mentorship community - www.theideamix.com
Date and time
Starts on Thursday, June 15 · 9am PDT
About this event
Difficult conversations are a part of life—but they don't have to lead to headaches and major conflict. In this short virtual webinar, we'll cover how to make tough conversations easier. Specifically, we'll explore:
The difference between assertive and aggressive communication styles
How to prepare for, and maintain control during, difficult conversations
How to leverage active listening and compassion for win-win solutions
_____________________________________________________________________________
ideamix is a tech-enabled coaching company founded by 3 female founders for whom coaching has been transformative in their personal and professional lives. ideamix hosts over 150 coaches and connects individuals and corporations with these vetted, experienced and diverse coaches. Through a 1 minute assessment, ideamix matches clients with coaches that best fit their needs and values. ideamix coaches help clients map and achieve their personal, professional, and business goals, delivering a positive return on investment for both individuals and companies.
ideamix also seeks to destigmatize personal and mental health issues through its live and virtual events, and podcast and article content.
ideamix provides a seamless experience to connect clients with vetted, experienced coaches. We seek to be the go-to platform for people and companies to access quality coaching while helping coaches build sustainable, independent coaching businesses.
Use coaching to transform your life today at www.theideamix.com.