Location
Piedmont Community Church
400 Highland Avenue
Piedmont, CA 94611
Description
Join us for the Havens Dads Club 9th Annual Poker Night Plus Casino Fundraiser! - NEW LOCATION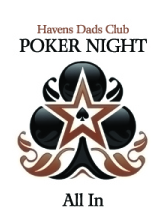 This fantastic night out is the Havens Dads Club signature fundraiser. This year will feature both the classic Texas Hold'em tournament AND additional Casino games, along with food, wine, and prizes! All net proceeds are donated to the Havens Elementary School and school programs.
Can't find a babysitter? No problem. Kids night out available at Piedmont Community Church from 6 to 10 for kids2 and up - $25/child.
Don't want to play with the guys? No problem. We had a women's table last year and it was the most fun table in the room. We will have one or more women-only tables again this year, depending on demand.
When: Saturday, October 22, 2016.
Where: Piedmont Community Church - 400 Highland Ave (corner of Highland Way & Mountain, right behind the Wells Fargo).
What Time: 6:00 p.m. socialize and poker tutorial ~ 6:30 p.m. first hand is dealt and casino opens. Event ends at 11:00 p.m.
Food: Provided!
Drink: Beer and wine served by Queens of Poker.
Remember... it's for the kids!