Event Information
Refund Policy
Contact the organizer to request a refund.
Eventbrite's fee is nonrefundable.
Have you eaten yet? is back for episode 3 of our cooking series! Join us as we learn how to make Taiwanese Bian Dang (lunch box)!
About this Event
At Slant'd, our Amplifiers are putting together a series of virtual gatherings to bring people together. We're breaking down geographic barriers and connecting based on our shared love of food—everyone, everywhere is invited to join our community.
Have you eaten yet? (HYEY) is an interactive cooking series that highlights Asian pantry staples and comfort foods. Join us and our host, Jocelyn Ueng of playtes° based in New York City. Jocelyn will be teaching us how to make Taiwanese Bian Dang (lunch box).
What to Expect
Taiwanese Bian Dang (lunch box)
A conversation with Jocelyn as she teaches us how to make the dish of her childhood
Smaller kitchen groups to interact with others as we make and eat these dishes together
Discussion around how food and culture can build community and energize social justice movements
Note: zoom password will be emailed to you the night before the event!
Admission to this gathering is on "pay what you can" scale; proceeds will go towards compensating our host and future Slant'd programming.
Why pay what you can? Equitable payment options let us meet you where you're at. We trust that you will select the option most appropriate given your current financial situation.
This month, we'll be supporting a nonprofit chosen by Jocelyn, Heart of Dinner. Founded at the onset of COVID-19, Heart of Dinner works to fight food insecurity and isolation experienced by Asian American seniors—two long-standing community issues heightened by the pandemic. They now serve 1,500+ elders in Lower Manhattan, Brooklyn and Queens, delivering weekly hot lunches, fresh produce, and bulk ingredients while supporting local small businesses during their COVID-related recovery process. Your attendance fee will be used to support emergency food relief efforts. We're also donating proceeds from our community cookbook to Heart of Dinner. Check it out for additional home recipes.
P.S. If you're a Slant'd member, your ticket is on us, and you'll get a few special member perks, which we'll share soon! Check your inbox for a special code. :) Not a member yet? Learn more about how to join The Collective here!
Grocery List:
Dish: Taiwanese Bian Dang (lunch box)
Yield: 2 servings
Images to reference: eater, blog
Please have every ingredient portioned out and equipment ready ahead of time
*prepare in advance
*Marinade for cutlets - mix together and set aside
¼ cup soy sauce
¼ cup rice vinegar
1 tsp sugar
¼ tsp black pepper
1 pinch white pepper (optional)
½ stick cinnamon
1 clove
1 star anise
1 pinch salt
Quick pickle ginger:
1 knob of ginger
½ cup water
½ cup rice vinegar
¼ cup sugar
1 dried red chili
Pork cutlets:
½ cup sweet potato starch (or breaded style - use 1 beaten egg, ½ cup flour, ½ cup panko)
1 cup cooking oil (corn, canola, vegetable, grapeseed are OK - no extra virgin olive oil)
Additional protein (optional):
Rice:
½ cup white jasmine or short grain rice (Botan and Nishiki are the best brands)
1 cup water
Tomato egg stir fry:
2 tbsp cooking oil (corn, canola, vegetable, grapeseed are OK - no extra virgin olive oil)
3 eggs
1 pinch salt
1 pinch white pepper (optional)
3 ripe roma tomatoes
1 tsp sugar
1 tsp shao xing wine (optional)
1 stalk scallion
Drizzle of black or regular sesame oil
Equipment
1 med bowl with marinade for pork
1 small pot for eggs
Ice bath for eggs, aka a large bowl of ice and cold water
1 med pot for ginger pickling marinade
2 large ziploc bags
1 med pot for rice - reuse pot from pickling ginger
1 large plate to coat porkchops (or 3 small bowls for breading method)
1 large saute pan to fry pork
1 small sheet tray (or large plate) covered w/ paper towels
1 wok or med nonstick pan for tomato egg stir fry
1 pair of tongs
1 rubber spatula or wooden spoon
1 chefs knife
1 cutting board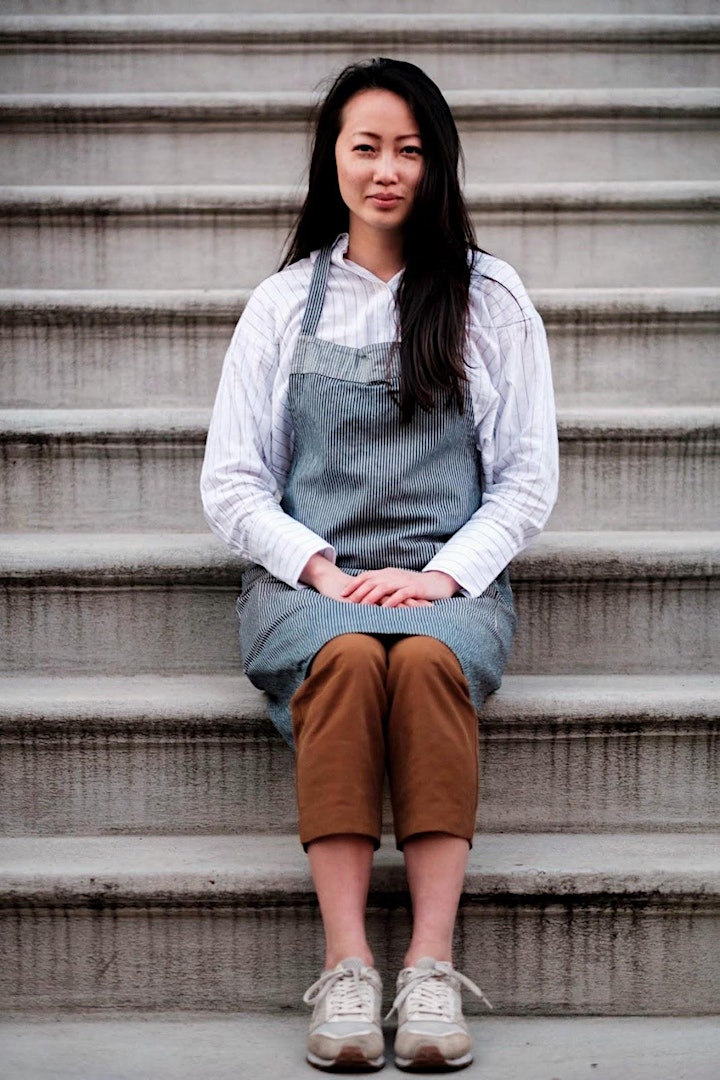 Meet our host, Jocelyn!
Jocelyn Ueng is a former consultant turned chef. Prior to pursuing her culinary passions, Jocelyn spent five years advising Fortune 500 companies, nonprofits, and federal agencies on brand strategy, experience design, and innovation. She is also the founder of, playtes, a pop-up dinner series where six strangers gather for a five-course meal, sharing dialogue about all things food & culture. Starting her career in the Silicon Valley, then DC and NYC, she spent time invested in the refugee relief and advocacy space and currently sits on the advisory board for One Journey Festival, a grassroots movement to amplify the talents, stories, and contribution of refugees in America.
With the COVID crisis shedding light on our nation's inefficiencies, Jocelyn joined the founding team of Off Their Plate (OTP), a newly formed 501c3 tackling the logistics of hunger. OTP works with restaurants owned by women and people of color to provide nutritious meals to communities in crisis. Core to their mission is ensuring fair wages and repurposing ingredient surplus. Jocelyn currently leads the research/policy team and Voices (a storytelling platform that features individual narratives from within the restaurant industry).
Jocelyn is an LA native, holds a B.S in Management Science from the University of California, San Diego, and an expected Associate's Degree in Culinary Arts from The Culinary Institute of America.
Associated Brands
Playtes, a platform for storytelling through intimate dining experiences
Off Their Plate, a nonprofit dedicated to providing meals to food insecure communities
Date and Time
Location
Refund Policy
Contact the organizer to request a refund.
Eventbrite's fee is nonrefundable.