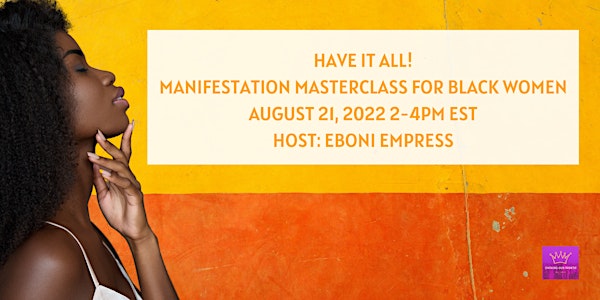 Have It All! Manifestation Masterclass for Black Women!
Manifestation doesn't have to be a mystery! Gain the tools to shift your mindset for effortless success!
About this event
"Manifestation is the art of transforming our subconscious thoughts into our reality". ~Eboni Empress
Hi Ladies!
We are deep into 2022 and it's time to reevaluate our goals, mindsets, and intentions! My name is Eboni and I am a believer, teacher, and lover of the Law of Attraction principles! By taking the steps to manifest my desires, I've transformed my reality to have the juicy love of my life, the stay at home career of my dreams, supportive fulfilling friendships, and more! Life is ever-changing and I'm on the path to manifesting my dream home and wedding. After having a live on manifestation, I thought about the benefit of bringing women together to discuss their goals and share tools that have brought me success in many areas. I can't wait to meet you and connect on this level of flow, acceptance, positivity, and realizations!
Join me on August 21, 2022 at 2pm to gain five tools based on the Law of Attraction to manifest your wildest and not so wild dreams!
We are capable of having it all and I want to ensure that we have the tools to make that a reality!