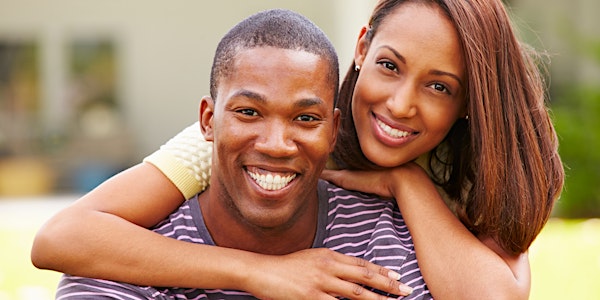 Have and to Hold (H2H) Couples Retreat by Chris A Matthews, LMFT
Location
Relationship Counseling Group
10420 Park Road
#Office 100B
Charlotte, NC 28210
Have and to Hold (H2H), is a one day retreat that is open to 4 couples (per session) seeking to become better communicators and lovers.
About this event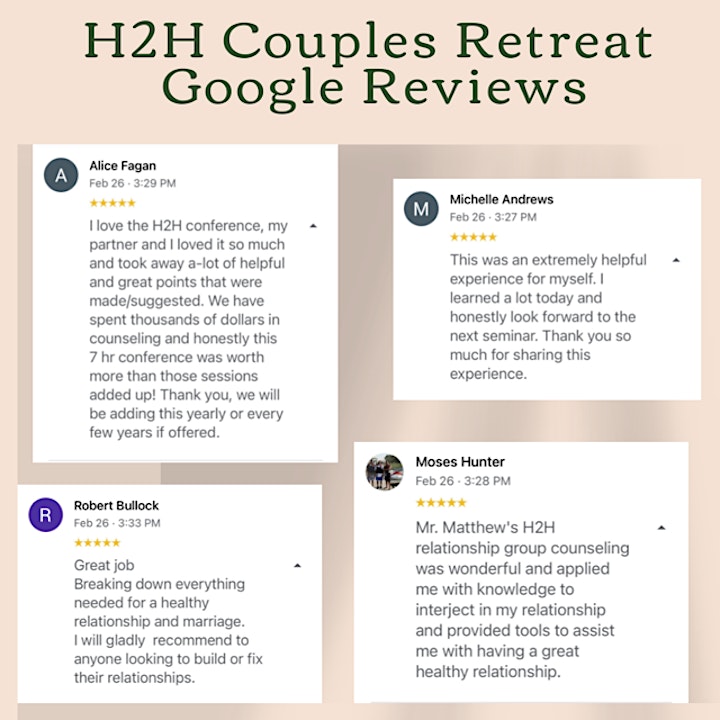 Questions? Call Relationship Counseling Group at 704-712-1696
If you want to get all the benefits of relationship counseling WITHOUT spending countless WEEKS in therapy –Then you will want to jump on this amazing opportunity. Last year while reviewing research for my first book, I developed a system which helps dating, engaged, and committed partners with customizing your relationship map that accelerates a path toward a more fulfilling relationship and teaches you how to become your own relationship counselor.
I've literally only shared these techniques with a few of my clients and they've all experienced an immediate increase in feeling more confident and secure within their current or future relationships.
After years of facilitating long-term couples counseling with hundreds of couples, I found that this is by far the fastest relationship growth method to date. AND because I want to see more relationship partners build a foundation for a stronger union that lasts, I have decided to host this exclusive 1 day retreat to unleash easy-to-use relationship tools. I will personally be coaching you how to identify and communicate your personal relationship needs, wants, and expectations so you can drive your current or future relationship forward toward your happily ever after.
As an award-winning couples therapist & relationship coach, I promise that after you attend my retreat you will have the perfect blend of preparation & prevention tools you will immediately begin to use to better communicate, prevent fights before they start, and deepen your intimate connection with your current or future partner.
This one-day retreat is for you BECAUSE…
You have been thinking about relationship counseling for either yourself or with your partners but don't have the time or resources to spend every week going back and forth to a therapist's office.

You have been married before or have experienced a failed relationship in the past and want to learn how to prevent making the same mistakes with a new current or future partner.

You want to get all the benefits of relationship counseling WITHOUT the discomfort that so many people feel when seeking relationship guidance or counseling.

You want to be happy and prepare yourself with the tools needed to feel that once in a lifetime love every day.

You actually implement what you learn and want to believe in love again.
What's Included with each ticket purchase:
Admittance for 1 couple ( 1 ticket purchase covers both partners, 2 people)
Gaining the equivalence of 6 relationship counseling sessions in just one day!
Reduce chances of a future divorce or break up
2 Workbooks that will guide you through creating your relationship constitution and road map
2 Signed copies of my book Finding Your Relationship Fix: The Four Reasons Couples Seek Counseling
Live interactive relationship coaching
Interactive breakout sessions designed to provide you the time and space to outline your personal relationship needs, wants, and expectations (relationship map)
Retreat Facilitator Bio:
Chris A. Matthews is a husband of 16 years and a licensed marriage and family therapist, (LMFT), licensed clinical addiction specialist, (LCAS), certified clinical supervisor (CCS) and approved supervisor for the American Association of Marriage and Family Therapy (AAMFT). Chris holds both a Master of Science degree in Organizational Leadership and a Master of Arts degree in Marriage and Family Therapy. Chris is also the author of Finding Your Relationship Fix: The Four Reasons Why Couples Seek Counseling, and the Pfeiffer University's 2021 Presidential Merit Award recipient.