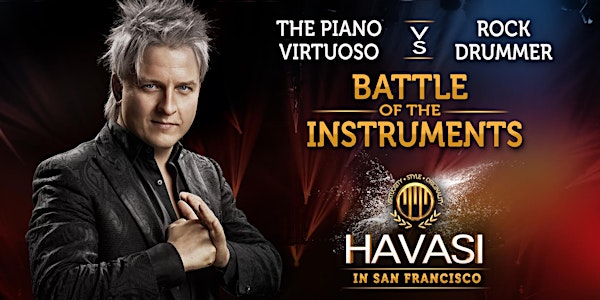 HAVASI in San Francisco - 7:30 PM
Drum & Piano Concert Show at the Palace of Fine Arts
When and where
Location
Palace of Fine Arts Theatre 3301 Lyon Street San Francisco, CA 94123
About this event
After sold-out concerts at the iconic Carnegie Hall in New York, the Wembley Arena in London, the Sydney Opera House, and countless arena shows in Europe, HAVASI now debuts in San Francisco at the Palace of Fine Arts with special Drum & Piano performance on the 29th of October 2022 starting at 3:30 PM and 7:30 PM. Don't miss the chance to experience this musical prodigy, the composer and pianist loved by millions.
Unlike Anything You've Ever Heard Before
The program is 100% original works by one of the most fascinating and versatile young composers of today, HAVASI. His innovative music is unlike anything you have heard before; fresh, passionate and entertaining at the same time. The show will feature a battle between the classical pianist and a wild rock drummer, something you've never seen before on stage. Don't miss the chance to experience this musical prodigy, the composer and pianist selling out arenas in Europe.
Expect to be surprised
In this special concert, HAVASI aims to prove that, even today, a classical piano can deeply move and entertain any audience, while he reveals his secrets about the music that has captivated the hearts of so many people worldwide.
Classical pianist vs. rock drummer:
The Battle of Instruments
The show will also feature a special performance of a seemingly unlikely duo. The classical pianist and the rock drummer will appear together on the same stage, united in a shared desire to make great music across barriers of genre, playing to the same musical heartbeat.
An Incredible Musical Journey
HAVASI's music blends the depth and discipline of classical tradition with the sheer power of rock, and the spectacle of high-energy performance that engages all senses and transports audiences through an exhilarating musical journey.
Kid-friendly Concert
HAVASI's charismatic personality and showmanship is a guarantee for engaging entertainment for the entire family where children can encounter the piano in a modern setting they will truly enjoy. Parents are absolutely encouraged to bring their children from 4 years of age and upwards. Tickets for children and young people up to the age of 18 are available with a 50% discount for the 3:30 PM afternoon show.
FAQs
What's the refund policy?
All ticket sales are final
What is the policy on lap infants?
Children under the age of 12 months may sit on a caregivers lap free of charge.
My assigned seats appear to be only even or odd numbers. Will my seats be together?
Our theatre seats are numbered even on the left side, odd on the right side, so seats together will be consecutively even or odd. To review the theatre map, please visit our website at: https://www.palaceoffinearts.org/seating.
What about parking?
Parking is available along Palace Drive on a first come, first serve basis. We strongly recommend arriving 20-30 minutes before showtime to allow time for parking.