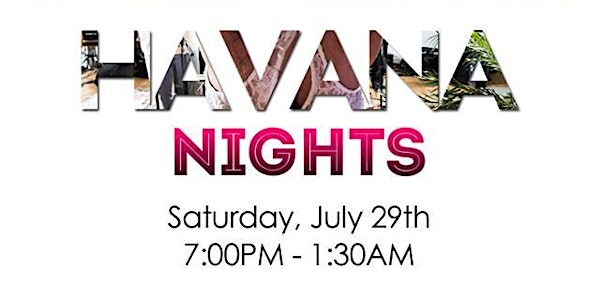 Havana Nights 2017
When and where
Location
Canvas Event Space 3412 4th Ave S Seattle, WA 98134
Description
**** A LIMITED NUMBER OF TICKETS WILL BE SOLD AT THE DOOR FOR $45 CASH!!! When they are gone, we are SOLD OUT!

Grab your Sundress & Sandals, Guayabera Shirt & Fedora or go All White - celebrate the summer - Cuban Style! Join us for the 2nd Annual HAVANA NIGHTS!
HAVANA NIGHTS SOLD OUT last year, so we're bringing it back! Bigger & better.

*OUTDOOR LOUNGE with musical performances throughout the night (congo drums.). Lounge furniture under tents, under the stars....warm summer breezes.

FULL CUBAN DINNER - Catered by Geo's Cuban & Creole - Menu includes:
Fricase de Pollo - Choice of slow roasted chicken OR pork cooked in a succulent broth with potatoes, green olives, onions, peppers & capers.
Morros y Christianos - Traditional Cuban rice & beans in a savory blend of spices, peppers and onions.
Mini Media Noche Sandwiches - Sweet Cuban bread with sliced hickory ham, slow roasted pork, Swiss cheese, dill pickles and mustard. Pressed and served warm.
Mixed Green Salad

VEGETARIAN OPTION: rice & beans (contains NO meat or meat broth), Yucca Frita (a sort of vegetable french fry) with mojo sauce, Maduros (sweet plantains) and mixed green salad.

Geo's will also serve Cafe Cubana (Cuban Espresso) and sweets. (These are an additional cost, not included in your ticket.)

One drink ticket (Daiquiri, Mojito, Wine & Bubbly, Beer)

TROPICANA CLUB - We'll bring the world-renowned cabaret and club in Havana to life! Lots of lights and palm trees, showgirls and amazing music (and maybe a few mobsters). SuperSones, will be playing traditional Cuban Son music (the roots of Salsa). Conga drum performances. Showgirls (voluptuous, cabaret sequin-and-feather musical theater!!) and more.


EXPERIENTIAL ROOMS: Ernest Hemingway lived in Cuba for 20 years, and was the inspiration for the Hemingway Daiquiri (half the sugar and double the booze!). He had two favorite bars he'd always visit and we'll recreate them at Havana Nights:

El Floridita: Daiquiri's will only be served in this lounge - world globes; overstuffed leather chairs and boks. We're working on getting an Ernest Hemingway look-alike (there's a bronze statue of Ernest in the El Floridita Bar!)

La Bodeguita: This is where Ernest would order mojitos, and we'll serve them in this bar.

An Ernest Hemingway look alike will be hanging out in the bars for your photo ops; they make a great drinking buddy!
We're hiring an artist to sketch the insides of both bars and hang backdrops to make it look authentic
Cuban DJ Reinier inside The Tropicana Club spinning Cuban, Latin and current Pop dance tunes.


Outdoor Lounge - tented, furniture, palm trees...a great way to spend a summer night

Marketplace - Similar to an outdoor street market, there will be both Cuban and American items for sale including Cuban paintings (purchased in Cuba), clothing and jewelry.


Dominoes tables; play Dominoes with old Cuban guys and your friends!

*********DRESS CODE: Fabulous!

There are several ways to show up to Havana Nights:
Bright colors (sundress & sandals, colored Guayabera (Cuban) linen shirt)


All White Attire

Fedoras!!


Flowers in your hair

Cuban Mobster (think, Scarface)


Shorts & flip flops are allowed, bathings suits with a cover-up.


Like our Facebook page for ideas on what to wear: www.facebook.com/HavanaNightsSeattle
*********TICKET OPTIONS:
-ENTRY ONLY ($40) -includes access to the party and all the entertainmen and lounges; DOES NOT INCLUDE DINNER OR A DRINK TICKET. You will be able to purchase Cuban sandwiches at the party.

-GENERAL ADMISSION ($75) - includes everything listed under "entry only" ticket + full Cuban dinner (choice of chicken, pork or vegetarian) and 1 drink ticket

-VIP RESERVED SEATING IN THE TROPICANA CLUB ($105 PER PERSON) - Bistro tables (seats 4 per table) will be set up in The Tropicana Club. These seats will be closest to the stage/area where the band will play and the dance performances. VIP will have WAITRESS SERVICE! Each table seats 4, so if you have less than 4 in your party, you will be matched up with others. If you buy a VIP seat you will be guaranteed seating at the party. Your names will be on the table along with a "RESERVED" sign. If you want to be seated with specific people, you must state this in the ticket form! *****Everyone can dance inside The Tropicana, but you won't be guaranteed a seat unless you purchase the VIP.

..........CONTACT EVENT ORGANIZER: We can accommodate special celebrations (anniversaries, birthdays, etc.) if you want to come to Havana Nights to celebrate your special day.

Tracy Klinkroth, tracy@chickchat.net
---Discounts given to groups of 10 or more

******Must be 21 or older to attend. Valid ID required.******
***ONCE YOU PURCHASE YOUR TICKET, NO REFUNDS WILL BE GIVEN. PLEASE DO NOT ASK!!!***