Description
Haute Accessories Week™ 2017 - #installation7
A Message from The Fashion Movement:
Hurricane Update
Please Read Immediately - 9.5.17
With a state of emergency declared for the State of Florida and the type of weather being forecasted, plus the uncertainty and danger it brings; we have decided to cancel our HAUTE Accessories Week scheduled events on Thursday, Friday and Saturday.
In all the years The Fashion Movement been producing events in Florida, this is the first time we've been forced to cancel. It's a tough decision, however here at The Fashion Movement we have a high regard for family and safety. In times like these we need to be with our families and loved ones, that is what is important here.
As the Hurricane develops into a more serious threat we must take into consideration the safety of all involved; Designers, Models, Parents, Attendees etc. We thought it best to make this decision now rather than wait for the last minute which would serve to inconvenience everyone even more.
Everyone please be safe during this time and do not take unnecessary chances that can be life threatening to you and your families. "Stay Blessed"
Kind regards,
TFM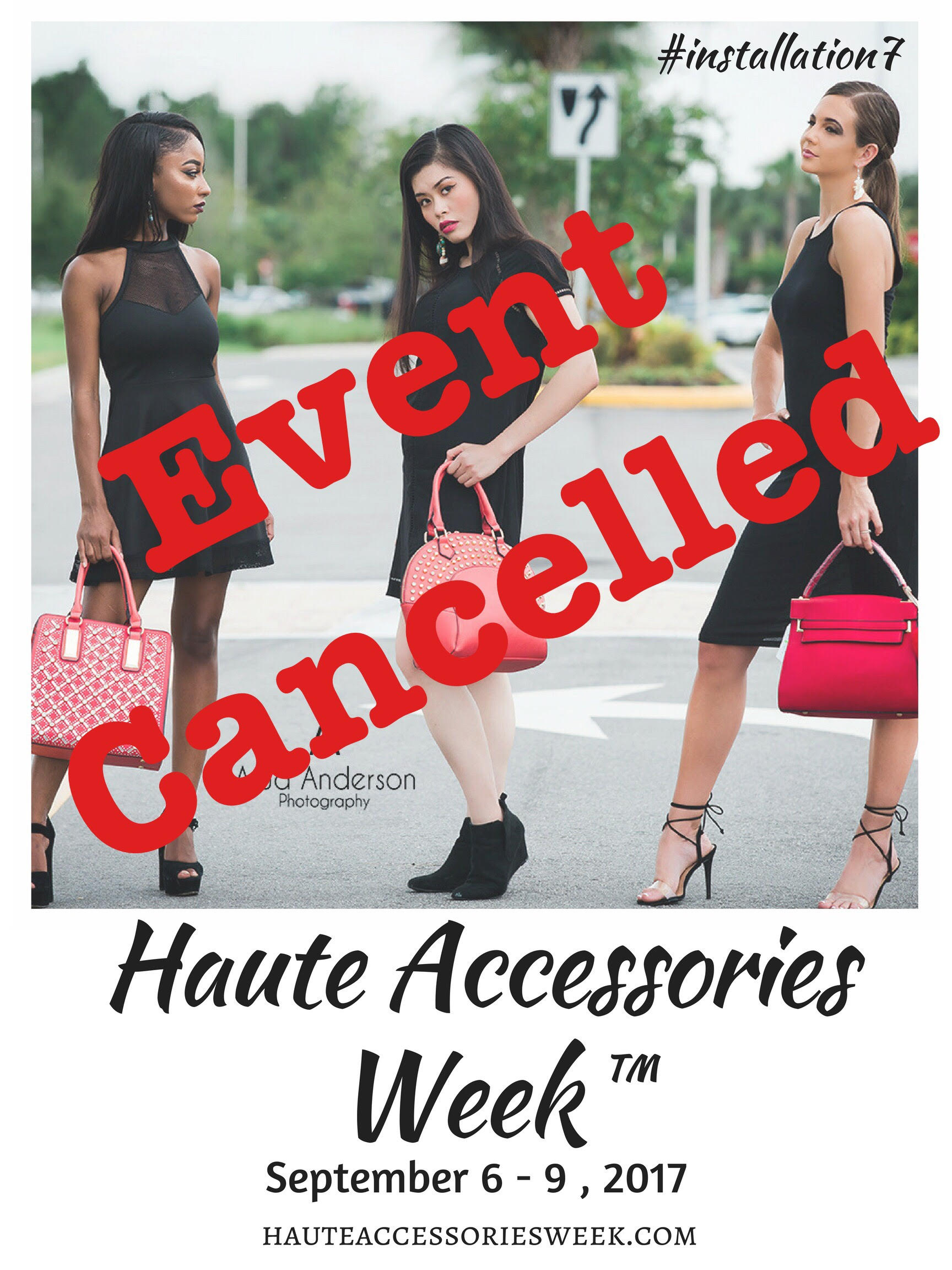 HAUTE returns for its signature 7th season.
"Want to update your wardrobe in a minute?" "Add a cool, new piece of accessory"
HAUTE, spotlights the contributions accessory designers make to the fashion industry; featuring the unique and creative works of independent and emerging accessory designers.
The main runway event will be held on Saturday September 9th 2017 in Tampa Florida. The preceding days will feature a Models Style Mixer, Accessory Designers & Artist Exhibit and a Little Black Dress Fashion Party.
SCHEDULE, TICKETS & VENUES -
DAY 1 -
Models Style Mixer (Private Models Event)
Wednesday, September 6, 2017
A night to honor and say "Thank You" to our fabulous Models.
Time: 6:00 - 9:00 P.M.
Venue: Yah Mon Caribbean Restaurant
301 W. Platt St. Tampa, Florida
___________________________________________________________
DAY 2 -
Designers & Artists Exhibit
Thursday, September 7, 2017
We are celebrating 7 fabulous years of showcasing accessories on the runway.
Experience the exquisite designs by our Designers. View Artists display, while enjoying cocktails & appetizers.
*Complimentary Appetizers
*Cash Bar
Time: 6:00

- 9:30 P.M.
Venue

: Bizou Brasserie @ Le Meridien Hotel
601 Florida Avenue, Tampa Florida 33602
_____________________________________________________________
DAY 3 -
Little Black Dress Party
Friday, September 8, 2017
It's A Party!!!
Come party with us prior to Saturday's Runway Show.
*Complimentary Appetizers
*Cash Bar
*Live DJ
Time:

10:00 P.M. - 2:00 A.M.
Venue: Stone Soup Company - Bar & Grill
1919 E. 7th Ave, Tampa Florida 33605
_____________________________________________
DAY 4 - Main Event
Designers Runway Presentation & Designers Boutique
Saturday, September 9, 2017
See Designers exclusive accessory collections for the first time on the runway. Designers will also display items for sale within our Designers Boutique. Enjoy viewing Designers signature pieces within our Museum setting. All Designers runway collections are available for sale after the show.
PARTICIPATING DESIGNERS:
- Galvin Leatherworks
- Tenique Designs
- Akanbi
- Lenard Wise
- Dee Jewels
- Sweetheart Collection
- Goldini
- Joel Worldwear
PARTICIPATING ARTISTS:
- Queen Artistry KH LLC
-
Gen. Adm.
$30.00 Advanced
VIP Preferred Seating (front row) -
$50.00 Advanced
www.hauteaccessoriesweek.eventbrite.com
Time: 6:00 P.M. - 11:00 P.M.
Venue: The Galleria

3720 Spectrum Boulevard, Tampa Florida 33612
6:00 P.M. - 8:00 P.M.
*Designers Museum & Boutique Models
*Live entertainment -
*Live DJ
*Shopping in Designers and Exhibitors Boutique.
8:00 P.M -
*Runway Presentation.
____________________________________________

Follow our activities on Facebook: https://www.facebook.com/events/1624425854533558/?active_tab=about


PARTICIPATING SPONSORS:
Cerulean Blu Boutique
Victoria Richards Chocolate
The HOAJ
April's Beaute Bar
Shola Designs
Brushes of Beauty
4 The Diva In You Boutique