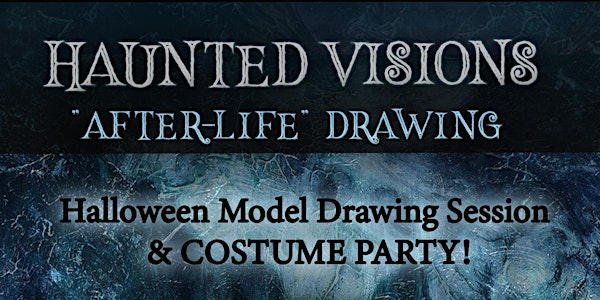 Haunted Visions : AFTER LIFE Costume Drawing Party
This event will take figure drawing six feet under with our costumed models!!
Refund Policy
Contact the organizer to request a refund.
About this event
On Wednesday, October 28th at 8pm Eastern/ 5pm Pacific the Vision Train would like to invite you to a Costume Drawing Party! Hosted by Engineer Alecia Sacred Heart, and Conductors Krisztina Lazar, and Lisette Murphy, this event will take figure drawing six feet under with our costumed models!
Come to this drawing party wearing your own best costumes, while we draw an array of costume themes; head shots, as well as full figure poses. We will open up the floor and you never know, if your costume tickles our fancy, YOU could be one of our drawing victims... er, SUBJECTS!
*Costumes are not mandatory, but welcome for all!
Times:
8-11 pm Eastern Daylight Time
7-10 pm Central Daylight Time
6-8 pm Mountain Daylight Time
5-8 pm Pacific Daylight Time
2-5 pm Hawaii Standard Time
We are asking a $15 minimum donation in support of the Vision Train, who is cultivating a global community of artists who are not only supporting one another through their connection, but are also enhancing their skills through deepening their daily practices. They've been able to accomplish that thanks to our community who hosts unique content and programming that we would like to share!
For six months the Vision Train has run on volunteerism, but in order for this train to remain on the tracks, we need to upgrade into a legitimate online community, where alternative media may be broadcast, information may be shared through workshops, and special social, civil, environmental, and community projects may be worked on in a safe collaborative container. Right now the Vision Train is gearing up for its greatest transformation yet! In order for us to be successful in our continuation of supporting and connecting our global community of artists, WE NEED YOUR HELP!
FUNDRAISING GOALS
Needs:
Legal Advice
Permits and Licences
Operational Costs (Zoom, Storage, Gsuite, Domain Hosting, Software)
Marketing and Advertising
Equipment Upgrades
Payroll Funds
Video Editing
Graphic Design
Unexpected Expenses
Money for Special Events/ Projects
TICKETS: $15 donation, with option to add on extra donations during checkout.
WE ARE ETERNALLY GRATEFUL FOR YOUR SUPPORT AND PARTICIPATION IN THIS GLOBAL COMMUNITY!
-Vision Train Engineers, Conductors, and Crew