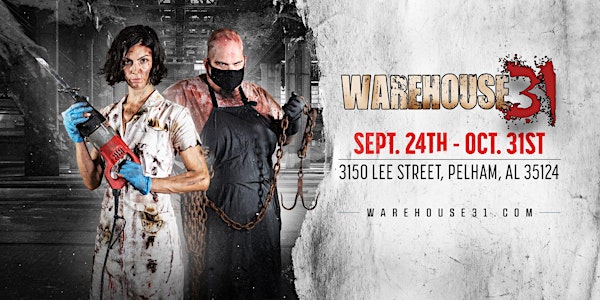 Haunted House - Warehouse31 - 10/22/21
Alabama's most intense Haunted Attraction !! Box Office Opens at 6:30pm - Attractions Open at approx. 7:00pm
When and where
Location
Warehouse31 3150 Lee Street Birmingham, AL 35124
About this event
Before you purchase your ticket please be advised that we are located in ALABAMA ONLY!!!!
Box Office Opens at 6:30pm - Attractions Open at Approx. 7:00pm
Once you purchase a ticket you can arrive anytime from the time we open and BEFORE we close. You just have to get to the box office before we close in order to go through the attraction.
Birmingham's Scariest & Most INTENSE Haunted Attraction.
If you are ready for a night of fear & fright like you have never had then prepare yourself and come see why folks are saying that Warehouse31 is the area's best haunted house. With two different indoor attractions there is plenty of action packed adrenaline filled moments waiting for you.
Our main attraction is Rigamortis. The monsters have been working hard this year to rearrange many of the rooms in their house to keep you on your toes. Come see the many changes and what's new!
Rigamortis:
Trespass at the abandoned warehouse, the site of a deadly accident that led its workers to an early demise. Today, the souls of those killed in the disaster are back in the form of all manner of horrors to haunt its crumbling halls, warping its many rooms beyond recognition for their sick pleasure. Be wary of The Butcher, who only desires more meat for his hook, and The Twisted Nurse, who knows nothing but suffering… and aims to inflict as much of it on those who trespass at the warehouse as possible.
3D Experience:
Put on your 3-D glasses and enter a world that seems to be of another dimension. Packed full of 3D artwork, puzzle pieces, the tunnel of doom, and of course the blood thirsty souls of the dead killed in the warehouse accident. Oh yes, we have also included a special surprise that is sure to make your life flash right before your eyes. Those who have dared to enter say they have never seen anything like it.
Our Monster Midway:
While you wait to enter the halls of the abandoned warehouse and meet the souls of the dead, you can relax at our Monsters Midway, purchase food and drinks, or watch a classic horror movie projected on a big screen. Don't forget to get your official Warehouse 31 merchandise before you leave.
Parking:
Parking is FREE !!!!
REFUND POLICY
Once tickets have been purchased we do not allow for refunds. PLEASE NOTE that we are located in ALABAMA and are NOT in Florida. We will not issue refunds to those who are attempting to purchase tickets to a Florida based Warehouse31. We are NOT in Florida or affiliated with any haunted house there.
SALES TAXES
Please be advised that a (9)% "Sales Tax" has already been included in the price for each ticket both online and at our local box office.