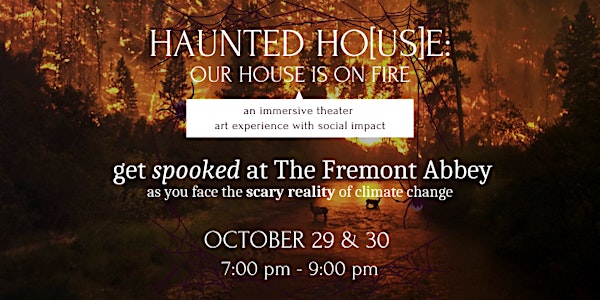 HAUNTED HO[US]E: Our House is on Fire @FREMONT ABBEY [7-9pm time slots]
Haunted House multi-arts experience + live music upstairs
When and where
Location
Fremont Abbey Arts Center 4272 Fremont Avenue North Seattle, WA 98103
Refund Policy
Contact the organizer to request a refund.
About this event
TWO NIGHTS ONLY!
10/29-10/30, 7-9p
HAUNTED HO[US]E:
Our House is on Fire
an immersive-theater art experience with social impact
Wander through a dark maze,
haunted by the shadows of our time...
from the deflective bargaining of "Fossil Fool" business executives to the desperate pleas of the hungry ghosts of consumerism,
this immersive experience will take you on an uncanny journey that sends chills up your spine
as you come face-to-face
with the scary reality of climate change
curated by Lux Gypsum
Collaborating performing artists: Elle Grey, Bex Lipps, Tom Spangenburg, Echo, Lucia Wang, Zevi Yoj, Lux Gypsum, Emily Shimada.
Collaborating visual artists: Avi Prager, Emily Candela McLaughlin, 350 Seattle Artful
@ Fremont Abbey Arts Center
+ Live music concerts upstairs both nights (See other ticketing pages for details)
All ages, bar w/ID
To support equitable access, tickets are sliding scale online. A limited number of tickets will be reserved for walk-ups. Please buy in advance to reserve your spot, and pay what you can to support community arts events.
-------------------------------------
Pod Registration: We are encouraging people to sign up in "pods" of up to 4 people to reduce risk of covid exposure.
Tickets for the same pod must be purchased in the same order:
First, select the day you would like to attend, then choose a time and price-- tickets are offered at $10, $20, or $40 each.
Next, scroll to the "Add Ons" at the bottom of the ticketing page and select "Admission for Additional Pod Members" to buy tickets for other members of your pod to attend at the same time as you.
If you do not have a full 4-person pod to attend with, you are welcome to buy a ticket for just yourself or for you and a friend, but you may be going through the experience with other participants that you do not know.
Walkups: Interested in getting walk up tickets? Here's how:
1. Arrive up to 15 minutes before the show starts (at 6:45) either night to put your name down for an open time slot. 
2. You can also just wait in a standby line for the next available time to go through.
3. If you miss the walk-up time you signed up for, your spot could be given away to someone standing by.
Social Impact: Your ticket funds go directly to supporting artists and frontline climate actions. We hope that this event will provide a theatrical therapeutic space for you to fully face and feel climate fear and grief, move through a range of emotions, and connect to tangible actions you can take to support climate justice efforts.
COVID Considerations: Proof of vaccination or recent negative covid tests (72 hrs) are required for participants and performers, and everyone will be required to wear a mask inside. Venue will be at 10-20% capacity with fresh air flowing & windows open.
Funding & Support: We are grateful to be receiving partial funding from the City of Seattle's Office of Arts and Culture, as well as support from Abbey Arts and 350 Seattle.
Volunteer: If you would like to volunteer to support this event in exchange for free entry, use this form or email lux@hearthrevival.com
ABBEY ARTS EVENT INFO:
Entering the venue indicates agreement to adhere to the Abbey Respect Policy. All are welcome.
Fremont Abbey is ADA accessible on either level.
ABBEY ARTS, SEATTLE | NONPROFIT 501C3, NON-RELIGIOUS, EST. 2005
Presenting welcoming music, arts & cultural experiences for people of all ages & incomes.
Home Venue: Fremont Abbey, 4272 Fremont Ave North, Seattle, WA 98103 / 206-414-8325
Note: All ticket sales are final unless noted. Lineup and performers are subject to change, no refunds for change of support acts.