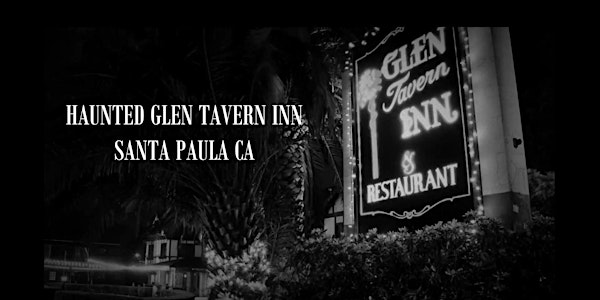 Haunted Glen Tavern Paranormal Event TWIST "YOU HOLD THE CAMERA" Invite
Best Parnormal Investigation with a TWIST "YOU HOLD THE CAMERA" w/Real Ghost Hunters at the Most Haunted Hotel in CA, The Glen Tavern Inn
When and where
Location
Glen Tavern Inn 134 North Mill Street Santa Paula, CA 93060
Refund Policy
Contact the organizer to request a refund.
Eventbrite's fee is nonrefundable.
About this event
A Live Paranormal Investigation only this time your not watching you will HOLD THE CAMERA if you dare.
The Most Haunted Hotel in California Glen Tavern Inn in Santa Paula will now open her doors to the public where you can Investigate the haunted 3rd floor with Real Ghost Hunters and Real Paranormal Equipment in Month of Halloween October! Limited Tickets
Real Haunted Hotel Event Built in 1911 The Glen Tavern Inn in Santa Paula, California
Now you can now be a part at Live Paranormal Investigation at "The Most Haunted Hotel in California" Glen Tavern Inn. As Seen on numerous TV shows include Ghost Adventures and the Dead Files.
Glen Tavern Inn will open the doors to special behind the scenes Live Paranormal Investigation Lead by Author GHOSTS OF RANDSBURG and Paranormal Investigator Marie Mason upstairs on the most Haunted 3rd floor, and revisit the stories told only by those who work there witnessed
Have you wanted to try and talk to ghost here Well here is your chance at the Best Location possible with REAL PARANORMAL INVESTIGATORS who have plenty of PROOF from past investigations.
This is not a Joke its the Real so be aware, You will be a part of the most amazing Event to do in the month of Halloween.
Have you every found yourself sitting on the couch and saying I want try that? Well here is your chance with one of the Best Ghost Hunter's Marie Mason and Author "Ghosts of Randsburg" at the most Haunted Hotel in California THE GLEN TAVERN INN it can't get any better than that trust me I know!!
We have the whole 3rd Floor blocked off for us to investigate. We will be armed with the best Ghost Tools and Equipment, plus extra help from all the Ghost who still live here.
Access to Most Haunted Room 307 where they is legends of Murder and Mayhem, 308 Houdini room, 3rd floor Speakeasys, Gambling, and Movie Stars from every year has all wandered this Beautiful Hotel plus the ghostly hall (like the shinning) where little kids have been seen running down the hall and then through walls was enough to make construction workers run out of the building after they witnessed it.
Downstairs' in the lobby we have lots of things to do,
ROB @parawakening
We will have Medium Debbie Romeo @https://transcendwithdebbie.co
Plus games i.e Ouija board or pendulum game, poker just as Cowboy Calvin did in1900's with 5 ACES before he was shot.
Movie Premiere of the History on Glen Tavern will be played as well.
The Famous Restaurant "Enzos and the Bar" will all be open lots of fun and The Best Halloween Party EVER
Every Guest will get a full night of fun, so expect to be there at least 3 hours :
15-20 Minute Movie premiere on history of Santa Paula Ghost and The Glen Tavern Legends
Tarot card reader or psychic
depending on day at least
Games in Lobby By Fireplace -poker-Ouija - pendulum board
Min of "1 - Hour" REAL Paranormal Investigations
Real Ghost Hunting and Paranormal Investigation around the Glen Tavern Property
EACH INVESTIGATION WILL START EVER TWO HOURS SO DON'T WORRY SIT IN LOBBY HAVE FUN PLAYING GAMES
The Glen Tavern Inn was built in 1911 Santa Paula and since has been dubbed the Most Haunted Hotel in California, because every day is a Ghost sightings with guest coming all over the world to see if they can see what ever one is raving about and they are not disappointed, in fact some just can not finish the night.
Charming and beautiful this 41 Rooms Hotel still holds the original look that once was called The Celebrity hotel for Clark Gable, Charlie Chaplin, Houdini carol Lombard and so many more. The question is how many souls have touched the Glen Tavern over the years.
Sitting across the street is the 1887 Rail Road station where it was said 2020 into town because of the Oil Boom, that is what persuaded Santa Paula to build the much needed Glen Tavern Inn.
Amazingly still open and still Alive The Glen Tavern Inn is a Hotspot for guest all over the world and every week a another youtuber comes here to make the claim "I spent the night in the Haunted hotel"
Now It is your turn... Come to Glen Tavern yourself and see if you can walk through the most haunted rooms.
It's Finally here open to the public by The Glen Tavern Owner herself Rosanna who hired Real Ghost Investigators to allow you to talk and experience the ghost
First Tour Dates - 2 shows a night- However the lobby will be rocking and the bar games etc
Sept. Friday 30 /
Saturday Oct 1- Lobby Party - 3rd Floor Investigation
October Friday 28 -Lobby Party - 3rd Floor Investigation- 3 time slots 5pm 7pm 9 pm all same time upstairs
October Saturday 29-Lobby Party - 3rd Floor Investigation .3 time slots 5pm 7pm 9 pm all same time upstairs
Depending wow busy we are you will get a min one half hours
Come early Restaurant and Bar will be open in the Hotel!!
The Glen Tavern Inn
134 N. Mill Street, Santa Paula, California 93060
Phone: 805-933-5550 • Fax: 805-933-5559 • Email: maribel@glentavern.com
Ghosts Hunter Marie Mason 818-974-6852 -Call to Volunteers or Artist for event
https://www.glentavern.com
Limited Tickets reserve yours today This is the Hottest Event on the Books Don't Miss Out!!