Dieses Event ist beendet.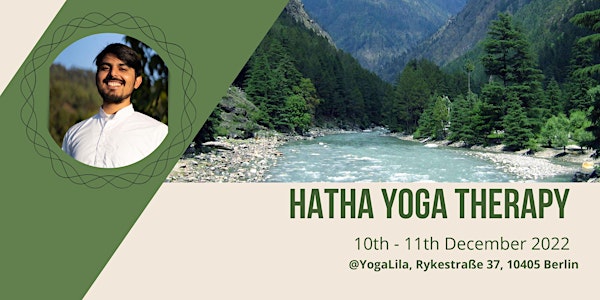 Hatha Yoga Therapy with Rahul Kataria
A rare chance to go deeper into your Hatha Yoga practice and deepen your knowledge about its therapeutic aspects in the Himalayan Tradition.
Zeit und Ort
Veranstaltungsort
Yogalila Rykestraße 37 10405 Berlin Germany
Karte und Wegbeschreibung
Rückerstattungsrichtlinie
Kontaktieren Sie den Veranstalter, um eine Rückerstattung anzufordern.
Zu diesem Event
This is a rare chance to go deeper into your Hatha Yoga practice and deepen your understanding about its therapeutic aspects as Rahul Jit is visiting Germany from Rishikesh, India.
The Traditional Hatha Yoga views the different aspects and techniques of Yoga as preparation for the practice of meditation. The workshop of Hatha Yoga Therapy will help you align your asana practice towards the Prana Vidya style of hatha yoga as deepening your physical and mental stillness, deepen your knowledge in the therapeutic aspects of Hatha Yoga as teacher as well as student and enable you to experience a more profound meditation.
Rahul Ji is a committed teacher of Yoga, having diligently internalized all aspects of yogic knowledge. He studied at the Ashram, deepening his spiritual life while comprehensively learning Yoga and meditation.
Daily Schedule:
09:00 - 13:00 Hatha Yoga Therapy Instruction
13:00 - 14:00 Lunch Break (if wanted together in a nearby restaurant)
14:00 - 17:00 Hatha Yoga Therapy Instruction and Yoga Nidra
What's included?
14 hrs. of Hatha Yoga Therapy instruction and Yoga Nidra
Small snacks and tea
Workshop in English, Maximum 15 People
Location:
YogaLila, Rykestraße 37, 10405 Berlin
Pre-requisites:
Basic knowledge of joints and glands movements and hatha yoga asanas is recommended.