Hatfield-McCoy Guided TourPikeville, KY

Multiple Dates
Event Details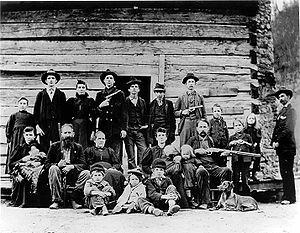 Tours are every Friday at 6 pm, Saturday at   9 am, and Sunday at 5 pm through October.  Please select a date and time from the drop down menu above.
Single night packages are Friday arrival, two night packages are Friday, Saturday

Take a two-hour tour on a comfortable, 14-passenger, air conditioned tour bus with a friendly and knowledgeable tour guide to see the encounter sites while learning the history of the famous Hatfield & McCoy feud.   You will visit many places where the feud played itself out.  These areas of interest will include the Pikeville City Park, where several battles were fought during the civil war.  Many people believe these battles laid the foundation for the feud.  The park is also where James A. Garfield was commissioned as a brigadier general during the civil war, leading up to his presidency.  Ironically, it was during the election for Garfield's presidency when the fight broke out at the election place, which leads to the fight and death of Ellison Hatfield at the hands of the three McCoy boys.  See and hear the history of the Pikeville Methodist Church, which split into a North & South church on Main Street as part of the war and debate on slavery.  See and visit the Pike County Courthouse where the Hatfield's are tried for their crimes against the McCoy's and where Ellison "Cotton Top" Mounts is sentenced to hanging.  You will also see the hanging site and cemetery where Cotton Top rests an unmarked grave.  You will see the Pikeville homes of Randolph & Sara McCoy and Bad Frank & Nancy Phillips, along with where Perry Cline home once stood.  You will visit Dills Cemetery, which is the first integrated cemetery in Eastern Kentucky.  This cemetery is where many free slaves and their descendants rest beside many civil war veterans.  It is also home to the final resting place of Randolph, Sara & Roseanna.  You will also visit the cemetery and grave site of Perry Cline located on Mt. Martha Drive, named after Perry's wife.
After your tour, you may also purchase a copy of the Pike County Tourism self-guided driving tour for your whole family to enjoy.  See your tour guide for additional information.  This narrative CD tour, with map and GPS coordinates, will take you further into Pike County, KY and Mingo County WV to visit more important feud sites.  See sites including the replica of the cabin where the pig trial took place.  You will visit the pawpaw tree site where the three young McCoy boys are shot by the Hatfield family.  Next, visit Aunt Betty McCoy's home site where Roseanna stayed while she was with child.  See the grave site beside Aunt Betty's home where Roseanna's baby rests.   Hear and live the history while exploring and enjoying the beauty of the East Kentucky Mountains through this great CD offer. 
Where

Pike County Tourism Office
Hampton Inn
831 Hambley Blvd
Pikeville, KY 41501


Multiple Dates
Add to my calendar
Hatfield-McCoy Guided TourPikeville, KY