About this Event
Hatebreed
An institution can be relied on. Its foundations don't shake due to the winds of change or tides of trends—no matter how volatile, omnipresent, or tenuous.
With steadfast determination, drive, and dedication, Hatebreed cement themselves as one of heavy music's strongest institutions on their seventh full-length offering and very first for Nuclear Blast worldwide, 2016's The Concrete Confessional. Since 1994, the Connecticut quintet—Jamey Jasta [vocals], Chris Beattie [bass], Wayne Lozinak [guitar], Frank Novinec [guitar], and Matthew Byrne [drums]—has risen to the ranks of hardcore and heavy metal elite with a GRAMMY® Award nomination, main stage slots on festivals, and countless fans worldwide. 2013's The Divinity Of Purpose earned their highest entry on the Billboard Top 200, bowing at #17 with impressive first-week sales in excess of 17,000. When it came time to return to the studio after two years on the road, Jasta and his cohorts clung to the bedrock on which their legacy stands firm.
"There's nothing better than loud amps in the face, cranked up riffs that hit you right in the chest and lyrics that spark a new thought and give you a charge," he declares. "That's our musical DNA. We could just be who we are. We don't need to incorporate whatever the trend is. We can just be Hatebreed. There are some new highlights to the game, but you know it's us."
The Divinity Of Purpose brought them to new areas of the globe as the headlined festivals in the UK, Finland, Norway, Germany, and Eastern Europe and landed a slot on Ozzfest Japan. They would perform at Poland's Woodstock in front of 400,000 people. Stateside, the band supported longtime friends Black Label Society in the winter of 2015 and then got the opportunity to be direct support to Slipknot on a Spring 2015 run in between festival appearances at Rock On The Range, Welcome To Rockville, and more as well as Motörhead's Motörboat with Slayer and Motörhead.
"Riding into this album, I realized we could play with bands of every genre nearly anywhere without deviating from who we are," continues Jasta. "The Motörboat was another real career highlight. We played this exclusive event with some of our chief influences. We got to literally chart new territory."
Returning home in the Fall of 2015, they entered the studio with longtime producer Zeuss [Rob Zombie, Soulfly]. Immediately, they channeled the spirit that's long defined their signature sound. By January, the record was mixed by Josh Wilbur [Megadeth, Lamb Of God] and primed for ignition.
"We had a really good vibe in the studio," he says. "The record is a snapshot of this time for us."
It also reflects what's going on outside. The opening track and first single "A.D." fuses together torrential thrashed-out guitars, double bass drums, and Jasta's immortal growl before an incendiary lead. The singer dissects what the American Dream means in a climate of upheaval. "Fight fire with fire, you'll see everyone's burning," he screams. Think of it as "Vote With A Bullet" or "Holy Wars…The Punishment Due" for the Instagram age.
"It's a mirror of both sides of the story whether it's what you believe in the media or what you actually see," he explains. "Musically, it came together quickly. It's about all of the frustrated feelings that come out when I turn on the news. So much of our attention is focused on the wrong areas. People want to one-up each other with better clothes and cars, and it's all bullshit. Nobody goes to the grave with any of that stuff. It's not all instant gratification. What exists on the phone and computer isn't what exists in real life. What is the American Dream anymore?"
The machine gun chug of "Looking Down The Barrel Of Today" proves equally uplifting and undeniable. "I wanted something to get crowds pumped up," he admits. "So many fans will tell us, 'Your records help me get through my life.' I needed to encourage this cyclical power to get up and face the day. You either make the best of today, or you're done in by it.""Something's Off" carries an ominously lyrical bass line into a guttural chant, showcasing Jasta's chilling vocal dynamics in the process. "I've written songs about depression, alcoholism, and falling back into destructive patterns," he says. "However, I never felt like I could really put my finger on what anxiety is. It's not just social anxiety but this unexplained feeling of unease, like I'm in a fog. I've felt it occasionally since I was in grade school. You can't control when it happens. Heavy music has kept that beast at bay—in addition to exercise and experiences with my family. I had to confront it directly in the lyrics here."
Elsewhere, "Remember When" and "Slaughtered In Their Dreams" juxtapose visceral lyricism with a searing sonic backdrop as chaotic as it is catchy. Through and through, The Concrete Confessional is classic Hatebreed.
In order to transfer this message to the masses, the band inked a global deal with Nuclear Blast. "They're world-renowned mainstays in the metal community," he smiles. "We get to be in the company of career bands we look up to."
Hatebreed have come a long way from the East Coast's storied nineties underground scene. Their journey has seen them achieve a 2005 GRAMMY® Award nod in the category of "Best Metal Performance" for "Live For This," sell over 1.2 million records, and land a #1 debut on Billboard's DVD Chart with 2009's Live Dominance. Moreover, they've annihilated audiences from Mayhem Fest to OZZfest Japan and Download Festival to Wacken, Hellfest, and beyond.
Now, The Concrete Confessional fits right into the bold, bloody, and beating heart of the Hatebreed institution.
"The title had to be something that was heavy and hard, but also vulnerable and honest," Jasta leaves off. "Heavy music is this cleansing, therapeutic, and cathartic experience for so many. You're there, the guitars are crushing you, and someone's screaming their head off—sharing their pain and aspects of their life through words, poetry, or songs. There's nothing like it. You confess you have negative thoughts, and you purge them. For however long you're at the show, there are no bills to pay, issues to deal with, or problems holding you back. You can be free."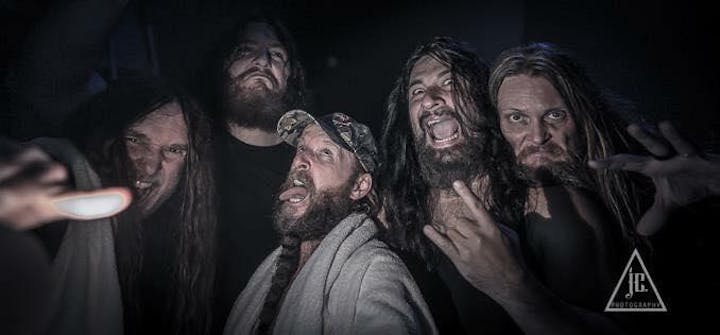 Obituary
Upon switching their name from Xecutioner to Obituary, the career of one of the most successful and influential Death Metal bands began. Hailing from Florida and featuring John Tardy (vocals), brother Donald Tardy (drums), Trevor Peres (guitar), Allen West (guitar), and Daniel Tucker (bass), the band signed to Roadracer Records, a now defunct division of Roadrunner, for the recording of their debut album—the immense and immeasurably heavy "Slowly We Rot" (1989). The album was engineered by the legendary Scott Burns at Morrisound Studio, which would come to be the most sought after facility for production of albums during 1990's rise of the Death Metal genre. Unlike much death metal preceding it, the album had a sludgy feel and integrated devastatingly slow passages along with obliterating overtures that reached far beyond any point of mayhem that metal had yet to reach; the result was a carnal pleasure for doom, death and thrash fans alike coupling the adrenaline of a speedball with the slow, degrading measures of a sewer at dusk. Like them or not, Obituary was unlike anything anyone had heard before.
"Slowly We Rot" was chaotic, bass heavy mix of manic guitar solos and crashing drums, but it was undeniably characterized by vocalist John Tardy's disarmingly horrific, gargling style, that created guttural chasms of dread which though often strived for, to date have been paralleled by none. The ability to augment tempo so drastically became the band's trademark along with Tardy's unique vocal style, which distinguished them clearly from the rest of the emerging Florida Death Metal bands; nowhere is this more apparent than on the prophetic title track of their debut. The fact that Obituary refrained from printing lyric sheets with their albums led people to believe that they didn't actually write any lyrics. Some may question the verbosity or absence of documented lyrics, however, any true fan has each grunt, growl and howling grimace committed to memory like an utterance from God in painstaking form—what does not exist can not be remembered, and an Obituary show is testimony to the re-creation of what your ears couldn't believe in the first place. Once again bringing augmentation to irony, Live and Dead worked quite well for the quintet, dividing your conscience yet leaving much to the imagination; not since birth have your senses been so graphically assaulted yet pleased at the same time. While such differing sensations once seemed incongruous, Obituary have proven the ability to merge unlikely dichotomies, from their slow-as-hell-yet-fast-as-fuck style to the non-evil, homegrown approach to what would largely become the satanized, bastardized, make-up wearing movement known as Death Metal.
The maturation of the musicians into songwriters taking more visionary and complex forms would soon be heard world wide as Obituary took metal by storm in 1990. Despite their youth upon release of their sophomore offering, "Cause of Death" embodied the confident swagger of the most fearsome pack-leading hound. From the insidious growls of John's vocals to the barrage of Donald Tardy's thunderously-metered explosions of double bass, "Cause of Death" was the intention and method as promised by the early threat of "Slowly We Rot"; for Obituary, Death was just the beginning. Accordingly, the title track alone ("Cause of Death") would be heard, regurgitated, manipulated, complimented and collapsed—but never duplicated—on third and forth generation death metal albums for years to come. Lovecraftian imagery and aural morbidity aside, even a deaf man found fear when confronted by the formidable visage of guitarist Peres; entering Frank Watkins, the hulking henchman of a bassist from South Florida, finally provided long-needed and powerful rhythm stability to the line up. However, the grinding of the axes would not be complete until the return of Xecutioner veteran Allen West, who, along with Peres and Tardy, crafted the foundation for most of Obituary's most primordial and historic moments. Attack now whole, Obituary had given birth—sight, sound and feel—to a true horror greater than metal had ever known.
The paradox herein lies that Obituary was anything but a summation to and end, but more an exploratory journey into the infinite dehumanization of all that is known, as confronted brazenly by their best selling release yet, "The End Complete" and later followed by the cynical and dark expedition of "World Demise". Reunited with songwriter West, the band was conjoined like quintuplets sharing life and a name. Though finality was possibly inferred by these titles, Obituary was anything but finished. Ironically, the images conjured by songs such as "Don't Care", "Platonic Disease" and "World Demise" seemingly foretold of the millennium as can now be seen daily, displayed plainly across the screens of CNN and reality TV programs world wide; not bad for a bunch of rednecks from Florida with Budweiser dreams and bongwater nightmares.
2004 brings reason for Obituary fans to rejoice, the sunken eyes and heaving cries have all but abated. Obituary has only aspired to live up to the standard they have set for themselves, one that numerous bands have strived to duplicate, but never attained, falling short both creatively and in lack of the unique talent that each member contributes to the near indescribable Obituary sound. Like a forgotten corpse in the basement, Obituary are back to haunt, taunt and fully pollute your senses. Fermenting like waste in the hot Florida sun, Obituary return from hiatus with the voracity of a starven wretch. The forfeiture of time brings blessings of brutality, and assurance that the Dead shall indeed rise again. Such aural abrasion can only be heard on an Obituary album or the live circumcision of a thirty-year-old man, the choice is yours...
Madball
Maintaining urgency, authenticity and integrity has never been an issue for New York City's hardest, and hardest working band, Madball. Twenty-five years along as a recording and touring entity, MB brings forth its ninth aural chapter, For the Cause; a signature collection of lionhearted, groove-laden, street-level New York Hardcore as only Madball can bring it.
The aptly titled album doesn't so much revisit where the group has been since 1994 - although Madball released its first EP, Ball of Destruction as a virtual Agnostic Front side-project back in 1989 - but forges forward and represents where the fellas find themselves collectively and personally a quarter-decade down the road.
Throughout the band's storied history, Madball has asserted its mission; carrying forth a simple yet righteous cause, and this time around, they've chosen to define that cause more succinctly than ever before. Tornadic vocalist/front man Freddy Cricien explains, "If you're not fighting for a cause, you're not participating in life. Simple as that. Speak up, fight, educate yourself, make a difference and make sacrifices for what's important to you." Words to live by.
For the Cause sees the return to the fold of guitarist Matt Henderson, who hasn't appeared on a Madball album since 2000's Hold it Down, for which Henderson also served as producer. "To have him record with us again was really special" offers Freddy. He adds, "Matt's been playing 'commemorative' shows and tours with us on-and-off over the years, so, obviously, the love and friendship is there. He'll always be an honorary member… A Madball lifer."
Unique to this album is the stellar production work by Rancid's Tim Armstrong, who clearly helped express Madball's distinctive voice powerfully and dynamically without stepping on the trademark formula the band has forever carried, yet constantly seeks to improve upon. "It's a tricky thing, producing. You can truly enhance something, but you could also ruin a record if a band lets you" says Cricien. Freddy continues, "Tim has always respected our band and how we do what we do. He knew we had a vision for how this album should sound, so he let us do our thing, but was there every step supporting and cheering us on. Whenever he did chime in, it was well thought out and he made strong suggestions. He even helped write the hook on 'For You.' He was there for us in a non-meddlesome role, which for this particular record, was the best-case scenario." Danish studio veteran Tue Madsen (Meshuggah, Dark Tranquility, Sick of it All) skillfully handled mixing duties on For the Cause.
Also, noteworthy on For the Cause are the various cameo appearances by some of Madball's friends, as well as several artists with whom the group shares a mutual respect; namely Psycho Realm's Sick Jacken on the track "Rev Up," The Business' Steve Whale and producer Armstrong on "The Fog," plus legendary emcee Ice-T on the hardcore banger "Evil Ways." Freddy discloses, "Jacken is our homie. He just came through to say what's up and check out the spot and I happened to be recording 'Rev up.' He was really digging the song and just freestyled. It really drove the message of the song home. As for Ice-T, he added a good flavor to 'Evil Ways.' It was a real honor to work with someone I've been following and have respected since I was a kid. He genuinely supports our band and the scene we come from. Tim and Steve jumping on The Fog' happened organically like everything else with this record." The UK Oi! legend provided the spoken intro and a guitar lead to the street punk tinged anthem.
What's maybe most notable on For the Cause is its various twists and turns both musically and vocally to keep Madball's brand of NYHC fresher than it has ever been. Freddy presents, "How do you grow as a band or as a person if you don't take chances? We feel obligated to ourselves and everyone else to evolve, at least somewhat. We took more 'chances' on this record than on any previous one, and we're happy about that! We're proud that it's still very much us; it's real and honest. There is plenty on there to satisfy the people that support us from every era of this band."
As for Madball's astounding longevity in the hardcore game: "We don't know how to do anything else at this point. We raise our families to the best of our ability; we do Madball to the best of our ability… So far so good, and we don't feel that we've reached our full potential in either of those areas just yet.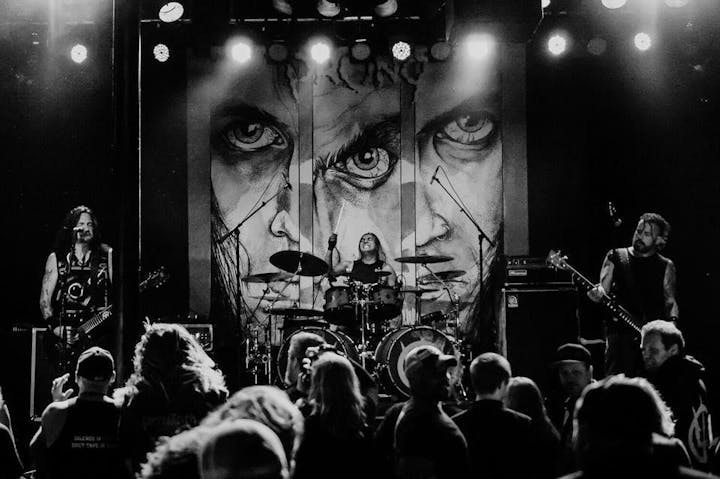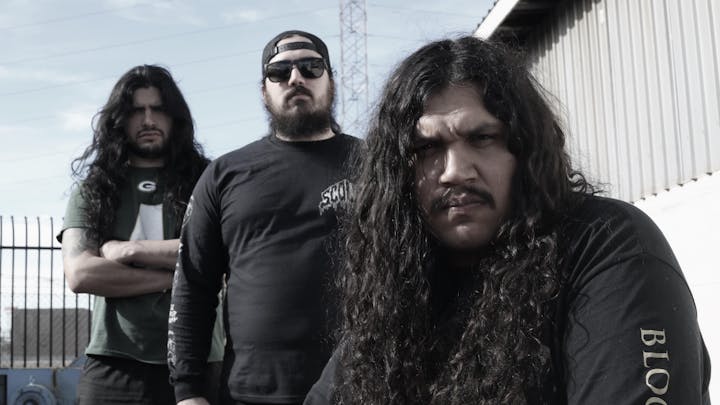 Skeletal Remains
Californian death metal act SKELETAL REMAINS will release their forthcoming third studio album, entitled "Devouring Mortality" on April 13th, 2018 via Dark Descent Records in North America and Century Media Records for the rest of the world. Tracked at Trench Studios (Abysmal Dawn, Exhumed, Hirax, etc.) in California and mixed by Dan Swanö at Unisound Studio (Asphyx, Dissection, Bloodbath, etc.), the record's artwork was created by Dan Seagrave (Entombed, Morbid Angel, Pestilence etc.), to much excitement of vocalist, guitarist and main composer Chris Monroy: "Having the opportunity to work with Dan Seagrave on the artwork was a dream come true for us, and Dan Swanö, man he really made our album sound huge and heavy as fuck! It is a true honor to be able to work with these two legends. We can't wait to share it with all the fans of death metal!"
To give you a short run down of the band's history, SKELETAL REMAINS formed as Anthropophagy back in 2011, and released the two much lauded studio albums "Beyond The Flesh" (2012) and "Condemned To Misery" (2015) via German label FDA Rekotz, constantly toured Europe, the US or also Japan, performed at such renowned festivals as Maryland Death Fest, Party.San, Brutal Assault, Obscene Extreme or also Hellfest, and now seek to expand upon that with "Devouring Mortality". Inspired by acts like early Pestilence, Gorguts, Morbid Angel, and Demolition Hammer, the new record proves to be the band's most diverse and crushing opus to date and contains a whole lot of outstanding tracks. No matter if it is the scorching first single 'Seismic Abyss', the dynamic 'Catastrophic Retribution', 'Parasitic Horrors' or 'Reanimating Pathogen', SKELETAL REMAINS blend elements of death and thrash metal with blazing solos uniting influences from such a melodic master like James Murphy (Death, Cancer, Obituary, Testament) to the divebombing assault of Rick Rozz (Death, Massacre). "The album is basically the next step up for us! It's a bit more technical compared to our first two albums and we have also used seven string guitars for some songs to add a heavier edge at times, but overall it has the same sound and feeling of our previous releases: Old school death metal from the late 80s and early 90s with a little bit of our own taste added to it!"
So make sure to listen to "Devouring Mortality" as it might be one of 2018's finest slabs of death metal and totally lives up to the band's perspective.