Event Information
Location
Childs Park
71 North Elm Street
Northampton, MA 01060
This event is for Hatchery's LIVE & IN-PERSON performance of ON THE BRINK at Child's Park in Northampton, MA!
About this event
The School For Contemporary Dance & Thought presents
Hatchery Teen Dance Company's world premiere:
ON THE BRINK
Celebrating a year of creative connections, resilience, and endurance during covid! Please join us for our spring dance performance CELEBRATION!
MAY 16 at 2pm EDT •  LIVE & IN-PERSON PERFORMANCE at CHILD'S PARK in Northampton, MA! Bring your own blankets, chairs, snacks, and water! Masks and social distancing required!
**PLEASE NOTE: The park has no public restroom facilities. Rain date for the in-person performance will be Monday, May 17th at 6pm. Please park on the street not in the park. And donate to Childs Park HERE!
...
Works by company members HIGHLIGHTING our 5 outgoing seniors. PLUS new works by professional guest artists Sade Murray (Brooklyn), Kalpana Devi, One Earth DrumDance Co (Amherst), and Co-Directors Kate Martel and Jen Polins.
Celebrate our amazing YOUTH! • Celebrate LIVE PERFORMANCE ART! • Support SCDT!
...
​ABOUT SCDT
THE SCHOOL FOR CONTEMPORARY DANCE & THOUGHT (SCDT) is comprised of independent, internationally experienced teaching artists who embrace multiplicity, arouse curiosity, and emphasize personal choice. Central to SCDT's mission is an abiding respect for the traditions, histories, and evolution of dance and performance with the directive to continue challenging established ideals. SCDT serves as a hub by maintaining space for process-based art that connects local and international communities.
SCDT offers adult and youth programming in dance training that includes modern, ballet, and improvisational techniques. The school creates a space for the creative process by regularly curating performances and workshops with established international performance practitioners. SCDT works collaboratively with the Five College Dance department, Middlebury College Dance, and APE and the Northampton Community Arts Trust.
SCDT welcomes humans from all communities, including those of every race, gender, sexual orientation, religion, and ability. We believe that diversity creates a world we want to live in, and encourage you, whoever you are, to join us in creating a space for movement, feeling, thought, and intention.
ABOUT HATCHERY
The School for Contemporary Dance & Thought is proud to present a dance company for exceptional teens who love dance, ages 13-18. Hatchery offers dance training in contemporary techniques with an emphasis on developing the choreographic voice.
Hatchery prepares young dancers from diverse backgrounds for the versatile demands of a professional career, both inside and outside the studio. In addition to studying with internationally acclaimed artists, members will choreograph their own work, receive mentorship from experts in the field, and create dynamic, inspiring performance for the Pioneer Valley.
Hatchery offers creative teens who love to dance a supportive environment where enthusiasm and curiosity are just as important as technique! Hatchery has performed at Jacob's Pillow and worked with professionals such as Raja Feather Kelly, Stuart Singer, Shakia Johnson, Shura Baryshnikov, La Alternativa (Kathleen Hermesdorf & Albert Mathias), and many more.
Learn more about Hatchery: https://www.scdtnoho.com/hatchery.html
Learn more about upcoming programming, classes, and performances at SCDT: https://www.scdtnoho.com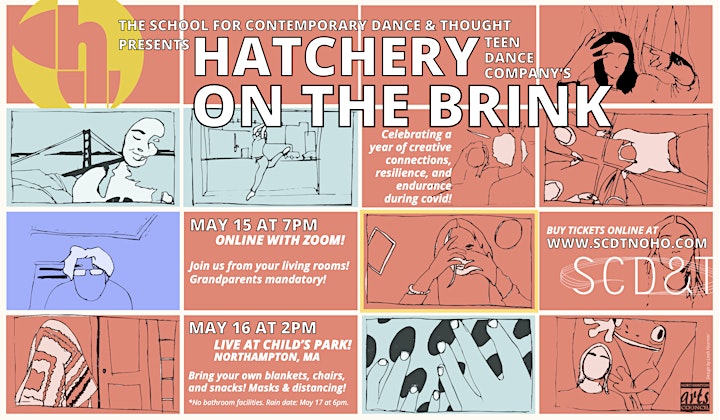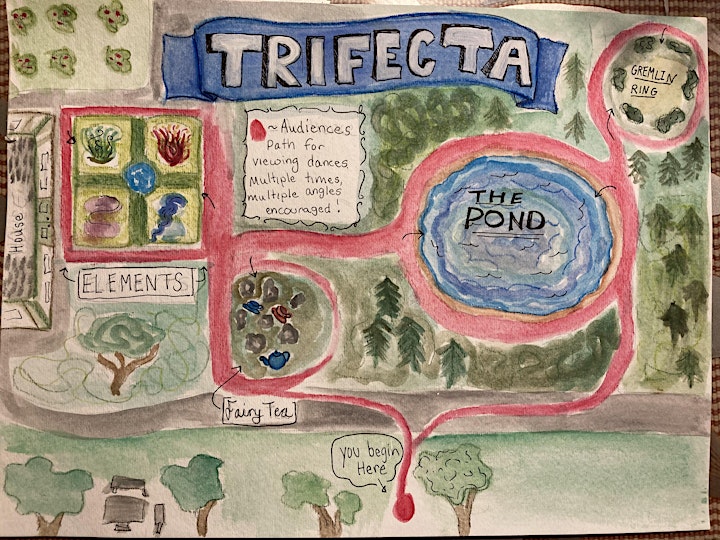 Date and time
Location
Childs Park
71 North Elm Street
Northampton, MA 01060