Actions and Detail Panel
¡Hasta Que El Vuelva!
Fri, Feb 17, 2017, 2:00 PM – Sat, Feb 18, 2017, 9:00 PM PST
Description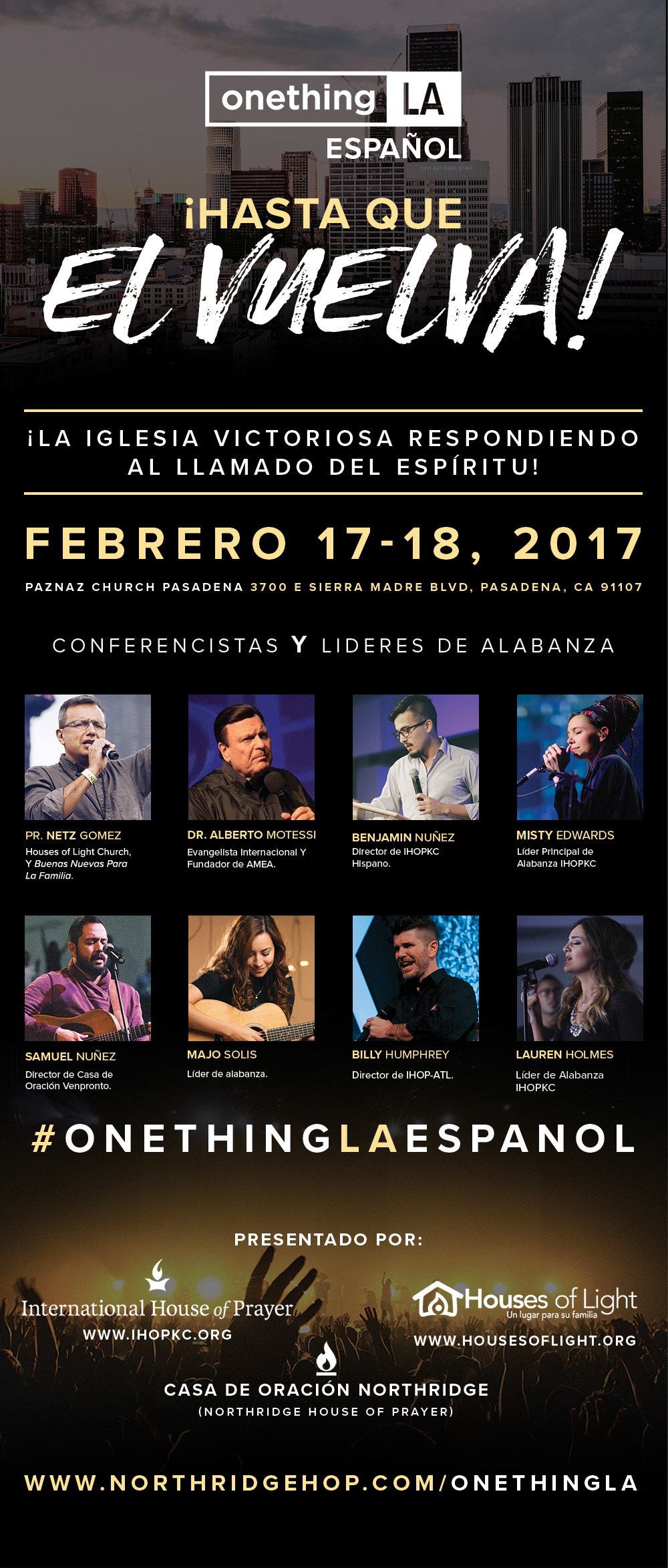 Acerca del Evento.
Queremos invitarte a que te unas junto con otros apasionados por Jesús a la conferencia ¡Hasta Que El Vuela! Onething LA Español que se llevara a cabo el 17 y 18 de Febrero de 2017 en la Iglesia Paz Naz en Pasadena, CA.
Nuestro objetivo es promover una cultura de oracion en la iglesia local, a través de experiencias de adoración e intercesión así como de enseñanzas y talleres que te ayudaran a crecer en tu intimidad con Dios. Nuestra priorida es de ser la Iglesia Victoriosa que responde al Llamado del Espíritu Santo.
¡Acompáñanos a este evento que sin duda marcara tu vida y tu ministerio con un nuevo celo por Cristo y por Su inminente regreso!
Programa Viernes:
Viernes: 2 PM - 9 PM (puertas abren 1 PM)
Sábado: 9 AM - 9 PM (puertas abren 8 AM).
"Una cosa he demandado a Jehová, ésta buscaré; Que esté yo en la casa de Jehová todos los días de mi vida, Para contemplar la hermosura de Jehová, y para inquirir en su templo." Salmo 27:4.
Patrocinado Por:
Pastor Netz Gómez de Houses of Light Church & Buenas Nuevas para la Familia.
Casa de Oración en Northridge, CA. y Casa de Oración Internacional en Kansas City.