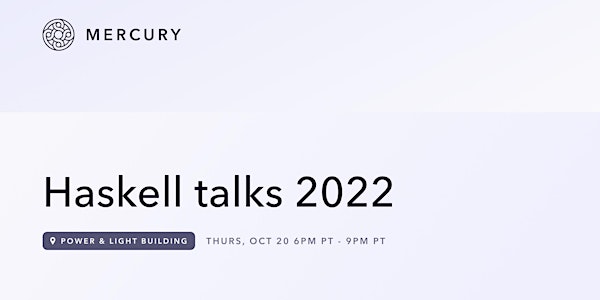 Haskell Talks at Mercury
Haskell talks at Mercury's Portland office
When and where
Location
Power + Light Building 920 Southwest 6th Avenue Portland, OR 97204
About this event
Come join us for Haskell talks, food and drinks, and conversation at Mercury's Portland office!
All attendees must get a ticket through Eventbrite for entry, as we have limited capacity and need to let the building security know who to expect.
If you have any questions, send us an email at haskell-pdx@mercury.com, or check out our jobs page if you're curious about opportunities at Mercury.
25-minute talks
The Do Stack: Using Monadic DSLs To Build Web Applications, by Rashad Gover
In this talk, we'll explore three monadic DSLs that are used to implement different parts of the web stack. Lucid for generating HTML, Rel8 for database queries, and Okapi for server-side logic. You will learn how to combine these three DSLs to build modern web applications.
Practical STM: An Async Job Queue, by Jake Keuhlen
In this talk, we'll walk through a brief introduction to concurrency and one of Haskell's best tools for dealing with it: software transactional memory (STM). We'll then use STM to build a simple but powerful asynchronous job queue.
Make your own Haskell, by Mitchell Vitez
We'll explore the process of making our own Haskell-like language. Composition will lead us to trees, and trees will lead us to languages. We'll grow, trim, typecheck, and reorganize these trees, populating our own little forested enclave. Finally, we'll discover why our language can't really be represented by a tree after all.
5-minute talks
Finding a needle that might not be there in an infinite haystack, by Daniel Brice
Haskell is so bad for startups that it's perfect for startups, by Nate Clark
A demo of trygrace.dev, by Gabriella Gonzalez
GHC AST munging for pain and profit, by Stephen Judkins
Using Postgres and Persistent to bring validation and order, by Max Tagher