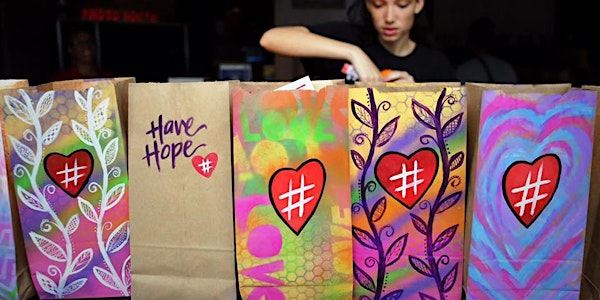 #HashtagLunchbag Virtual Event
Refund Policy
Contact the organizer to request a refund.
Description
Thank you for joining us last month at our very first virtual #HashtagLunchbag event! It was so much fun to create love notes with all of you, seeing your faces, and sharing photos of the different ways your messages will impact your community.
We had so much fun, we're going to do it again! This time, there's a bit of a different spin on the notes we'll create. Please join us for another unique experience this Saturday, May 9, 2020, from 10AM (Pacific Time), until 11:30AM.
While public gatherings are still canceled, we have come up with a safe way to carry our mission forward, spreading love to one another from the safety of our own homes! We ask that you write to someone you know personally, to help keep their spirits up. While we've been spreading love to our neighbors in need for years now, we felt it was equally as important to shine some of that light on our immediate circles, and remind those around us that we're here for each other. Get creative! Whether it's a thank you letter, a quick drawing, or a shared memory that could bring a smile to someone's face, there's no right or wrong way to remind those you love that you're thinking about them during this time.
Collectively, we can keep the #HashtagLunchbag experience going! Whether we're getting together to create and distribute lunches to those in need, or writing love notes from the safety of our own homes, nothing is too small to add to the sum. Do a little, do a lot, share your experience with your friends and followers, and inspire them to pay it forward. These are the ripples of kindness that will turn into waves of change!
Be sure to RSVP, as the event will reach capacity. We will hopefully see you all at 10AM Pacific Time (1PM on the east coast) this Saturday! RSVP's received by Friday, May 8, 2020, will receive the Zoom link and password for Saturday's event. Let's keep the good vibes rolling.
This message and movement is powered by the Living Through Giving Foundation.
We hope you can make it!
With Love,
The #HashtagLunchbag Team
Share this event on Facebook and Twitter.